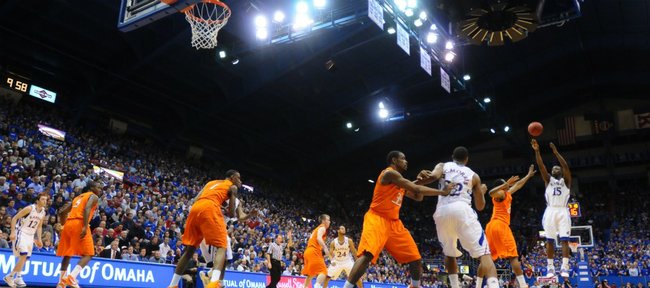 Newly suspended Tyshawn Taylor slapped his replacement in the starting lineup on the backside as Elijah Johnson checked out with a couple of minutes left in Kansas University's 92-65 rout of Oklahoma State on Monday night in Allen Fieldhouse.
"Attaboy," Taylor said to a grinning Johnson, who had scored a career high 15 points off 5-of-6 shooting, including 4-for-4 from three.
Johnson kept that smile on his face in the postgame interview room as he discussed perhaps his best game as a Jayhawk.
"I found out right before we came out of the locker room," Johnson said of learning he'd open at point guard for Taylor, who coach Bill Self said has been suspended indefinitely for violating team rules.
Self wouldn't get specific in a press release reporting the suspension or after the game.
What were Johnson's feelings upon learning he'd be introduced as a starter for just the second time his sophomore season?
"That it was a challenge and I'd be ready for it," Johnson said.
"I try not to think about it. I just want to be ready when my number is called," added Johnson, who played a whopping 30 minutes.
"I knew it'd be called more often because we need somebody to fill his spot. But I didn't talk much about it before the game. I prepare the same way every day, whether I get two minutes or 35 minutes. I just try to be ready to play.
"I thought I did well, but there's stuff I can improve on," he continued. "I went 3-3 (actually three assists, two turnovers). I threw the ball away a couple of times, two to three unforced turnovers I felt we could have had four more points there."
Johnson — he was overshadowed a bit by Marcus Morris, who had 27 points, and Thomas Robinson, who scored six points and grabbed six rebounds just 10 days after undergoing knee surgery — was most proud of his defense.
Johnson opened on OSU sharpshooter Keiton Page, who scored eight points off 2-of-11 shooting. Page had three points the first half as KU blazed to a 52-28 lead.
"It's all I really cared about tonight," Johnson said. "I didn't care about starting or scoring or nothing. I knew Tyshawn wouldn't be here to stop him, so I knew I had to be there. I knew it'd reflect on me (badly) if I didn't (slow him). I didn't want that bad name. I wanted to make a statement, kind of like against Pullen (Jacob, whom Johnson guarded with some success at K-State, with Pullen scoring most of his 38 off Taylor)."
The fact Johnson started was something of a fluke.
Self had decided to open at the point with Josh Selby (seven points, three assists, 20 minutes), but those plans switched.
"Josh was at shootaround and didn't have his special orthotic. It was in his other shoe at his mother's," Self said. Selby wears an orthotic in his right shoe to help soothe the pain of his stress reaction.
"We decided to go live 10 minutes, and he couldn't go live, so that's when we decided to go with Eljah. It was a good decision because I thought Elijah played great.
"We haven't had good point-guard defensive play consistently like we should. This was by far the best anybody has done being sound on a guy. I thought he played smart and did a good job defensively."
As far as the future, Self said, "Hopefully this will be a confidence boost for him moving forward. I will not make any brash statements who will be starter the rest of the season, but the ball is definitely in his (Johnson's) court. He has a chance to be if he continues to perform like that."
He was more than happy to praise Johnson on a night the Jayhawks improved to 26-2 overall and 11-2 in the league.
"Look at how Elijah stepped up. You talk about making the most of an opportunity," Self said. "I'm hoping he can bottle that. He's not always going to make shots, but that was the best defense without gambling that anybody has played on the other team's point guard in a long time.
"I think he (Johnson) is a little hesitant. He plays not to screw up. He has a tendency to get in his own way sometimes. He's been good, though. Even at K-State when he got the technical for screaming after his dunk, he was by far the best perimeter player in that game. Making shots covers up a lot of ills, but I thought he was good, even if the ball didn't go in the hole tonight."
Morris exploded for 17 points the first half off 6-of-9 shooting (2-for-3 from three) as hot-shooting KU led, 52-28, at halftime.
He was the only Jayhawk in double figures in the initial half, though five players had five or more points, including Robinson, who just 10 days after surgery to repair a torn meniscus had six points and three boards in seven minutes.
Johnson had six points the first half with two assists and one turnover the first half.
KU hit 56.3 percent of its first-half shots to 45.5 percent for OSU. Marshall Moses scored 16 of the 'Pokes' 28 points.
Moses finished with 27 points as OSU hit 42.9 percent of its shots to KU's 54.4.
Marcus Morris scored seven points and Markieff five as KU led, 12-8, at 15:54.
Robinson entered at 13:34, immediately hitting a jumper and free throw as KU built a 24-17 lead at 12:05.
Up 24-19, KU went on runs of 12-0 and 18-2 to grab a 42-21 lead, effectively putting the game out of reach with 4:54 left in the first half. Marcus Morris had seven points (he also missed a dunk), Little five and Robinson and Johnson three in the 18-2 run.
KU will meet Oklahoma at 3 p.m. Saturday in Norman, Okla.