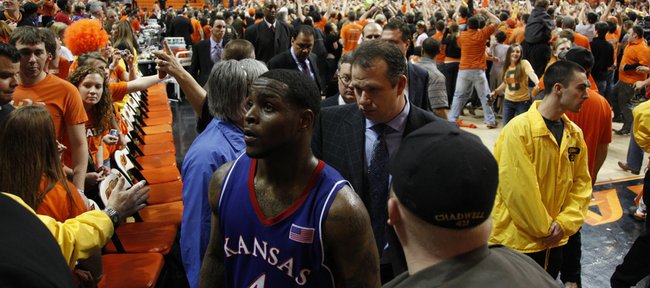 Master motivator Bill Self isn't so sure he'll use last year's Kansas-Oklahoma State basketball game as incentive for tonight's Big Monday rematch against the Cowboys.
"Oh, we'll talk about it and show them (Jayhawks) tape why they guarded us well last year," Self, KU's eighth-year coach, said. "But this is a weird team I'm coaching, a team that is different."
It's a team (25-2, 10-2) that might be compelled to punish the Cowboys (16-10, 4-8) in retaliation for last year's 85-77 beatdown (KU trailed 45-29 at halftime) in Stillwater, Okla.
Then again, it might not.
"They'll get motivated to play, without question," Self said of the Jayhawks, who thumped Colorado, 89-63, on Saturday in Allen Fieldhouse — the same day OSU dropped a 67-66 home game to Texas A&M.;
"We only have two more times to run out of the tunnel (tonight and March 2 vs. Texas A&M;). Just because you are motivated sometimes doesn't guarantee you'll play well. With this team, it seems the more energy we have, we play better."

Of course, Self, if he chooses to do so, could remind the players of the tough practices that followed last Monday's 84-68 loss at Kansas State.
"I would think our guys will understand better that, if we play well on Monday, the rest of the week has a chance to be more enjoyable than this past week for them," Self said. "Hopefully we'll play better. They did a good job against our stuff last year and beat us."
James Anderson and Obi Muonelo, who are no longer with the Cowboys, scored 27 and 17 points respectively, while current Pokes Matt Pilgrim and Keiton Page added 18 and 15 on a day OSU hit 60.4 percent of its shots, including 10 of 19 threes.
"Keiton can shoot it," Self said of 5-foot-9, 160-pound Page, who went 4-for-4 from three versus KU last year. The junior from Pawnee, Okla., enters with a 13.8 scoring average. "He is doing a great job running the team.
"A guy that always gives us problems is Moses," he added of 6-7 senior Marshall Moses, who scored eight points off 4-of-4 shooting with seven rebounds versus KU. Moses, who averages 14.1 points a game, played just seven minutes Saturday because of illness.
"Pilgram was 8-for-8 against us last year (with six rebounds)," Self added of 6-8 senior Pilgrim, who checks in with a 4.8 scoring, 5.2 rebounding average.
"We know they don't have James and Obi, but they've got players who can do some good things."
The Jayhawks, who last Monday were burned by KSU guard Jacob Pullen's 38 points, face a guard in Page who has had some similarly big games. He scored 26 points at Texas Tech and 19 versus Missouri, Iowa State and at Colorado. Page, a 39.5 percent shooter, has made 44 of 138 threes for 31.9 percent and 112 of 123 free throws for a deadly 91.1 percent.
"He is real good. He can shoot the heck out of the ball," said KU senior guard Brady Morningstar, who hit four of five threes the first half vs. Colorado on Saturday, good for 16 points. "If you can do that, you will be on the floor. That's what he does. We'll take it (Page's accomplishments) as a challenge and try to shut everybody down."
The Jayhawks are 5-4 versus the Cowboys in OSU graduate Self's eight seasons at KU. The Jayhawks have won the last 14 meetings in Allen Fieldhouse, dating to the 1990 season, yet just two of the last six in Stillwater.
"It's different down in Stillwater, because I don't know the last time we've won there," Morningstar said. "We play them at home, which is good. They are a good team. They are very capable. We have to stay focused and get back on the court Monday ready to play."
As far as revenge?
"I mean I don't know if you can call it revenge. I guess you could because we lost there last year, but it's a new year, new team," Morningstar said. "We are at home. They're very capable. I look forward to playing them."