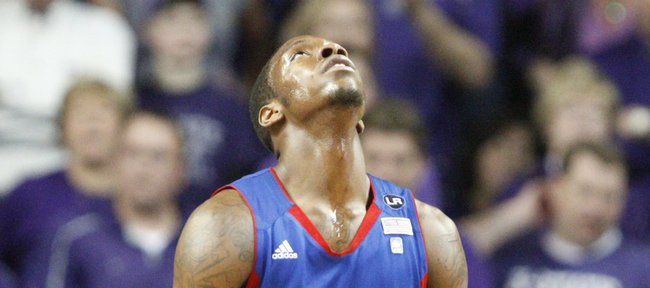 Videos
Bill Self weekly press conference, Feb. 17, 2011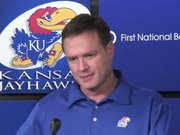 Kansas head coach Bill Self addressed the media at his weekly press conference Thursday, Feb. 17, 2011 at Allen Fieldhouse.
Kansas University junior point guard Tyshawn Taylor cringed Wednesday as he watched the film of Monday's 84-68 blowout loss at Kansas State.
"I've played a lot of bad games in my career here so far. That's probably one of the worst, on both ends of the court," said Taylor, who committed six turnovers against one assist on a night he scored eight points.
"I was not tuned in. I was not focused on guarding my man (Jacob Pullen, who scored 38 points). I wasn't getting my team into offense. I played real bad. I (stunk). Everybody who watched that game will tell you that," he added.
He gave himself quite a scolding Thursday in front of the media.
"I was really rattled," Taylor said. "The crowd was into it. It was one of those games I was like, 'Man, I don't know what to do right now.' I know all of us played our part in losing, but I think if I'd played a better game, we had a better chance.
"I messed that up. I want to come back out and work hard. I feel I owe my team a little bit."
KU's other two junior starters — the Morris twins — also faulted themselves in responding to questions for the first time about the KSU game.
Markieff Morris (three points, no rebounds) was called for his second intentional foul in three games. He's remorseful about that.
"Once you watch the film and see the things you do, you say, 'That's not me. Why did I do that?' I need to make better decisions," Markieff said of clipping Jacob Pullen in the face while setting a screen.
"We (twins) are supposed to be leaders of this team and set examples for younger players. By doing that, it's not a good look for our program."
Marcus Morris earlier this season was ejected for committing a flagrant foul at Cal-Berkeley and also was whistled for a technical foul at Nebraska.
"We can play without talking to the refs. Me and Marcus are emotional players," Markieff said. "Everybody doesn't realize we are into the game so much. When we feel we are being taken out of the game, we get that attitude. We've definitely got to change it. We definitely will change it."
Marcus had some bad body language at times during the KSU game, during which he scored 13 points with three rebounds and four turnovers.
"That's people's opinions. Sometimes they like us. Sometimes they don't," Marcus said of those who have criticized the twins' behavior on the court.
"It's definitely our fault giving that vibe to people, showing such emotion in a game, but I think that's how we are as players. It's the only way we feel we can come off the court — by getting fouls and stuff like that — so it's frustrating at times. We show emotion. It's a sign of immaturity. We are leaders of the team, and we can't act that way."
Marcus Morris addressed one of his recent Twitter posts that said: "I see how it is. When the grass is cut the snakes will show. F.O.E (Family Over Everything) it's us against the world in my eyes."
"I think a lot of people took it the wrong way. It was never focused on our fans," Marcus Morris said. "As I said on Twitter afterward, we have the best fans in the country. I think people thought I was talking about them. I wasn't talking about fans, just about a lot of people. It's stuff we have to move past. It's one game. We're 24-2. We still don't have a bad record. The season is far from over."
Taylor said there has been no players-only meeting this week, but several individual players spoke during the film session Wednesday.
"Coach (Bill Self) welcomes our input. We all want to do what it takes to get better," Taylor said. "We saw so many dumb plays we all made. Once we focus in, we can be a good defensive team. It starts with me. I'm pressuring the ball all the time. I have to be more intense defensively."
Self did have a one-on-two meeting with the twins.
"We met with them. They have to do some serious things. The things that have transpired in games have hurt their team. Are they going to be willing to modify, change — and (they) don't have to change much — but do the things to make sure these things don't happen again? I thought we'd addressed it. We didn't execute it in a way I'd hoped. Hopefully from this point forward they will," Self said.
No. 1 boast revisited
Self was asked if, in retrospect, it was smart for Marcus Morris to speak about wanting the Jayhawks to be No. 1 in the polls after last Saturday's rout of Iowa State.
"Why would you go public and say something if somebody could ever throw it back at you? Why would you do those things? That's what I'm talking about — focus," Self said.
"It was all from an ego standpoint: 'We did this and have earned it.' Now we're going to do something totally out of character of what we believe in. We don't believe in doing that. That's a very small example of us not being quite as focused as we should. Why would we make a statement like that? Not that it was awful. Not that it was good. Why don't you let your play do all your talking? That's how I believe and that's how we're going to be.
"It wasn't an issue of why we lost. It was an example of a plethora of things that occurred that maybe didn't allow us to be our best that night."
Next up
Self on the Jayhawks (24-2, 9-2), who meet Colorado (16-10, 5-6) at 1 p.m. Saturday in Allen Fieldhouse.
"We are 24-2. I mean, regardless of what some people might think, the sky is not falling. The reality is that things have to be addressed. I think we have a perfect opportunity to address them," Self said.
"If you told us before the season we'd be 24-2, we'd be pretty excited probably after losing what we lost last year. The thing about these guys, and we've had other teams like this, they frustrate you because they spoil you. You see what they can do when they are really good, and then it's frustrating when we are not that good at other times."
Injuries
Self said Josh Selby (stress reaction right foot) is about "80, 85 percent. There's nothing to keep him from playing unless he re-injures it. It's February. That's the whole deal. Everybody is nicked up now," Self said. He said he had no plan as to how many minutes Selby would play Saturday.
Thomas Robinson, who had surgery Friday to repair a torn meniscus, will have his sutures removed today. "I anticipate Thomas practicing pretty soon," Self said.