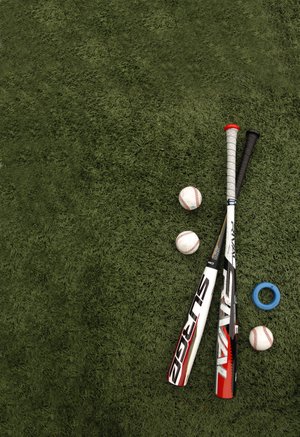 Kansas University senior outfielder Casey Lytle has never been much of a power hitter. So the new NCAA rule which regulates the performance of bats and figures to take some pop out of the game likely won't have much impact on the way Lytle plays.
Even though his power numbers aren't expected to change, Lytle likes the new era that's being ushered into college baseball.
"I don't think I'll really miss the 14-12 games," Lytle said Tuesday, at KU's media day. "When you're comparing a weekend football score to a baseball score, it doesn't really feel right. I think the new bats will affect the amount of runs scored and just put more emphasis on the overall game."
That, among many factors, was one of the major reasons the NCAA decided to examine its rules regarding bats. The result — bats now must be BBCOR certified and marked as such — could have as big an impact on college baseball as previous changes, such as raising the mound or adding the designated hitter, did to the big leagues.
"It's going to change the way the game's played, there's no doubt about it," KU coach Ritch Price said.
Beyond limiting runs, curbing power numbers and speeding up game times, another issue in play was safety. Bats now will be regulated by the Batted-Ball Coefficient of Restitution, known in layman's terms as the "trampoline effect." Instead of measuring exit speeds, which were known to exceed 100 mph, the BBCOR measures the "bounciness" with which a ball leaves a bat.
According to the NCAA rule, "The new BBCOR formula provides a better measure of the bat's performance and therefore allows the rules committee and bat-testing laboratories to better predict field performance based on lab tests. The goal is that non-wood bats that meet this new standard will perform similarly to wood bats."
The Jayhawks began using the new bats, which look strikingly similar to the old composite bats, during the fall season. Their effectiveness drew mixed reviews.
"You can definitely tell the difference," senior outfielder Jimmy Waters said. "When you square up a ball solidly, it still goes, but it's not going as far. You really have to be a good hitter and make solid contact for it to not be that big of an affect. Personally, I don't really like 'em."
Added Lytle: "I can't say I love them. Compared to last year, you obviously lose the distance you hit the ball. For me, I've never really been a home run hitter, so I can't really complain too much about it. It's just like getting a new bat. Each model has its own feel, and this is just basically like using a new model. It's just a matter of breaking it in."
Having ample time to do that was the reason KU switched to the new bats during the fall season. Price, a baseball purist known for his love of manufacturing runs, said the bats were better than he expected.
"Everybody said it was going to be like going back to using wood bats. That's not true," Price said. "You can still hit line drives with backspin, balls are carrying to the outfield, and you can hit balls to the gap. They're still significantly better than a wood bat."
The prevailing thought among the Jayhawks made available at Tuesday's media day was this: When hit well, balls still will leave the park, and power hitters still will be able to awe fans with their ability to blow games wide-open.
"If a hitter catches it on the sweet spot, it's still gonna go," senior lefty Wally Marciel said.
However, with the margin for error now being smaller and fewer home runs being hit off of bad swings, several Jayhawks already are noticing a change.
"The balls didn't fly in batting practice like they used to, but our guys put some charges into balls and still sent them well into the trees," senior ace T.J. Walz said. "I think people are making a bigger deal out of this than it is."
While pitchers tend to like the new bats and hitters seem opposed, Price said the new rule will change the way he and his staff approach the game. More time will be spent on base-running. More emphasis will be placed on bunting, hit-and-runs and stealing bases. In addition, Price said he already had begun recruiting a different brand of athlete, guys who are faster and more athletic.
"It's the biggest topic in college baseball today," Price said. "I don't think it's anything we haven't done in the past, but there'll be more emphasis on when mistakes are made because you won't be able to come back as quickly with just one swing of the bat."
Added Waters: "I think it's going to change the game a lot. It's going to even up a lot of people in the conference and in the country. That three-run home run is going to be even more detrimental because not everybody's going to be able to hit 'em."
Instead, runs will have to be scored with doubles, savvy base-running and intelligent play. Or, as Marciel put it, "You actually have to play baseball now."
More like this story on KUsports.com