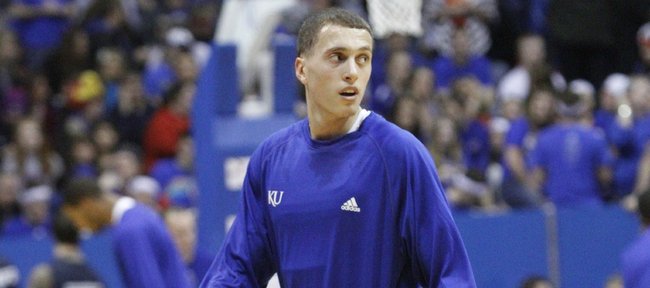 New Kansas University basketball walk-on Christian Garrett had a rather emotional, out-of-the-ordinary first day on campus.
He arrived from IMG Academies in Bradenton, Fla., on Jan. 21, the day Thomas Robinson's mom, Lisa, died of an apparent heart attack back in Washington, D.C.
"Watching how close the team was helped me be at ease with my decision (to attend KU)," said Garrett, a 6-foot-3, 170-pound freshman originally from Los Angeles. "Coach (Bill) Self ... the way he handled it and talked to everybody ... he wasn't like a coach who brings somebody in and doesn't ever talk to them (players). He actually cares about them."
The personable Garrett — he chose KU over North Carolina State, Alabama and Auburn and elected to enroll immediately and practice but not play in games in preparation for the start of his official career in 2011-12 — felt comfortable speaking to Robinson about this most serious issue.
"I went up to Thomas and basically said, 'I'm new here. I don't know you,' but I told him my mom was sick before. She almost died (when Christian was in high school in L.A.). I said, 'The biggest thing you can do, what I did in that situation was get closer to God and just be thankful for everything I have.' I said, 'The best thing you can do now is be successful for her.'''
Garrett — he played his sophomore year at Campbell Hall High in North Hollywood, Calif., and his junior season at Stone Ridge Prep in Tarzana, Calif. — was off to a successful start this season at IMG. He averaged 14.0 points, 7.0 assists and 6.0 rebounds a game for a team that plays small colleges and prep schools.
"This is different, a big transition, but great," Garrett said of KU. "I like it even though it's hard because I see what I have to work on. In high school, I could see what my weaknesses were. Now I get to work on them against better competition."
He entered the major college mix right away, practicing with the team his first day as an official member of the program.
"They gave me everything (gear) and threw me right in," Garrett said with a smile. "I went out and guarded Tyshawn (Taylor) and Elijah (Johnson) a lot and Tyrel (Reed). The hardest thing about it was the reaction time on defense. Definitely they are a lot quicker and stronger. You've always got to be ready to play. If you are just kind of out there playing, you'll get lost easily."
Garrett, who played for Belmont Shore AAU program, became acquainted with current KU freshman Royce Woolridge at the Pangos All-America camp last summer. Garrett made the top 50 at that camp and was a top 25 pick at the Fullcourt Press All-West camp.
"We both did pretty well at that (Pangos) camp," Garrett said. "Royce has been cool. Everybody's been cool and treated me well."
Garrett — he said his goal is to earn a scholarship in the future and play meaningful minutes at Kansas — is hoping to welcome another buddy to campus this summer.
He's best friends of DeAndre Daniels, a 6-8 forward from IMG, who is considering KU, Texas and Kentucky.
"I lived with him throughout the year and I've known him four years. He's like family, like a brother," Garrett said. "There were a lot of schools I was looking at he wasn't looking at. We've always wanted to go to the same school. We said we'd do what's best for each other. The only thing I can tell him is that there's nothing like this place. I think he knows that. I think it's just going to be him making the right decision (for himself)."
Combo guard Garrett was confident in his decision when he and other family members spoke with Self late in the decision-making process.
"My mom (Cynthia) kept on feeling this is where God wanted me to be and she felt at peace with it (decision)," Garrett said. "After meeting with coach Self and seeing the place and getting to think about the other places I've seen ... there's no place like this.
"I've always been about getting better. I'm not done as a player. My body hasn't matured. I'm not done growing. I wanted to go to the place I could reach my full potential. This is definitely the right time and the right place."
KU senior Brady Morningstar likes the person he's just starting to get to know.
"You've got to know he's young and coming here right from high school bright eyed and bushy tailed ... everything is new," Morningstar said, noting everything has to be overwhelming for Garrett. "He's a good kid who works hard and is going to get better."
Coach Self noted Garrett "is a quality young man that will be a great representative of us. He's also a very good athlete that has a chance to be a very good basketball player."
His AAU coach, Dinos Trigonis, also indicated Garrett "is very athletic for his size. He's a late-bloomer, growing-wise. He's listed as 6-3. He may be a little taller than that, closer to 6-4. He's improved a lot. Although he was inconsistent at times in the summer, he had some good moments, especially offensively. He has a chance down the road. From a walk-on standpoint, he has a lot of long-term potential and academically will enhance the team significantly. He is an excellent student."
Garrett — he's taking four classes his first semester at KU — said he's enjoyed everything about his time on campus, even trudging through the recent winter blizzard.
"The snow was cool," said Garrett, who committed to KU despite never having stepped in the state before. "I'd seen snow, but not like that. The snow was cool, but I'd say the Missouri game was the wildest moment so far because it was the first time I was into the game, standing up and yelling, seeing how loud the crowd was, being on the sideline for the game and working out before the game and seeing the fans. That's the craziest thing so far."
So far Garrett, whose great uncle, Bill Garrett, played basketball collegiately at Indiana (1949-51) and cousins Mike Garrett and Chris Chambliss played for the K.C. Chiefs and New York Yankees respectively — has maintained a low profile.
He's conducted just this one interview and has managed to avoid getting recognized on campus, unheard of for a KU basketball player.
All in good time.
"Honestly I feel God brought me here so I know everything will be fine," Garrett said. "I know after a couple months of this I'll be a whole different player and be a step ahead (for next season). I have focus."
He has high hopes for KU (24-2) the rest of this season.
"As far as executing, they are the best from every team I've seen," Garrett said. "They are really close as a family. I feel it's a real balanced team. Just watching from the bench, we've got to guard a lot better. I don't know how, but if we figure it out, that would make the biggest difference."
More like this story on KUsports.com