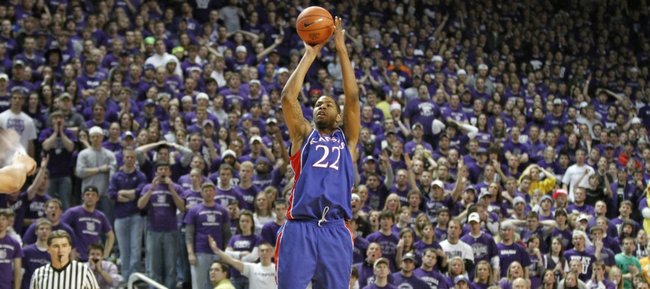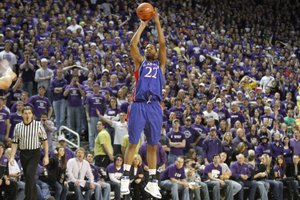 Manhattan — Some will be armed with rubber chickens, others merely with creative signs.
Rest assured, almost all of the early-arriving Kansas State University students who attend tonight's Sunflower Showdown will let Kansas University's basketball players know what they think of 'em during pre-game drills.
"Yeah, they are probably the worst (as far as yelling insults)," fifth-year KU senior Brady Morningstar said of the Wildcat faithful, sure to be energized for today's 8 p.m. battle between soon-to-be-No. 1 KU (24-1, 9-1) and unranked KSU (16-9, 4-6).
"They're also the best. Why wouldn't you want that, you know?" Morningstar added with a wry smile.
He's been part of three victories and one defeat heading into his final go-round in the Little Apple.
"I'd have to say playing at K-State in conference play, other than Allen Fieldhouse, is my favorite place to play. They've been the best games I've had since I've been here, just because their fans are the most rowdy," Morningstar said.
"And it always comes down to a last possession. Beating everybody who's wearing purple is awesome. Just shooting shots ... I know they just hate seeing us hit shots. It's awesome. Watching us make threes or do whatever in that game, you just think back it's so much fun."
The 6-foot-4, 185-pound Morningstar actually used last year's K-State game as inspiration earlier this year when he was slumping from beyond the arc.
"There was an ESPN Classic — us against K-State — at K-State. I think I had two or three threes," Morningstar said. He hit two of three threes and scored 14 points in KU's 81-79 overtime victory over the 'Cats last season in Bramlage.
"It's fun to watch those because you remember what you're thinking as you were shooting the ball. It feels good to see your shot go through the net (saying), 'I know I can shoot.'"
Someday, Morningstar figures to chat with his own children and grandchildren about the KU-KSU rivalry, just as his dad, former KU guard Roger, raised Brady on the rivalry.
"I think it means a lot to everyone here just because it's another in-state school. Since my dad played here, he has a lot of stories about playing them — their old players and old coaches," Morningstar said. "Growing up, coming to games here, being a fan, watching K-State and saying, 'Please don't beat us, please don't beat us,' because you don't want to go to school all mad the next day because everyone hates K-State or some of your friends might like K-State. It's pretty good going in their house and winning."
KSU senior guard Jacob Pullen, who is 1-7 versus KU, will never forget the victory — an 84-75 victory on Jan. 30, 2008, in Manhattan. That would be his freshman season.
"We brought the fight to them, I remember that. I remember from the jump ball, we were excited. We played with passion," Pullen said. "And when you're having a night like that, a lot of things went our way, whether it was Clent (Stewart) falling on the floor and slapping the ball to Michael (Beasley) for a three, or throwing a touchdown pass to Bill (Walker) for a dunk. There were a lot of things went our way, and that's what happens when you play with a lot of passion. The game starts to fall your way."
KU, which has won seven straight in the series and 26 of the last 27 overall in Manhattan, thumped the Wildcats, 90-66, on Jan. 29 in Allen.
What does KSU need to do better this time?
"A lot," Pullen said. "That game we didn't rebound. We didn't guard. We didn't handle ball screens at all. Defensively, we were atrocious.
"We really shouldn't even have played defense. We should have stayed on the offensive side and try to cherry-pick and get layups or something, because defensively we didn't do anything well. As far as guarding the post, guarding the screens, we just gave up open shot after open layup after offensive rebound. When you play like that, you have no chance of being in the game, so for us it's a mind-set.
"It's also a mentality that we've really got to bring the fight to them and not wait for them to bring the fight to us," Pullen added.
Coach Frank Martin, who is 1-7 versus KU, was asked after Saturday's 58-56 loss at Colorado if he feels like KSU "owes" KU.
"I don't know if we owe them. (They're) the No.1 team in the country after today," Martin said. "And they're the No. 1 team in our league. I understand Texas is in first place. But no one has beaten (Kansas) for a conference title in my years in this league. So they're the best team in our league. Until someone does so, they will stay that way."
KU coach Bill Self, who is 16-2 against KSU as KU coach, respects Martin and the 'Cats.
"Kansas State is a place that is always tough, and they are going to want to put a little something back on us for that game here," Self said, well aware KSU is 12-2 in Bramlage this season. "They are a good team. If we are ranked No. 1, it will add to the interest of the game, and we have to be ready to play. We know we will get a great effort from them, and it will be a great rivalry game for us. In order for us to have any desire to win the league, we cannot let any games slip by."
Texas holds a one-game lead over the Jayhawks in the league standings. Yet it's the Jayhawks who figure to be No. 1 today.
"Not that it makes any difference in people's minds, but when you knock off the No. 1 team regardless of whether it's deserved or not, there's a shot of adrenaline you get nationally from media across America, and stuff like that would definitely breed confidence in their team," Self said.
The Jayhawks will enter as a confident team tonight.
"It's going to be exciting. It's going to be a tough environment like it always is, but hey, that's what you play for," Morningstar said. "It'll be intense ... so intense. I can't wait to play."
More like this story on KUsports.com