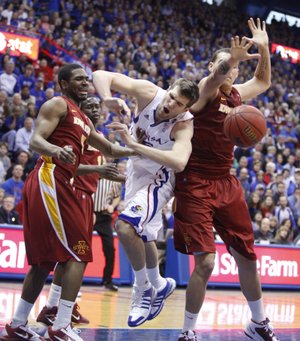 Jeff Withey has been setting his alarm at 7:30 a.m. for an important reason.
He has to wake up to eat.
"Just a new diet," the Kansas University center said with a smile. "The eat-everything diet."
For Withey, who tied a career-high with eight points in KU's 89-66 victory over Iowa State on Saturday at Allen Fieldhouse, gaining weight has required some dedication.
Withey wakes up early only to eat. After chowing down — food like bagels and peanut butter — he goes back to bed.
When he wakes up, he eats again. After class, more food.
"Just eating non-stop," Withey said. "It's working right now."
After spending the summer packing on weight, Withey lost 15 pounds earlier this season when a broken foot limited his mobility. He also dropped weight after getting sick this winter.
Slowly, he's bulking back up. Withey said with his routine — meant to put on good weight and not just fat — he has gained between eight and nine pounds in the last six weeks.
"I'm working really hard on my strength," Withey said. " ... Everything's going the right direction."
The 7-foot sophomore, who played just 22 minutes in KU's nine Big 12 games before Saturday, gave the Jayhawks good production against Iowa State.
In nine minutes, Withey went 3-for-3 from the floor and 2-for-2 from the free-throw line, adding two blocks, two rebounds and a steal.
"It's just his time to step up and show people he can play," KU forward Marcus Morris said. "I think that he will."
Withey's minutes over the next few weeks should increase while KU forward Thomas Robinson sits out because of a knee injury.
Along with Elijah Johnson and the Morris twins, Withey said that Robinson had been the most supportive during those times he wasn't playing much.
"He's the last person I would expect, just because he's going through so much, but he's the best teammate ever," Withey said. "He just encourages me to go out and play hard."
Withey also is listening closely to KU coach Bill Self.
"He just wants me to be more aggressive defensively, going up and blocking a lot of shots," Withey said. "And offensively, just trying to get offensive rebounds. Just make others better by setting good screens."
Self was pleased with his big man's effort Saturday.
"That should give him some confidence moving forward," Self said. "He hasn't played much lately — it's hard to play five big guys — but certainly he'll play moving forward, without question. We'll need him to play against K-State."