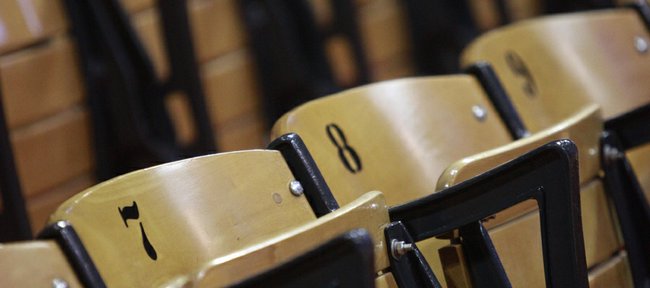 Three former employees of Kansas Athletics Inc. must pay up to $2 million for scamming to steal, sell and profit from the diversion of tickets to Kansas University football and basketball games, a federal judge has ruled.
And the IRS could end up with some or all of the money.
U.S. District Judge Wesley Brown ordered Thursday that the three — Charlette Blubaugh, former head of the KU ticket office; her husband, Tom Blubaugh, a former consultant to Kansas Athletics Inc.; and Rodney Jones, former assistant athletic director for the Williams Fund — each must pay the "monetary judgment" they'd already agreed not to contest as part of pleading guilty to conspiracy to commit wire fraud.
The pleas had come in connection with a tickets scam that prosecutors say ran from 2005 to 2010, involving the channeling of tickets through ticket brokers and others. A separate investigation conducted for Kansas University determined that more than 19,000 regular-season tickets had been diverted for personal gain.
Brown's orders mean that the Blubaughs and Jones are responsible for up to $2 million, a total calculated to cover all or a portion of illegal gains. The orders also permit the government to use property to satisfy all or part of the monetary judgments.
Brown's orders do not include any mention of restitution, considered a separate issue and one typically addressed at sentencing.
"Forfeiture puts money in the hands of the government," said Jim Cross, a spokesman for the U.S. Attorney's Office. "Restitution deals with putting money in the hands of the victim."
Kansas Athletics is a victim, one that would be eligible for any restitution and, potentially, forfeited assets.
"There is one other victim," Cross said. "The IRS."
As part of their pleas, the Blubaughs and Jones admitted defrauding the IRS in two ways: first, by failing to report the scam's revenue as income; and second, by not paying taxes on the money.
Kansas Athletics already has filed a claim seeking payment on a $250,000 insurance policy against employee theft, and plans to weigh its options for seeking money through forfeiture or restitution once the judicial process is complete.
The Blubaughs and Jones await sentencing in the coming weeks, along with Kassie Liebsch, a former systems analyst and tickets administrator who also has pleaded guilty to conspiracy.
Prosecutors filed a motion Friday, requesting that Brown require Liebsch join the others in paying up to $2 million through forfeiture. Liebsch already has forfeited a 2008 Toyota Camry purchased with illegal proceeds from the scam,
Ben Kirtland, former associate athletics director for development, is scheduled to plead guilty to conspiracy Feb. 24.
In the end, Brown will be the one determining where the money goes — or at least who might be able to gain access to it.
"If a judge so orders, money taken in forfeiture can be used as reimbursement for victims," Cross said, explaining the process in general terms. "It would not be unexpected for the IRS to get money."