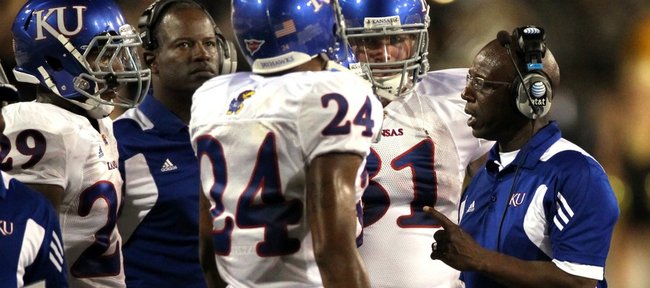 With the letters from Kansas University's 2011 football recruiting class signed, sealed and delivered, the attention has shifted to which schools fared the best on national signing day.

By now, it's well known that KU secured the nation's 34th-best recruiting class, according to Rivals.com, which put the Jayhawks fifth in the Big 12 and ahead of traditional nonconference powers Miami, Penn State and Wisconsin, among others.
Naturally, KU coach Turner Gill received a lot of attention for landing such a strong class. But Gill was the first person to spread the praise to his coaching staff, a crew that Gill has spoken highly of since arriving at Kansas.
"I give a lot of credit to our coaching staff," Gill said. "They did a heck of a job of going out there and getting the parents on campus. I'm very pleased with the job our staff did."
Of all of Gill's assistants, one seemed to play the largest role in KU's success in the Class of 2011. Running-backs coach Reggie Mitchell, who doubles as KU's recruiting coordinator, was the lead recruiter for six of KU's 27 targets, including Blue Springs, Mo., running back Darrian Miller and East St. Louis, Ill., athlete Anthony Pierson, the two four-star prospects KU landed.
Earlier this week, Mitchell was honored by Rivals.com as one of the top-10 recruiters in the Big 12. Mitchell was the only member of KU's staff on the list, and the website touted his reputation and ability to steer the two big targets to Kansas.
This is not the first time Mitchell received such an honor. In 2006, Rivals.com tapped him as one of the 20 best recruiters in the nation. A year later, he was named to Rivals' list of the top five recruiters in the Big Ten. What's more, Illinois' recruiting classes ranked in the top 35 nationally during three of Mitchell's five seasons as the Illini's recruiting coordinator. That includes 2007, when UI's class ranked 20th and included two five-star players and five four-star guys. A year later, the Illini ranked 23rd in the country, with six four-star prospects.
Mitchell surfaced in the Big Ten after spending nine seasons (1988-96) at KU with former Jayhawk coach Glen Mason. From there, he spent two years at Minnesota (1997-98), six years at Michigan State (1999-2004) and five at Illinois (2005-09).
It was there that the Flint, Mich., native established himself as one of the top recruiters in the country, bringing to Michigan State such big-name prospects as wide receiver Charles Rogers, the former No. 2 overall pick of the Detroit Lions, running back T.J. Duckett, who also was a first-round draft pick, and former all-pro wide receiver Plaxico Burress.
At Illinois, Mitchell helped land running back Rashard Mendenhall, the current Pittsburgh Steelers starter, who, in 2007, set Illinois school records for rushing yards and touchdowns on his way to becoming a first-round pick.
Those players, among many others, enjoy relationships with Mitchell to this day and have had nothing but good things to say about how valuable he was to their programs and careers.
"He is a great recruiter and a great coach because he just relates better than most coaches," Duckett said. "I always felt I could go and talk to him, and he really was a role model for me and the other players. The one thing I always knew is that I could lean on coach Mitchell for information and advice."
Added Rogers: "Reggie is the type of coach you know will always be in your life. He recruited me to Michigan State and is one of the main reasons I feel East Lansing, Mich., is my second home."
More like this story on KUsports.com