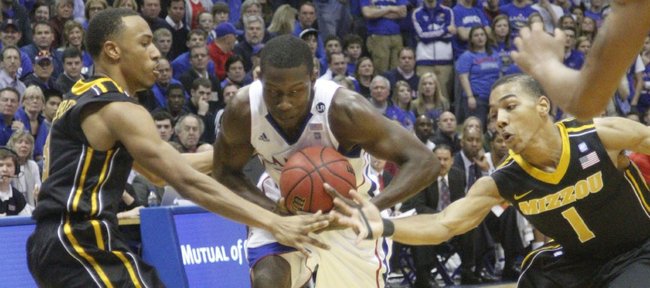 Mario Little realizes time is rapidly running out on his Kansas University basketball career.
The Jayhawks' senior role player from Chicago, in fact, will play just seven more games before tackling the 2010-11 postseason, then the real world.
There's not much time left to leave his legacy.
"I mean, I want people to remember me when I leave here, so I always try to bring something to the table. At times I don't, but that's what I'm thinking when I go out there," Little said Monday night.
He was speaking after exploding for a career-high 17 points off 7-of-9 shooting (3-of-3 from three) in the Jayhawks' 103-86 victory over rival Missouri in Allen Fieldhouse.
While not a performance for the ages, it definitely was huge, especially considering KU needed some extra offense with injured Josh Selby out of the lineup.
"I came in and shot yesterday with coach (Joe) Dooley and shot with Travis (Releford) and D. Manning (Danny Manning) today. I put the work in. I wanted to see it translate to the game," Little said.
"I felt good while I was shooting. The first one went down, so I felt comfortable. It was falling for me, so I kept pulling.
"It's not about me, it's about going home with a win tonight. I feel really good about that," he added.
KU coach Bill Self cited the contributions of Little, Travis Releford (10 points, 4-of-5 shooting) and Thomas Robinson (nine points, seven boards) off the bench.
He grinned when asked if senior guard/forward Little was efficient.
"Tonight he was efficient. There are times where he is very efficient, and there are days where he is very offensive in how aggressive he can be or how he wants to score," Self said.
"The last two games we have been fairly effective in playing him and Marcus (Morris, 22 points, eight boards) or Markieff (Morris, 16 points, seven boards) and Thomas (Robinson) together, and they've done a pretty good job."
Self continued to discuss lightheartedly the play of Little, who for this night indeed resembled his childhood idol, Michael Jordan — or at least the former Chipola (Fla.) CC player who at least once scored 25 points in a single half.
"Of course Mario is going to give himself a chance to score because he's going to clip it off just as soon as he touches it," Self said. "But tonight he was feeling it, and of course he bailed us out."
Little scored seven points and Marcus Morris five in a 14-8 run that turned a 22-17 deficit into a 31-30 lead with 6:21 left in the first half.
He iced a three from the corner that opened a 5-0 burst that turned a 36-36 tie into a 41-36 lead.
He also scored three points in a 10-2 run that upped a 65-58 lead to 75-60 with 11 minutes left, as the Jayhawks (23-1, 8-1) finally pulled away from the gritty Tigers (18-6, 4-5), who have dropped 12 in a row in Allen.
That Little three was a Tiger back-breaker. The shot clock was down to three when he hoisted, the ball swishing and giving KU a 72-60 lead.
"I heard like, 'seven, five, four, three (from crowd).' I said, 'OK,''' Little said of figuring he needed to fire away. "I heard Tyshawn ask for the ball, but I was going to take it there."
Little was not amazed at a KU offense that hit for the third-most points against Mizzou in Allen Fieldhouse history (the high-water mark is 112 in 1974) and knocked down 60.7 percent of its shots.
"Coach designs good plays. I mean, I feel we've got one of the best coaching staffs in the country," Little said. "We run our offense like it's supposed to be run, I think we'll get a good shot every time."
Other keys to the victory?
Marcus Morris erupted for 17 points the second half after Self "told me at half to play like an All-American, like people expect you to play."
Also, Tyshawn Taylor who missed 10 of 14 shots, did finish with 13 points and four assists on a night KU dished 23 assists to just 12 turnovers.
Brady Morningstar and Tyrel Reed had eight points apiece as KU scored 100 points for the ninth time in the Self era, just the third time over the century mark in a Big 12 regular-season game. MU's 86 points tied for fifth-most points a Self team has allowed.
"I thought Missouri played really well the first half," Self said. "I thought they outplayed us, and we were fortunate to be up four just because Mario (Little) and Travis (Releford) made some shots and Travis made a good play at the end of the half (hit jumper to give KU 46-42 lead). We didn't play very well in the first half, we didn't really guard them. Of course they are very quick. I thought the second half we played really well. I thought it was a very good team playing in the second half."
KU will meet Iowa State at 3 p.m. Saturday in Allen Fieldhouse.