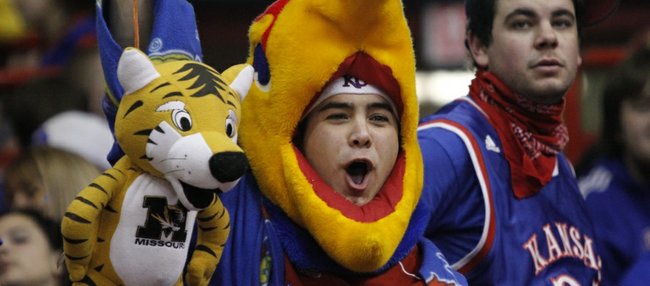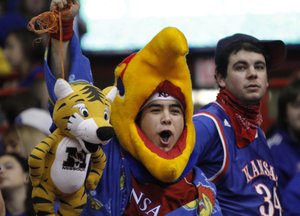 Sensing reporters were searching for Border War bulletin-board material, Mario Little refused to take the bait.
"Missouri's good. I am not saying anything you all want me to say. I'm going to say what I feel. They're good. They are capable of being good," Little, Kansas University's senior guard/forward, said with a smile.
All player paranoia aside, the media actually agree with Little's take on the Tigers (18-5, 4-4), who take a No. 14 national ranking in the AP poll — the media poll — heading into today's 8 p.m. clash at No. 2 KU (22-1, 7-1).
Thing about Mizzou, however, is the Tigers have looked like a Final Four team at home (14-0), more like an NIT squad on the road (1-4 overall, 0-4 in Big 12 action).
"I think that's true for the most part with most teams across America," KU coach Bill Self said, asked about the difference in MU's play home and road.
"I don't know details. They really feed off their crowd. The thing is, I think they'll get after us. I watched tape from the game last year (KU's 84-65 victory in Allen Fieldhouse). We controlled it from the 10-minute mark on (leading 50-30 at half). But they gave us all kind of fits. We turned it over a ton (23 times). I anticipate getting a similar effort to what they give at home consistently in our building tomorrow."
The Tigers — who snapped a two-game losing streak (at Texas and Oklahoma State) by clubbing Colorado, 89-73, on Saturday at Mizzou Arena — have dropped 11 consecutive games in Allen Fieldhouse.
Why has MU struggled outside Columbia?
"I have no idea," KU junior Tyshawn Taylor said, "but, I mean, maybe it's their press that hurts them sometimes. I know in the fieldhouse they don't press us as much as they do when we play them there. They definitely take pride in pressing us and getting steals and scoring off turnovers.
"I know it's going to be a tough game. I know they are going to come in, press us and are going to play. We're going to have to play hard."
The Tigers — who have been peppered with questions about the home/road discrepancy for weeks now — realize they'll have to bring their A-plus game at this road venue today.
"It's just a mind-set, really," said MU sophomore Michael Dixon, a graduate of Lee's Summit (Mo.) West High who averages 10.4 points a game. "We've just got to take our home games to the road. We're definitely going to have to do that coming up here in the near future.
"For like two hours, you can't really think, you've just got to play," Dixon added. "When they get dunks and hit threes and stuff like that, it's crazy. It's the best atmosphere in college basketball, no doubt about it."
MU junior Kim English, who enters with a 10.8-point scoring average (he has made 44 of 111 threes for 39.6 percent), scored 21 points in Saturday's home rout of CU.
"It's kind of easy to have energy at home," English said. "You know one big play will get the crowd involved. Maturity has to come in. We have to take that same mentality on the road and we can do it."
He'd love to steal a victory in the fieldhouse.
"Other than Mizzou Arena, it's my favorite place to play," English said of Allen. "It's a great atmosphere. It's an exciting game. It's deafening for 40 minutes plus warmups. So we're excited.
"But like Phil (Pressey, 6.3 ppg average) said, it's 5-on-5, three refs, two coaches, one ball. It's basketball, just like it is at home or back on the playground. Fans don't make free throws. They don't steal the ball from you. It's still us versus them."
Which brings us to the competitors …
"They get the ball inside, and they share the ball," MU's Dixon said of the Jayhawk players. "What people don't really know about them is they play real good team basketball. It's not really a guy — besides Marcus Morris, who is playing pretty well — they don't have a Sherron Collins or Mario Chalmers or Brandon Rush, nobody like that. They're just a real good team. They move the ball well, and they get it inside and hit open jumpers and just know how to win. It's tough to beat a team like that, especially at home.
"We've got to make shots in there. Texas made shots in there (snapping KU's 69-game homecourt win streak, 74-63, on Jan. 22). Because you're not going to get a call going to the basket or anything like that. So making shots and playing good defense and limiting them to one shot on offense (is key)."
KU, of course, is wary of explosive Marcus Denmon, a 6-3 junior out of Kansas City Hogan Prep who averages 16.7 points per game off 49.1 percent shooting. He's made 56 of 122 threes for 45.9 percent with 48 steals and 39 assists against 21 turnovers.
"I've always liked his game going back to high school," Self said. "He's matured into a really, really good college player — for sure a first-team all-leaguer and the most improved player in our league. He's a model of consistency, which is something that every team needs."
Denmon has scored in double figures in 19 of MU's last 20 games.
"He has a quick release, can stretch it from three," Self said. "If you crowd him, he's plenty athletic with the ball, where he can go around you. He's a guy that's hard to guard, can score in so many ways."
Missouri as a team is known for stealing the ball in so many ways. MU has 229 thefts to its opponents' 143. KU, by comparison, has 197 steals to its foes' 138.
"We've got to give Mizzou a lot of credit. They definitely speed you up without question the entire game," KU's Marcus Morris said, comparing the Tigers as "little gnats that won't get out of your kitchen when you leave your dishes in there a long time. They won't leave you alone.
"But we have solid point guards, and if guards can get better in transition, I think they (Tigers) are going to have a long day because I can't see them pressing us 40 minutes strong and keep turning it over that way."
KU senior Tyrel Reed called the Tigers' pressing style, "frantic. I mean, they run and jump you the whole game trying to create turnovers. They've got a really athletic team that's not really that big. They get after you.
"The good thing is a lot of our guys have already played against them so we're familiar with the style of play."
Noted senior Brady Morningstar, who figures to start his second straight game in place of Josh Selby (stress reaction right foot), who is listed as doubtful: "They're good. They're quick. They're small. They're fast. They like to run. But I think we like to do the same things."
Oh, yes ... the Tigers are one other thing.
"They're good," Little said.
More like this story on KUsports.com