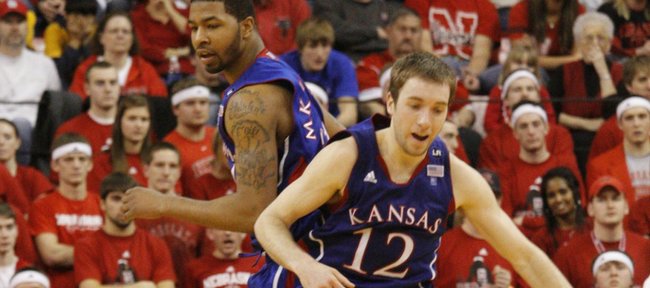 KU vs. Nebraska
Lincoln, Neb. — Brady Morningstar has been playing so well lately, he's starting to remind his teammates of somebody whose jersey hangs in the Allen Fieldhouse rafters.
"Brady to me is playing like Kirk Hinrich," Kansas University junior forward Marcus Morris marveled after watching senior guard Morningstar score 19 points off 5-of-7 three-point shooting and dish six assists against no turnovers in the Jayhawks' 86-66 victory over Nebraska on Saturday in Devaney Center.
"He is shooting threes, getting to the basket, dishing it out. I think he's been watching tapes of Kirk," Morris added after scoring 16 points and grabbing seven rebounds.
Actually, Morningstar — who led KU in scoring for the first time in his career and tallied his highest point total in a Big 12 game (he had 14 versus Colorado on Jan. 25 and 14 versus K-State last season) — has been watching tape of a fellow guard.
But not Hinrich.
"Our video coordinator (Jeff Forbes) taped a couple games of Jimmer," Morningstar said of BYU phenom Jimmer Fredette. "I saw some of the 40-point game he had.
"I'm not hopping on Jimmer's back," he added of copying Fredette, "but I saw how carefree he is, how much fun he has playing ball, and I think I've made an effort to play that way, too. To have more fun."
Morningstar admittedly has a lot more fun when his shot is falling. He has made 11 of his last 18 threes over four games after that horrid stretch in which he made two of 19.
"I had missed so many ... I knew they'd come in bunches once I started making them," the 6-foot-3, 185-pound Morningstar said. "It feels good, but I'm not jolly about myself because that's what I'm supposed to do. I guess you could say I'm back to normal."
Morningstar said it was a coincidence he had such a stellar game (his five threes marked a season high) while making his first start since the Cal-Berkeley contest on Dec. 22.
He replaced Josh Selby, who sat out the game because of a stress reaction in his right foot. KU coach Bill Self said Selby could have played, but the foot is tender. He remains questionable for Monday's home game against Missouri.
"There's five people who play out there on the court. It's no different coming off the bench or starting," Morningstar said.
Self said he'd never lost confidence in Morningstar, even during the stretch of the season where he missed three after three.
"As you've seen three years with him playing ... we look better, the ball just moves when he's out there," Self said. "We get post touches. He knows how to play. It was just a matter of time before the lid came off.
"The basket looked like a thimble for two months. Now it's opened up for him. He believes it's going in. Confidence is a big part of life, not just sports," Self added.
Perhaps Morningtar's performance in his final game in Lincoln was fate. Believe it or not, his dad, Roger, scored an identical 19 points in KU's 74-44 victory over NU on Feb. 5, 1975. That game, however, was in Allen Fieldhouse.
"The same date and everything," Brady said. "That's funny. That's cool."
Most cool for the Jayhawks was not only winning their 17th straight over NU and seventh straight in Lincoln, but playing much better than against the Huskers in Lawrence on Jan. 15. KU won, 63-60, in a game in which the Jayhawks trailed by 10 in the second half.
This time, KU opened to a 20-10 lead in the first seven minutes, then used a 10-2 run to stretch a 32-30 lead to 10-points with a minute left in the half.
The Jayhawks put this one away courtesy of a 15-3 run that stretched a 60-54 lead (10:07 left) to 75-57 with 5:18 remaining. Marcus Morris and Morningstar had five each in the run.
"In a strange way the first game helped us today because, and our guys know this, they controlled the game," Self said. "Nebraska controlled that game for 25 minutes, and they were the far superior team in our building. I think there was not fear but a respect standpoint where we knew they could beat us if we didn't give great effort. The first game was good preparation for this game. Offensively, that's as good as we can execute."
KU, which snapped NU's 14-game homecourt win streak, became the first team to score 70 points against NU in Lincoln this season.
"We've had some success here lately," Self said. "We like coming up here. I think the crowd is good. It's a respectful crowd. It's a good venue for us to come play, and I'll miss that. I know there will be some scheduling issues (with NU joining the Big Ten next year) that probably won't allow it to happen in the foreseeable future."
Morningstar is happy the Jayhawks left Lincoln winners.
"I love coming here," he said. "I love playing here, but we won't be coming back. It's good to get the last win in here."
KU will meet Missouri at 8 p.m. Monday in Allen Fieldhouse.