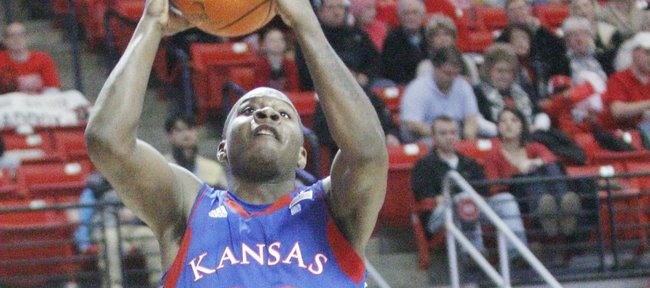 10:30 a.m. update Monday
Update: On Monday's Big 12 coaches call, Kansas University coach Bill Self indicated Josh Selby, who missed Saturday's game at Nebraska because of a stress reaction in his right foot, remained doubtful for Monday's game against Missouri.
"We are erring on the side of caution in this particular case," Self said. "He felt much better against Nebraska (Saturday). He went through our pre-game routine, but said he could still feel it (hot spot on foot). He did not practice yesterday, so I anticipate him still being able to feel it today.
"If he's able to feel it, then we are not going to go with him. Our doctors are 100 percent confident he'll be full speed in just a few days. I just don't see any reason to risk it," Self added.
As to more on how it happened ... "He thought he had a sore foot. We are talking about minor stuff going into our Texas Tech game (last Tuesday)," Self said. "I believe he was going for one of the loose balls on the sideline. It became more sore after that, not to the point where we thought he was injured by any stretch. He talked to the trainers. They looked at it, did an X-ray and MRI. Everything came out negative, but there's a hot spot so to speak which means he could play on it, but if he were to roll it, there could be a chance there could become a line or a stress fracture that could put him out a substantial amount of time, three, four, five weeks."
Original Story
Kansas University freshman guard Josh Selby, who missed Saturday's game at Nebraska because of a stress reaction in his right foot, is listed as doubtful for today's 8 p.m. home game against Missouri, coach Bill Self said Sunday.
"He will not practice today. I think him not practicing today and having been off since basically Tuesday to me is not a great sign for a guy playing against a team like Missouri that gets after you like that," Self said of the full-court-pressing Tigers.
"Yesterday, he still experienced a little bit of discomfort, tenderness. Maybe it's better 24 hours later, but I am not believing that it will probably be to the point I'm going to have total confidence putting him out there, so he's probably doubtful."
Self reiterated that Selby could have played Saturday.
"If he had to play, he could play right now," Self said. "He could have played yesterday, but the thing about it is, I'd rather lose him for two games now even if its a 10-to-20-percent chance risk (of further damage in foot) than to lose him for four to five weeks. Our doctors are confident that this thing is calming down. They think he's so much better in three days than what he was. They think he'll be even better, just give it a little more time.
"But this will be Josh's call with the doctors on whether or not he plays tomorrow. If he's 100 percent pain-free when we do our shootaround tomorrow, then he'll play. If he's not, then I'll sit him. I don't think that's anything that any coach wouldn't do because this game is very, very important for a lot of people and a lot of reasons and certainly for all of us, but on the flip side, I don't want to risk not having him during the teeth of the season when it's most important."
Brothers
KU's Selby and MU junior Kim English, who both are from Baltimore, are more than good friends.
"Kim is like my big brother. Back home in Baltimore, we would always work out together. We'd go eat together and stuff like that, so he is like a big brother because he is older," Selby said.
Has he talked to English this week about the game?
"We haven't. I'm not sure we will," Selby said.
This marks Selby's first KU-MU game.
"My teammates said it is bigger than K-State, and K-State was big. I can't imagine how Missouri is going to be," Selby said.
Can't wait
Fifth-year senior Brady Morningstar, who is 7-1 versus MU, loves the Border War series.
"C'mon, let's go. Let's play. Play tomorrow," Morningstar said with a smile, after scoring 19 points in Saturday's 86-66 victory at Nebraska. "It'll be exciting. I know the fans are going to be rocking. The place will be packed. I'm excited."
Botched breaks
KU junior Marcus Morris on the Jayhawks' failure to convert a lot of 2-on-1 and 3-on-2 fastbreak opportunities lately. Those opportunities could be vital tonight, considering MU presses a lot.
"Normally, the other team doesn't want to get dunked on, so they take away the bigs, and the guards already have their minds set on getting it to the bigs," Morris said. "I think we'll get better at it."
Rivalry
KU coach Bill Self, who is 15-3 overall vs. Missouri (12-3 at KU and 3-0 at Illinois), commented on the rivalry.
"I don't know if it's anything other than history. I've only been a part of it going on eight years, and I was part of a great Missouri rivalry when I was at Illinois, also. This one is more intense, and there is more hatred," Self said.
"I think this stems back from ... I don't think it's the players or coaches or anything as much as it is how people have been raised — the area of the country where they have been raised. It comes back to statehood — both places. There is certainly a lot of pride that exists in both states, and this is the game that many people circle that are fans of each respective schools."
Anderson lauds Allen
MU's Mike Anderson, who is 1-8 versus KU, commented on Allen Fieldhouse.
"It is one of those arenas that have been around for a while, and they do a good job of choreography — all the stuff that they do. When you talk about the band, the fans and how they're in unison, I think it's a great atmosphere. It's a good college basketball atmosphere," Anderson said.
Of KU, he said: "They have, no question about it, two of the better forwards in the country (Morris twins). They're playing awfully well right now. I got a chance to watch a little bit of it today (KU-NU game), and they shot the ball well. There's no question about it. It's a tremendous task. But we'll have to match up. We want to be unpredictable. So with that being said, I think we've got to match the physicality of the games. The Big 12 games are very physical, and I think we've got to match that and hopefully we get guys contributing off the bench in a big way."
Preparation
KU senior Mario Little on preparing for MU's press in just one day: "We've played them a lot. We know their stuff. They know our stuff, so it's not really that tough. We're used to their press."
Reed injury update
Tyrel Reed is playing with a sore left foot. "It's something in my ankle," he said of an injury unrelated to last year's toe injury. "It throbs the whole time. To jump off it, it hurts or make a cut I'm not expecting. I'll be OK. If you are out there, you play hard."
This, that
KU leads the all-time series, 169-94, including an 87-33 record in Lawrence and 40-14 in Allen Fieldhouse. ... The Jayhawks have won the last 11 meetings in Allen dating to 2000. ... Overall, KU has won three straight, eight of the last nine and 12 of the last 15 meetings. ... Since the inception of the Big 12, KU holds a 22-9 series advantage against MU — 20-8 in regular-season play and 2-1 in the Big 12 tourney. ... Today's game will mark the 41st meeting with one or both of the teams ranked.
More like this story on KUsports.com