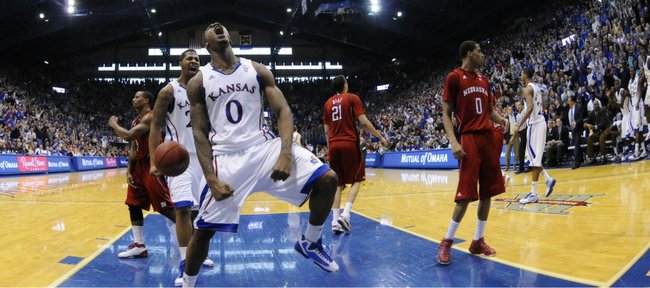 Lincoln, Neb. — A three-point victory, 46 percent shooting from the floor, 53 percent shooting from the free-throw line and just 25 points in the first half.
Those were the facts the last time the Kansas University men's basketball team faced off against Nebraska — Jan. 15 at Allen Fieldhouse — and KU coach Bill Self remembers them all too well.
"They definitely got our attention," Self said of the Cornhuskers, who will play host to KU at 3 p.m. Saturday in Devaney Center. "There's no question about that. We were fortunate to win the first time, and we know that this will be probably as hard a game as we've played all year."
The reasons for that are many, but they start and end with Nebraska's defense. In the first half of the first meeting, Kansas trailed by as many as eight points, including a 30-25 deficit at the half, and shot just 33 percent from the floor during the first 20 minutes.
"They're a great defensive team, first and foremost," said junior forward Marcus Morris, who led KU with 16 points and 11 rebounds in the win. "They double-team the post, and their guards are very scrappy, and they do a lot of help defense that's good for them."
Senior Tyrel Reed also pointed to NU's defense as the thing that stood out from the previous meeting.
"I thought they played great defensively against us," Reed said. "It was an extremely tough game in the fieldhouse, and they weren't rattled by our fans or things like that."
That was what got KU's attention the most. Annually, teams come into Allen Fieldhouse thinking they won't be intimidated by the historic arena only to discover otherwise once they're running up and down the floor.
In January, Nebraska (15-6, 3-4) did not appear to be fazed in Lawrence. Nebraska's ability to perform so well in such a hostile setting should have the Huskers prepared for today's rematch.
"The thing about the Nebraska players is, I think they probably think they can beat us," Self said. "I think they came in here believing they could beat us and came very, very close to doing so. Their players should be as confident as they've ever been playing us, and our players have to respect that."
Today's game will represent the final meeting between KU and Nebraska as members of the same conference, something that Nebraska fans might consider to be good news. Since the inception of the Big 12 in 1997, KU owns a 30-3 record against the Cornhuskers. Included in that record is a stretch of 16 straight victories, dating back to the 2004 season. Overall, KU leads the series 169-71, but the Jayhawks aren't expecting those numbers to intimidate the Huskers today.
"I don't think they've backed down to any of their competition," Reed said. "I don't think that Nebraska looks at playing Kansas and is scared or anything like that. They're going to be ready to play, and it's definitely going to be a tough game for us."
Added Morris: "I found out that they haven't lost at home, and it's definitely going to be a great environment. Their fans are gonna be amped and into it, and hopefully the fans that we have there will be amped and into it. It's going to be a great game, and it's gonna be a great test for us."
Senior guard Lance Jeter leads Nebraska in scoring at 10.9 points per game, just ahead of senior center Jorge Brian Diaz, who averages 10.5 ppg. Diaz is shooting 55.4 percent from the field, averages 4.5 rebounds per game and is second on the team with 22 blocked shots. Jeter leads NU with 91 assists and 41 steals. Junior guard Toney McCray is next in scoring at 7.0 ppg.
"They may not score a lot of points, as far as having one guy go out and get 25 or whatever," Self said. "They have balance, where a bunch of guys score more than eight, kind of like we had in '08, to be honest with you. Our leading scorer averaged 13, but it could be a different guy (every night)."
Most nights, that's Jeter, who scored 13 points on 5-of-10 shooting against the Jayhawks in January.
"It seems like to me, as he goes, so go the Huskers," Self said of Jeter.
The Jayhawks did not seem too sentimental about traveling to Lincoln, Neb., for the final time, but Self did address the future of the series. Asked if he could envision playing the Cornhuskers as part of the nonconference schedule somewhere down the road, Self said: "I don't know. It'd probably be fine with Doc, and it'd be fine with me. But I don't see it happening in the near future. If anything, I think we should play Colorado because, to me, Colorado gives our fans in the western part of the state a chance to be a semi-home game. I think the Colorado game would probably benefit the masses more."
More like this story on KUsports.com