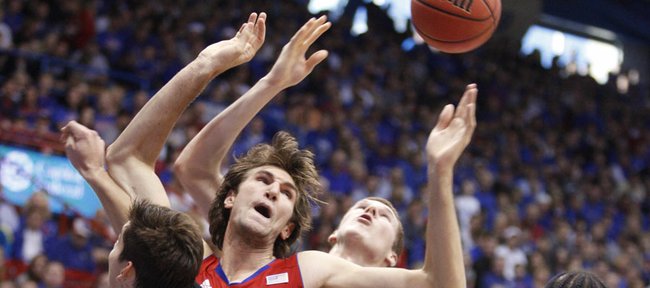 Podcast episode
Kansas coach Bill Self talks to reporters following the Jayhawks' 84-58 victory over North Dakota on Dec. 31, 2011.
Videos
KU vs. North Dakota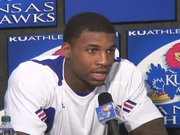 Kansas head men's basketball coach Bill Self addressed the media after defeating North Dakota, 84-58, on Saturday, Dec. 31, 2011 at Allen Fieldhouse.
KU vs. North Dakota
Kansas University's basketball team, which lost NBA players Marcus and Markieff Morris and Josh Selby off last year's 35-3 Elite Eight team, finished the 2011-12 nonconference campaign with a 10-3 record.
"Our record isn't quite what I wanted. I was really hopeful we could get through nonconference with a couple of losses," KU coach Bill Self said after Saturday's 84-58 victory over North Dakota.
"After we beat Ohio State, I said we have a chance to have two losses, and if we had two losses we would be in the Top 10 in the country right now. Not that we deserve that, but that's the way it works. The thing that concerns me is how soft we are. Everybody sees it. You have balls hitting guys in the hands, and they don't come away with it, and we are getting ready to play big-boy ball starting Wednesday (7 p.m., at home against Kansas State). I am really concerned with our big guys because other than Thomas (Robinson). I don't think we have a big guy that can get a rebound in traffic against men. That would be my biggest concern right now."
Self's plans for New Year's Eve?: "We're going to go to dinner, I guess," he said, noting he wouldn't be hosting any party.
He was asked if the team would practice today. "The guys who played all the minutes, they won't practice much. Those other guys ... they should be ready for practice tomorrow."
Starter Jeff Withey went just eight minutes Saturday, while Justin Wesley, Kevin Young and Naadir Tharpe each played six minutes.
This, that: KU won its 55th consecutive nonconference home game. ... KU has won 13 in a row overall in Allen. ... Self is 247-49 at KU. ... Robinson set KU season highs in points (30), rebounds (21) and offensive rebounds (eight). He also matched the KU season high for field goals (10). ... The Big 12's last 30-point/20-rebound game was Oklahoma's Blake Griffin vs. Texas Tech on Feb. 14, 2009. ... Travis Releford had a career-high seven boards and matched his career high with 14 points. He also had 14 in the opener versus Towson. ... Jordan Juenemann set career highs in rebounds (three), assists (one) and blocks (one). ... KU wore crimson uniforms for the first time since the Colorado State game last season. It was the first time KU wore crimson at home since the Alcorn State game in 2009. ... KU attempted a season-high 27 threes and shot a season-worst 22.2 percent from beyond the arc. KU also took 27 threes against Iowa State on Feb. 12, 2011. ... KU had a season-high 15 offensive rebounds.