Videos
Bill Self weekly press conference: Dec. 28, 2011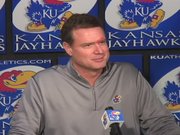 Kansas head men's basketball coach Bill Self addressed the media at his weekly press conference Wednesday, Dec. 28, 2011 at Allen Fieldhouse.
It remains to be seen if Monday night's Kansas University basketball team meeting in Allen Fieldhouse proves as effective as two memorable sessions of the past:
• One conducted in a Las Vegas hotel hallway the night before KU's overtime victory over No. 1-ranked Florida in November of 2006.
• One called at Henry T's Bar and Grill after a discouraging loss to Oklahoma State in February of 2008 — which turned out to be the last loss of a national championship season.
"It was a defining moment for us," KU senior guard Tyshawn Taylor said of Monday's 15- to 20-minute players-only meeting that followed a post-practice speech of coach Bill Self. "We said, 'Look, this is where we stop doing all the dumb stuff we've been doing, and this is where we stop not being good teammates, not talking when we're on the court and not cheering for each other.' Now we're going to be better teammates. We're going to be talking and having a lot of energy. After that meeting, practices have been really good."
Bringing all-out effort each day summarizes the message of Self, whose Jayhawks will play host to Howard University at 7 tonight in Allen Fieldhouse.
"I just wanted to welcome everybody back from Christmas," Self said of the first practice after a three-day holiday break. "The thing about it, is, I like our guys, and they know I like them, but I can't coach them and let things I feel go unsaid.
"If I don't say it, it will be pent-up frustration for me. The thing I told them more than anything is, we're not that far off. We're a team that, if we don't bring it every night, then we get really average really fast because we're not the most talented team. We've shown when we bring it, we're talented enough to beat anybody.
"They've actually been pretty good since that meeting. I said, 'Gosh, coach must be a real jerk. He wants you to play with emotion and passion. Imagine a coach actually telling a team that. What a jerk,'" Self cracked.
Once Self left the locker room, the meeting became a bit more personal.
"It worked for me my freshman year, telling Sherron (Collins), 'We need you. We need you,'" junior combo guard Elijah Johnson said, indicating the squad normally holds about three special meetings per season. "Now to hear Merv (Lindsay, freshman) tell me the same thing ... it starts over. Sometimes you just need to hear it again."
Johnson also had some advice for the rookies on the roster.
"Just me sitting down talking to a lot of the young fellas, telling them that next year a lot of us won't be here. A lot of people will be gone (to graduation or NBA)," Johnson said. "Those games they sit on the sideline and cheer for us ... are they ready to be in (the game)? When I said that to a lot of them, they thought about it. I told them it's less than a year away. They have to start preparing, getting stronger in the weight room. I got Ben (McLemore), Merv and a couple more players really just getting into their own zone and figuring out, 'This is our life,' and, 'This is what we need to get the best at.' They are trying to grow, trying to turn into grown men."
KU junior Thomas Robinson, who is the Jayhawks' one sure NBA prospect on the roster — he's listed as No. 6 pick of the 2012 first round; Johnson as No. 14 selection of the second round and Taylor No. 15 of second round by draftexpress.com — spoke at the meeting, as did Johnson, Taylor, Conner Teahan, Justin Wesley and Jordan Juenemann.
"I said, 'There is a problem where we are at. We are going downhill as a team,'" Robinson revealed. "We had to call a meeting to get things right. We found out what the problem is. We got the problem fixed. The attitude is back to where it was at the beginning of the season. It's our fault we have three losses. Sickening," he added of the squad's 8-3 record. "Our motivation is to prove we are good every day. This is Kansas. Nothing less than championships is acceptable."
Johnson said the team is newly motivated with two nonconference games remaining (KU meets North Dakota at 3 p.m. Saturday in Allen) before Wednesday's league opener versus Kansas State.
"I feel we've got something to prove," Johnson said. "A lot of people I won't say are waiting for us to fall off, but they don't pay us too much mind. They respect us because of who we are and our coach, but I feel a lot of people are just throwing us under the rug. It's not a comfortable feeling. We want to make some headlines and be talk of the town again.
"If I was at another school in the Big 12, I would be thinking, 'I can't wait to play Kansas this year because (they are) most vulnerable,' as far as the team goes and talent level goes. Everybody gets to come to the fieldhouse this year. I would circle that game because not many teams get a chance to beat us. This is the year for anybody. That's what they are thinking, but we've got a different game plan."
Overtime: KU has held daily two-a-day workouts leading to tonight's game. "I'm really not a morning person," said Johnson, who hopped out of bed at 8 a.m. for a morning practice Wednesday, "but today was one of my top three practices all year. If it's going to make us feel like this after practice, I'd tell him (Self) to keep doing it every day."
Newcomers: KU freshmen McLemore and Jamari Traylor, who were ineligible and could not practice with the team first semester, have been practicing since the end of final exams.
"Our practice squad is actually decent, pretty good. Ben and Jamari have given us a lot of energy and athleticism being out there," Self said. "I wish they could play now because they would certainly help us. Practices have been better. It's much more competitive out there."
Self said the two players excelled in the classroom first semester.
"They can do everything now except play in games and travel. They're cleared to go. One of them had a 3.3 (GPA) and one had a 3.2, so they did great academically. I'm really proud of them. The NCAA put some very strict stipulations on them, and they blew those away, so I'm really happy for them," Self said of the two, who will be eligible to play in games next season with four years of eligibility remaining.
Since they've been back ... "The level of competition has shot out the roof," Johnson said. "They are athletic and they can play."
Taylor's health: Tyshawn Taylor, who had surgery to repair a torn meniscus in his right knee on Dec. 11, said he's feeling fine. He didn't miss a game because of the surgery.
"Aside from a little swelling here and there, it's good," Taylor said. "I ice it every day, and I'm good."
Today's foe: Howard is located in Washington, D.C., with an enrollment of 10,500. … The Bison are 4-1 at home, 0-7 on the road and 0-1 at neutral sites. Senior guard Glen Andrews, a Tulsa transfer who has played in three of Howard's 12 games, averages a team-leading 14.0 points per game. Junior guard Calvin Thompson (no relation to former KU player Calvin Thompson) averages 11.3 points and 4.5 rebounds a game. Junior forward Mike Phillips averages 10.2 points and a team-best 6.9 boards. ... KU won the only meeting between the schools, 100-67, in the opening round of the 1992 NCAA Tournament in Dayton.
Self update on the red mark on his forehead: "I had some pre-cancer spots, and the doctor told me I needed to get rid of them. Today's my last day of medicine. I've been taking it for three weeks. I'll be back to normal in a couple days."
More like this story on KUsports.com