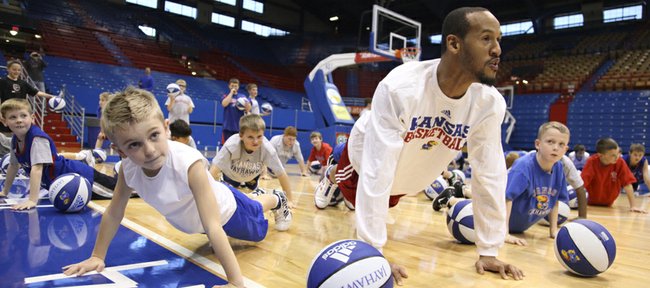 It took Kansas University freshman Naadir Tharpe all day Friday to travel from Los Angeles — site of the Jayhawks' 63-47 victory over USC — to his hometown of Worcester, Mass.
"It was six or seven hours maybe (in the air). It was intense, but as long as I got home safe and sound is all that matters," said the 5-foot-11, 170-pounder, who spent three nights at home before returning to Lawrence in time for practice Monday night.
"It was definitely worth it. When you get to see your family and friends, it doesn't matter how much time it is. Every minute is special with your family."
Tharpe, who worked as a camp counselor in KU's holiday clinic for boys and girls Tuesday in Allen Fieldhouse, was willing to reveal his favorite Christmas gift.
"I just got a Blu-ray DVD. It's probably one of my favorite movies. Don't judge me on this, but, 'Devil Wears Prada,''' Tharpe said with a smile.
Tharpe was raring to take the court immediately upon his return to campus.
The former Brewster Academy point guard is trying to do all he can to contribute on this level.
"I'm definitely putting in a lot of overtime. I make sure I come in early with coach Dooley (Joe, assistant), before practice as well as after practice, getting up shots. He's been working with me a lot," said Tharpe, who has scored eight points and dished nine assists against six turnovers while logging 8.0 minutes a game in nine of KU's 11 games.
"I need to work on everything — my shooting," added Tharpe, who has made three of 16 shots, just one of 11 from three. "I knew it was going to be tough. Basically coming to Kansas University, you know it's going to be tough. It's a program with great players, a program with basically a lot of stars that came out of here. So I knew it wasn't going to be easy. That's why I wanted to take this challenge."
He received the star treatment from the 400 youths at Tuesday's clinic, signing a batch of autographs.
"I love working with kids. It's fun," Tharpe said. "They can't wait to talk to you, shake your hand. No matter what you do for the kids, it puts a smile on their face."
Teahan latest to have flu: Senior Conner Teahan did not practice Tuesday morning or attend the clinic.
"Conner has the crud, the definition of crud," KU coach Bill Self said. "He's on some IVs. Hopefully he'll be able to go tomorrow."
Happy birthday: Self on Tuesday celebrated his 49th birthday. "A lot of people said I looked like I was 49. Good gosh, who could possibly think that?" Self joked. "I really don't know what I'm going to do (Tuesday night following a late-afternoon trip to the dentist). It'll probably be something very elaborate and exciting, and I'll probably be asleep by 10:30."
Self recently had a growth removed from his forehead, which has given him a temporary red rash-like mark.
"I am fine. I had some pre-cancer stuff the doctor told me I had to get taken care of. I tried to time it where it wasn't as noticeable," Self said, smiling. "I ran out of makeup this morning, so I couldn't hide it from everybody one more day. I have a new appreciation for women who actually put makeup on every day, because it's a little more time-consuming than I thought it'd be."
Next game: KU will meet Howard University at 7 p.m. Thursday in Allen. Howard of the Mid-Eastern Athletic Conference (located in Washington, D.C.) enters with a 4-9 record. The Bison lost at Indiana, 107-50, and at Georgetown, 62-48. KU beat Georgetown, 67-63, in the Maui Invitational. Howard will stay in the area to play Kansas State on Saturday in Manhattan.