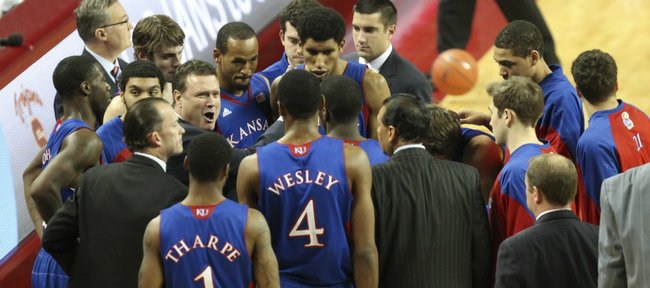 College basketball coaches can only work with their players 20 hours a week when school is in session.
During semester break, however ...
"There are no limitations, so you don't have to give the guys a day off. You can go as long as you want, as many times as you want, whenever you want, that kind of stuff," Kansas University coach Bill Self said on Monday's "Hawk Talk" radio show.
So from now until the Jan. 17 start of second semester, "we'll have unlimited time," Self said.
The first post-winter-break practice session was set for 7:10 Monday night, shortly after the conclusion of "Hawk Talk."
"You will not practice 10 hours a day," Self said. "Last year we did practice eight hours one day. I told our guys (last Thursday), 'We need to beat USC. It'll probably be to your benefit if we do because if we don't play well, there's a great chance we won't enjoy ourselves a lot after we get back after Christmas.'
"I said, 'Remember last year we had some eight hour days, and that's when we were undefeated.' I don't know how our guys are going to react this year," Self added.
There's more than practice time on the immediate horizon. KU, which holds its annual holiday clinic for youths this afternoon, will meet Howard at 7 p.m. Thursday and North Dakota at 3 p.m. Saturday in Allen Fieldhouse.
"This is the only week we have left in our season to get better. Think about it. Because of the new 18-game (league) schedule, there is not an off week, so it's two games a week every week," Self said. "This week there are no classes. We have two games, and we will take those games very, very serious, but it is a time we just focus in on ball and don't really worry how tired they are."
Self said he's seeking improvement in a lot of areas, including setting screens and running offense to score, as well as defending for the entire shot clock.
"If I was going to pick something I'd want to happen more than anything else ... we don't play with a personality," Self said. "We do not play with the personality where it shines through, and there's energy exuding all personnel out there on the court.
"I don't feel that yet. Certainly that's something we've always done a great job in. It doesn't have anything to do with trying hard, nothing like that. It has more to do with understanding: 'OK, this is what we need, and if we do this, we'll become better defenders; we'll do this; we'll do that.'"
"I don't want a hot dog, but I want somebody to bring some bounce, some energy that is contagious."
He cited some bouncy players of the past.
"The twins at times were unbelievable," he said of Marcus and Markieff Morris. "When Sherron (Collins) was good ... that cat brought it. You go back to Cole (Aldrich), who had that bounce and energy. It's kind of contagious. You go to those good teams we had in '06, '07, '08, those teams definitely had it. Jeff Hawkins was so valuable to us because he could slide better than anybody, was the best on ball defender we've had since we've been here. He played with a bounce and energy and toughness level that was contagious and ran through our team. Darnell Jackson played that way. Our guys try hard. I wish we had a bit more bounce to us now."
The Big 12 portion of the schedule begins a week from Wednesday when Kansas State comes to Allen for a 7 p.m. tipoff.