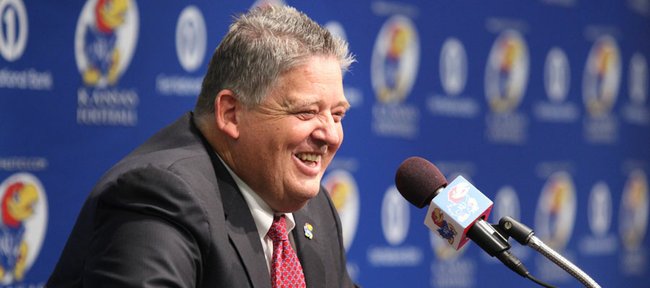 Kansas University's search for a new head football coach is long over, but the Jayhawks' quest to find a new defensive coordinator has moved into its third week.
When Charlie Weis was introduced as KU's coach on Dec. 9, he gave no timetable for when he would have his coaching staff in place and said his focus was on bringing in the best fits.
"I hired a bunch of good coaches (at Notre Dame), but never really got it right," Weis said. "Whether it was chemistry on offense or going through multiple coordinators on defense … if I had got it right, I would still be there and still be the head coach."
Instead, Weis was fired after five seasons, which eventually opened the door for him to come to Kansas. While the hiring of Weis made an enormous splash, it also intensified the interest in KU football and has left many clamoring for information about everything from Weis' staff and the players he is recruiting to whether the names would return to the backs of the uniforms next season.
Weis, a former NFL offensive coordinator with the New York Jets, New York Giants, New England Patriots and Kansas City Chiefs, may draw on all of his pro football experience to fill what many believe will be the most important position on his coaching staff at KU. Sources have indicated to the Journal-World that at least a couple of current NFL defensive coordinators have landed on Weis' short list.
That could explain the delay in nailing it down. With the NFL now in its final week of the regular season, Weis could be going the courteous route and waiting for NFL teams to wrap up before he has formal discussions with any potential coordinators.
Speculation about the names on his list might lead to San Diego and Miami. Both teams have been eliminated from postseason play and will have new head coaches next season.
San Diego defensive coordinator Greg Manusky has 11 years of experience on an NFL sideline. Prior to joining the coaching fraternity, Manusky played 12 seasons in the NFL with the Washington Redskins, Minnesota Vikings and Kansas City Chiefs.
While 2011 marked his first season as the Chargers' defensive coordinator, Manusky, 45, worked the same job for the San Francisco 49ers from 2007-10. Prior to that, he coached linebackers for the Chargers from 2002-06 and broke into NFL coaching by overseeing the linebackers in Washington in 2001.
A native of Pennsylvania and 1988 graduate of Colgate University, where he was the Colonial League's defensive player of the year in 1987, Manusky retired in 1999 after a playing career that included a stretch of 113 consecutive games.
The Chargers' defense, which ranks 12th in total defense, 10th in pass defense and 20th in rush defense, operates out of a 3-4 set. During his stint as the 49ers' defensive coordinator, Manusky's defenses ranked in the top 15 three times, including two seasons as the sixth-stiffest run defense in the league.
Reports surfaced earlier this month that San Diego intends to fire head coach Norv Turner at season's end, which could mean that Manusky, too, soon will be looking for work.
Miami DC, Mike Nolan, 52, a native of Baltimore, has coached in the NFL since 1987, including 13 seasons and six stops as a defensive coordinator — most notably with Baltimore from 2002-04 — and a four-year run as the head coach of the 49ers from 2005-08. Nolan is in his second season with the Miami, which fired head coach Tony Sparano two weeks ago. During his time with the Dolphins, Nolan has elevated the defense into the top half of the league, including taking a unit that ranked 22nd in total D in 2009 and transforming it into the sixth toughest defense in the NFL in 2010. Like Manusky's in San Diego and some of Weis' teams at Notre Dame, the Dolphins' base defense utilizes the 3-4 approach.
At his introductory news conference, Weis spoke of bringing in a veteran to run the KU defense, allowing him more time and freedom to focus on upgrading the offense. While it's still too soon to tell if Manusky or Nolan is a finalist for the job at Kansas, both seem to fit the profile Weis is seeking.
"What you would like to do is get involved (with the defense) early in the week and study the opponent's personnel and say, 'Hey, this is where I see them vulnerable,'" Weis said. "Ideally, that's what you would like to get to. (I have) a couple of candidates for defensive coordinator, and if one of them comes to fruition you will see what I'm talking about. In the beginning, I would like to let somebody run the defense and let me run the offense."