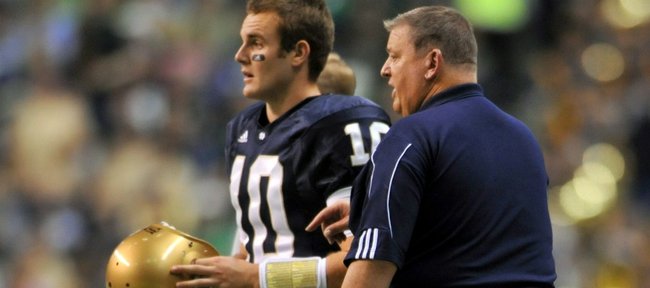 Many around Lawrence — both fans and those within the program — are still in a state of euphoria.
It's been a long time (if ever) since the Kansas University football program has experienced the kind of recruiting day it enjoyed Thursday, when a pair of former five-star quarterbacks announced within a few hours of each other that they would be coming to Kansas next season.
Dayne Crist, the No. 2-rated QB in the high school Class of 2008, who graduated from Notre Dame this month after playing for the Fighting Irish from 2008 to 2011, will be allowed to play out his final year of eligibility at KU immediately.
Jake Heaps, the top-ranked QB in the high school Class of 2010 and a BYU sophomore who started 15 games for the Cougars before being benched earlier this season, will sit out next year because of NCAA transfer rules and will have two years of eligibility remaining beginning in 2013.
If things play out on the field the way they played out during KU coach Charlie Weis' pursuit of the top-tier quarterbacks, Crist, who was recruited to Notre Dame by Weis, will be the Jayhawks' starter next season, and Heaps will take over for 2013 and 2014.
Not since Todd Reesing beat out Kerry Meier for the starting job during the fall of 2007, has KU's future at the position looked so bright. Even then, few could predict that Reesing, who first played as a true freshman during the final three games of the 2006 season, would go on to rewrite KU's passing record book and become one of the best quarterbacks in the country for a couple of seasons.
With KU's quarterback position now in good shape, the focus shifts to tracking which players may decide to join the Jayhawks because of the addition of Crist and Heaps.
"As a wide receiver, if I was a senior in high school and I was being recruited by a bunch of schools, and I found out that one of them just landed two five-star quarterbacks who have had some success in college and are going to be coached by one of the brightest QB minds in football, I would definitely have to give that school a serious, serious look," said former KU wide receiver Harrison Hill.
The general consensus among those who cover recruiting and follow the KU program is that the Jayhawks are in line to see a recruiting haul like never before because of the star power of Weis' two high-profile QBs. But even those with a good handle on the recruiting business, like Jon Kirby, of Rivals.com, a 13-year veteran of tracking KU recruiting, admit it's impossible to predict how this will play out for KU because it's never been seen before.
"The answer to that question is, yes, I believe it will have an impact on other players wanting to follow," Kirby said. "Can I tell you that from experience? No. Because Kansas has never had these types of kids come in. It's uncharted waters."
Hill, who ranks 10th on KU's all-time receptions list, said he would not be surprised to see some big-time prep receivers add the Jayhawks to their lists because of the Jayhawks' upgrade at quarterback.
"Those are the guys who throw you the ball," said Hill, a former captain whose KU career (1997-2001) was cut short a season because of severe dehydration issues. "Knowing their talent level and the accolades they've received, I would see that as a huge advantage, there's no question."
Like many within the KU football community, Hill found himself extremely excited about KU's new quarterbacks when he heard the news on Thursday. But Hill's excitement runs beyond being a former player or a fan of the program. Hill, a native of Wichita and former prep standout at Wichita Collegiate, said the addition of Crist and Heaps signaled a turn in the right direction for the Jayhawks.
"When these guys were being recruited, they saw some of the best schools in the country," Hill said. "For them to pick Kansas must mean that they feel good about what we have here, and they believe that they could come in and get things rolling. It's exciting."
More on Crist
After the news broke that Crist was coming to Kansas, those who know him or played with him at Notre Dame, stepped forward, one by one, and offered their support for the quarterback who was 4-6 as a starter at Notre Dame from 2008-11. Some cheered Crist's news on Twitter. Others shared their thoughts in interviews with various publications.
The one thing that was consistent in all of the reaction was that people genuinely liked the Canoga Park, Calif., native for who he was as a person, not just as a football player. "I'm thrilled for Dayne," Notre Dame athletic director, Jack Swarbrick, told Pete Thamel of The New York Times. "He's one of the great young men to ever be with us, and he found a good home."
Two of Crist's Notre Dame teammates shared their thoughts with Brian Hamilton of the Chicago Tribune:
"Words cannot describe what Dayne meant to this team, what he meant to me," quarterback Andrew Hendrix said. "Every time I needed something, I looked over to him and he would help me out. It probably got really annoying for him, actually. But he showed me how to be a leader, how to handle things. Dayne's just the ideal quarterback and the ideal person."
Added safety Harrison Smith: "You're never going to meet a better guy than Dayne."
KU's QB picture
With Crist and Heaps coming to KU for the spring semester, that brings the total number of quarterbacks on KU's roster to six, not counting quarterbacks-turned-receivers Kale Pick and Christian Matthews.
Included in that group, with Crist and Heaps, are: two-year starter and junior-to-be Jordan Webb; sophomore-to-be Blake Jablonski; and a pair of true freshmen who sat out 2011 in Brock Berglund and Michael Cummings.
While it seems likely that one or two of those guys will elect to continue his playing career somewhere else, there has been no official word from KU or any of the players about possible transfers.
Berglund, who graduated high school early and was supposed to join the Jayhawks last spring, ran into legal trouble and missed the entire season. When last contacted by the Journal-World in late November, Berglund, who will stand trial for third-degree assault in Colorado's Douglas County Jan. 10-12, said his plan was to stick with the Jayhawks and return to campus Jan. 17. Berglund said he planned to participate in spring practices, and he might emerge as Crist's main competition next season.
More like this story on KUsports.com