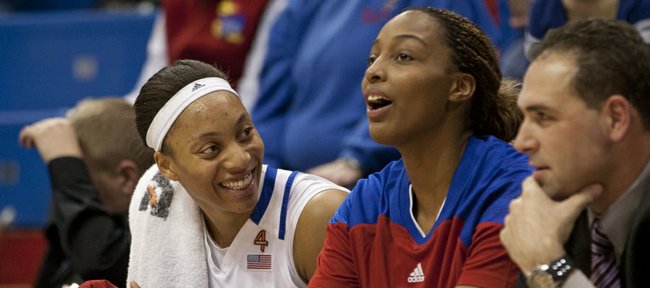 Between point guard Angel Goodrich setting things up and forward Carolyn Davis finishing inside, Kansas University's women's basketball team had the perfect combination to knock off Oral Roberts, 85-68, Wednesday night at Allen Fieldhouse.
Davis reached a season-high in points against ORU with 25, while Goodrich distributed a season-best 14 assists.
According to Goodrich, KU's junior floor general, the gaps in the Golden Eagles' wide zone set the Jayhawks (10-1) up for a big night.
"It was easy to get to the open guy, because they were coming at us so fast," Goodrich said of Oral Roberts' perimeter defenders.
ORU coach Jerry Finkbeiner admitted Goodrich dissected the Eagles' defense.
"Angel Goodrich is the real deal," he said.
The pass-happy point guard could have had a few more assists, KU coach Bonnie Henrickson joked after the win.
"Aishah (Sutherland) probably owes her breakfast, because Aishah probably blew two of them (lay-ups)," the coach quipped after Sutherland finished with 18 points.
The KU single-game record for assists is 18, held by Lisa Braddy, who set the mark in 1989. Goodrich's 14-assist night put her in sole possession of the third-best single-game assist total in program history. Goodrich passed out 15 in a game against Iowa State as a sophomore.
Goodrich, who only made two of her 10 shots, said specific assists numbers are never on her mind when she's on the floor.
"It's not like something I go in there and be like, 'Oh, I'm trying to get my assists really, really high.' I just like to get my teammates involved," she said, "and when they're open I like to give them the ball."
Davis frequently found herself open against ORU (7-5). In the first half alone she went for 20 points and six rebounds in 17 minutes.
The junior captain got off to a hot start, hitting eight of 12 attempts before halftime, benefiting often from her teammates' passes. Davis was set up with good looks for interior baskets four times by Goodrich, twice by Monica Engelman and once by Natalie Knight.
Seeing various Jayhawks help out the junior captain pleased Henrickson.
"We need for other people to throw a post entry pass and it not be Angel every single time," the coach said.
Davis, who also had a game-high 11 boards, said KU was prepared for the Golden Eagles' zone defense, knowing it would be extended and the Jayhawks could find open spots.
"We worked all week on that," she said. "Our guards did a good job of finding me in those gaps."
Kansas actually looked like it might be in trouble midway through the first half. The Golden Eagles' confidence immediately picked up after blocking shots by Davis and Sutherland on one possession.
Soon after, ORU junior guard Kevi Luper made two straight baskets, and Oral Roberts took a 17-15 lead with 9:56 to go in the half.
The road team's lead grew as big as three (19-16) when ORU senior forward Jordan Pyle made a lay-up at the 9:26 mark.
After Engelman (16 points) drained a three-pointer to tie the game, a crossover and runner by Luper from 14 feet out put the Eagles up again, 21-19.
However, Goodrich set Engelman up for a reverse lay-up to tie things at 21. That was the first basket of a 12-0 run, which gave the Jayhawks control.
With numbers on the break, Engelman fed Sutherland for a lay-up to give KU its first lead in more than three minutes.
Davis then scored three straight buckets for Kansas, the last coming off a steal as the 6-foot-3 junior took the ball all the way down the floor for a lay-up.
KU went up 31-21 after Goodrich stole the ball, pushed it up the floor, found Engelman trailing on her right and hit her fellow captain in stride for a lay-in with 4:28 left.
Kansas led, 41-29, at the break.
At 7 p.m. Wednesday, Kansas will play its final nonconference game of the season when Sam Houston State visits Allen Fieldhouse.
More like this story on KUsports.com