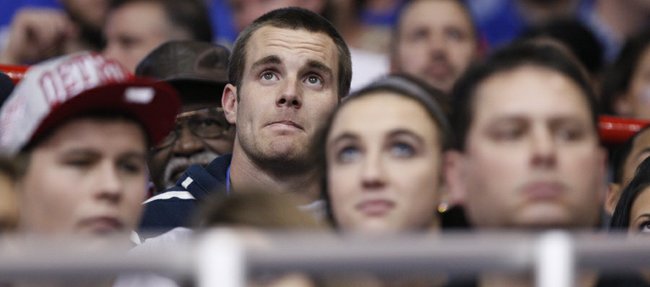 It's been 11 days since Dayne Crist sat with members of the Kansas University football team in Allen Fieldhouse and watched the Jayhawks' basketball team upend No. 2 Ohio State.
During that time, Crist probably has picked up a couple thousand KU fans as Twitter followers. That's because the enthusiasm and interest of an entire fan base has transitioned from closely following a super secret coaching search to watching every move that Crist has made.
For those who don't know, Crist is KU's latest quarterback target and a recent graduate of Notre Dame who played three seasons and made 10 starts for the Fighting Irish from 2008-11. Because he graduated from Notre Dame this month, and because he has one year of eligibility remaining, he's free to transfer to another school and play immediately.
New KU coach Charlie Weis was the man who recruited Crist to Notre Dame, and, with fans at Kansas and Wisconsin watching his every move, Crist Watch has become every bit as important as Christmas, as the 6-foot-4, 235-pound pro-style quarterback continues to keep football fans at KU and Wisconsin on pins and needles.
Monday, WNDU TV in South Bend, Ind., caught up with Crist and asked him about his decision.
"I honestly do not know at this point," Crist told WNDU's Angelo Di Carlo. "I visited Wisconsin this weekend. It was a really good visit, but at this point, I have to weigh the pros and cons and go from there."
Many reports during the past week have indicated that Crist's decision could come any day. But, as he explained to Di Carlo, choosing a place to play the final season of your career is very different than picking a school as a senior in high school.
"I have to look at it very different," he said. "I have one year. I can't afford to be wrong with the decision. There are some things that are less important in a one-year decision versus four-year decision."
As a high school senior in Canoga Park, Calif., Crist earned a five-star rating from Rivals.com and was ranked as the No. 2 quarterback prospect in the nation. His career at Notre Dame did not bring similar success. Two knee injuries cost him the better part of two seasons, and, after being named the starter for 2011, he was benched during the opening game of the season and appeared in just three games the rest of the way. Now, Crist, who has the look and feel of an NFL quarterback, is determined to prove he still can play. Whichever school he feels gives him the best shot of realizing his pro football dream may have an advantage. Of course, other factors also are in play.
The incredible success of Wisconsin QB Russell Wilson (who made a similar move after playing four seasons at North Carolina State) has some thinking Crist will head to Madison, Wis. The quarterback's relationship with Weis has others thinking KU will be his pick.
"He's been supportive of me the last four years, whether he was here or not," said Crist of Weis. "Always staying involved in my life. Always helped me along and gave me advice, even before he was at Kansas. I have a high comfort level with the offense he runs — know it very well. It would be a pretty good advantage walking in the door."
Crist told Di Carlo that he could make a decision this week and that he likely would not push it past the first week of January.
Signing day for the Class of 2012 is set for Feb. 1. Junior college transfers, of which KU figures to have a few, are eligible to sign any time between today and Jan. 15.
Weis' road to recovery
KU officials confirmed that Weis had successful left hip replacement surgery on Monday morning in Florida and was recovering nicely.
KU athletic director Sheahon Zenger, who filled in for men's basketball coach Bill Self on "Hawk Talk" on Tuesday night, said Weis came out of the surgery ready to work.
"He's been on the phone with coaches; he's directing traffic, and that's one of the reasons I hired him," Zenger said.
"I don't know many people who would go get a hip replaced and be going at it today. That reinforces the kind of person that I thought I knew him to be."
Weis, who already has been up and walking, plans to return to Lawrence next week.
More like this story on KUsports.com