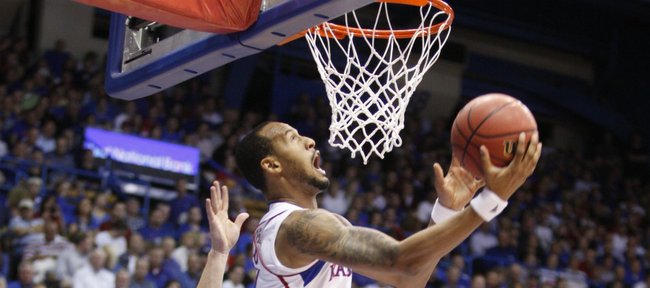 Kansas City, Mo. — Kansas University junior forward Travis Releford sat behind the University of Alabama basketball bench with his mother, Venita, and other relatives Saturday night in Sprint Center.
His mission was to cheer on brother Trevor, who scored 14 points, dished six assists against four turnovers and swiped three steals while playing 37 minutes in the Crimson Tide's 71-58 loss to Kansas State.
"It was different," Travis Releford said of his role as cheerleader. "I let my mom do all the screaming. I was laid-back watching the game.
"I was rooting for him. I think he played well," Travis added of Trevor, a 6-foot-1 sophomore point guard who, like his older brother, attended Roeland Park's Bishop Miege High. "Late in the second half, they couldn't get anything going. K-State is a good defensive team. They work hard at that. It's what their coach (Frank Martin) forces on them."
Tonight, for the second time in three days, Travis Releford, Venita, and other members of the Releford family tree return to Sprint Center hoping for a better result.
KU (7-2) takes on Davidson (6-3) in an 8 p.m. nonconference clash billed as the M&I; Kansas City Shootout.
"It's always fun to play back home because a lot of my family members don't have a chance to come here (Allen Fieldhouse) and watch me play. There's so many of 'em," Travis said. "It's only 10 minutes away (from his mom's house). Everybody will be there. I'll have my own little family section."
Travis Releford has averaged 8.4 points a game off 52.6 percent shooting in KU's nine games. The 6-6, 210-pounder has made six of 20 threes for 30 percent. Trevor averages 10.8 points, 3.3 assists and 2.0 turnovers for 8-3 Alabama. He has made just three of 17 threes.
"I am very proud of him. He's playing well," Travis said. "He played well last year, and it's continued on this year. They've got a good team. Hopefully they'll make the tournament."
KU tonight meets a Davidson team that has been picked to win the Southern Conference. The Wildcats, who fell to KU, 59-57, in the 2008 Elite Eight in Detroit, have lost at Duke (82-69) and UNC Charlotte (84-61) and fell to Vanderbilt (87-83) at home. Wins have come against Guilford, Richmond, Presbyterian, UNC Wilmington, Wofford and Furman.
"They run motion and play fast," KU coach Bill Self said of the Wildcats, who average 77.1 points a game to KU's 75.3 ppg. "Motion is the hardest thing to guard if you know what you are doing, and certainly I think they know what they are doing. They are physical and play some 1-3-1 (defense), which we have not seen yet."
Sophomore forward De'Mon Brooks averages a team-leading 16.0 points and 7.0 rebounds per game. Junior guard JP Kuhlman averages 13.6 ppg, junior forward Jake Cohen 12.4 ppg and junior guard Nik Cochran 10.2 ppg.
Two local players are key Wildcat reserves. Clint Mann, a 6-7 junior from Overland Park's St. Thomas Aquinas, and Tyler Kalinoski, 6-4 freshman out of Olathe East, average 5.3 and 4.0 points.
"That was one thing that may have been talked about," Self said of Davidson wanting to play close to the hometowns of two players, "but ESPN thought it would be a good game as well. ESPN helped schedule the game."
Of course, there will be references on ESPNU tonight about the '08 thriller, which propelled KU to the Final Four, where the Jayhawks beat North Carolina and Memphis to claim the national title.
"Davidson in '08 was the most physical team we played all year," Self said.
The low-scoring game was not decided until Jason Richards — not phenom Stephen Curry — took and missed a three at the final horn.
"I am thinking of 'wide left,' because it looked like it was on line from where I was sitting," Self recalled of the shot. "That was one of the toughest grind-it-out games we've had since we have been here. We were fortunate that it was a coin-flip game, and we were able to come away with the W. It's a great memory, but it was definitely one where we had to sweat. Once you get in that NCAA Tournament, people don't understand and even coaches do not understand because you kind of wish certain things happen. Maybe you think, 'Well, that team is not as good; it's not seeded as high,' but in the tournament, it is all about match-ups, and the team that Davidson had that year could match up with anybody."
More like this story on KUsports.com