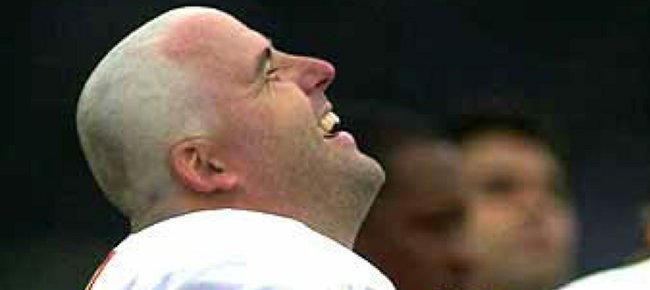 He was a second-round draft pick, played 11 seasons and 164 games in the NFL with the Kansas City Chiefs and was a standout offensive lineman at Notre Dame during the late 1980s.
It's safe to say that Kansas University offensive line coach Tim Grunhard knows a thing or two about playing the position he now coaches. Although he won't officially begin his new job until Jan. 1, Grunhard, who was hired Tuesday by new KU coach Charlie Weis, also has a specific vision for the type of player he wants representing the Jayhawks in the trenches during his time in Lawrence.
"I don't care if you look like Tarzan, if you play like Jane, I don't want you around," said Grunhard during his weekly radio spot on 810 WHB last Tuesday. "The guys that we get in, I don't care if they're the biggest guys or the strongest guys, but they've gotta be the best technicians."
Right away, Grunhard will have plenty of options from which to choose. Not only will KU return three starters from an offensive line that started the same five guys for every game of the 2011 season, the Jayhawks also have more depth on the offensive line than at any other position.
Heading into 2012, seniors-to-be Tanner Hawkinson (a 6-foot-6, 293-pound right tackle), Trevor Marrongelli (6-2, 293 left guard) and Duane Zlatnik (6-4, 305 right guard) will be joined by a couple of other offensive linemen who played a few snaps this season. That group will be bolstered by a pack of five red-shirt freshmen who came to KU together and spent the 2011 season getting bigger and stronger.
The most notable members of the top trio's supporting cast are sophomore tackle Riley Spencer and freshman center Dylan Admire, 6-3, 272. During 2011, Spencer, 6-7, 300, was the first lineman to enter the game when one of the starters needed a rest, and Admire, who came from Blue Valley West High, got a jump start on his class by graduating early and joining the Jayhawks prior to spring ball.
Also on KU's list of returning red-shirt freshmen on the O-Line are: Travis Bodenstein, 6-5, 310; Luke Luhrsen, 6-5, 299; Damon Martin, 6-5, 265; and Bryan Peters, 6-5, 305.
Although their experiences during 2011 should serve all of KU's linemen well, Grunhard said the new coaching staff was prepared to change the culture.
"They have to accept that they're gonna work hard," Grunhard said. "The fundamentals and technique of the position are very important to me. There were a lot bigger guys than I (in the NFL), and you really have to be solid in fundamentals and technique to have success."
Grunhard emphasized intelligence throughout his latest radio appearance. For him, it's not as important to be a giant in stature as it is to be a genius upstairs.
"The secret to playing offensive line is to anticipate and be right," he said. "And the only way you can anticipate and be correct with your anticipation is by studying film and understanding the game.
"The one thing we're going to concentrate on is becoming students of the game, so that when we go to the line of scrimmage we're the best-prepared football team, the best offensive line, and we understand the logistics of how we're gonna do it. If you understand that and you have confidence, you can play with anybody."
Grunhard continually talked about KU being the perfect place for him to make the leap to college coaching. For starters, it allows him and his family to remain in Kansas City, and, more important to the job, gives him the opportunity to coach the kind of players he likes to coach.
"I like chips on their shoulders," Grunhard said. "A lot of times, at KU you get guys with chips on their shoulders because they didn't have the opportunity to play somewhere else."
He also said he looked forward to the task of turning Kansas into a winner again and recognized how difficult the process may be coming on the heels of two of KU's worst seasons in school history.
"I am aware of it," he said. "And that's one of the reasons I took it. I love the challenge. You, as a person, cannot grow until you challenge yourself."
Although coaching the proper footwork and the right reads will be a priority, Grunhard, who spent the last six seasons as a successful head coach at Bishop Miege High and was a Kansas City-area high school assistant for five years before that, also said he looked forward to keeping in touch with his high school roots on the recruiting trail.
"High school football in Kansas City, I think, is very, very underrated," Grunhard said. "There are a lot of good football players, and we need to tap into that, and we will tap into that.
"It's gonna be a blast, man. It's a dream come true. I know I keep saying that, but it really is."
More like this story on KUsports.com