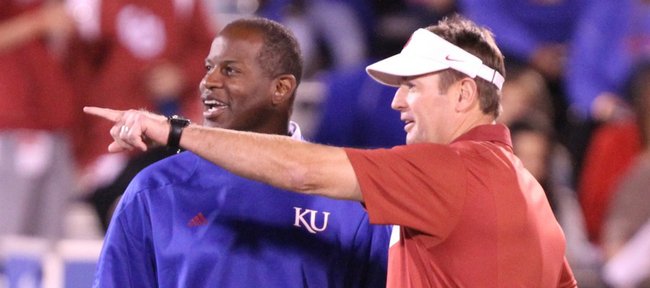 Former Kansas coach Turner Gill was introduced as the new coach of Liberty University on Thursday. And he might not be the only member of the 2011 KU coaching staff that ends up there.
Gill was asked Thursday about which of his assistants might end up with him at Liberty — an FCS school in Lynchburg, Va.
"There will be some people from the staff there at the University of Kansas," Gill said during his introductory news conference. "So I want to take my time just a little bit more to get that all right, because that's going to be very, very important."
NCAA rules state that if college players transfer from an FBS school to an FCS school, they are eligible to participate without sitting out a year. That means if any KU players were to follow Gill to Liberty, they would be able to play for him next season.
Liberty's website describes the school as "the largest private non-profit university in the nation, the largest university in Virginia, and the largest Christian university in the world."
Gill wasn't afraid to talk about faith during Thursday's news conference, where he was greeted with a standing ovation.
"It will be our mission to this program to build championships through Christ by preparing young men academically, athletically and spiritually," Gill said. "It is a great time to be a Liberty Flame, and it is time to leap forward to have an unparalleled future."
Gill replaces Danny Rocco, who was announced as Richmond's new coach on Dec. 6.
"I really believe Turner Gill is a perfect fit for Liberty," LU chancellor Jerry Falwell Jr. said. "His Christian faith is exactly what new recruits would expect to see at Liberty, and his background, his experience is at the level where we want to go."
Gill, who finished with a 5-19 record during his two seasons as KU before being fired on Nov. 27, enters a program that is accustomed to success. Liberty finished with a 7-4 record this season, which was actually the team's lowest win total since 2006.
The Flames won four straight Big South conference titles from 2007 through 2010.
Falwell Jr. also announced Thursday that the school would be conducting a feasibility study to determine if LU should jump from FCS to FBS. That study should be completed in February or March.
More on Weis contract
Kansas football coach Charlie Weis, who joked about having nose-bleed seats at Allen Fieldhouse last year, won't have to worry about that problem as long as he coaches at KU.
As part of his contract, Weis will be given, at no cost, six tickets to each men's and women's basketball home game. Those seats, according to his contract, "will be located on the lower level of Allen Fieldhouse between the free throw lines."
Weis also will receive up to six complimentary tickets for each KU conference tournament game and NCAA Tournament game.
Some other benefits in Weis' contract include:
• The use of two automobiles;
• A $2 million life-insurance policy;
• Reasonable travel expenses for his wife and two children while attending KU road football games;
• Up to 50 tickets for home KU football games, with seats required to be between the 35-yard lines on the west side of Memorial Stadium;
• Up to 10 tickets for road games and 20 for bowl games;
• A scholarship suite in Memorial Stadium;
• A membership to Lawrence Country Club.