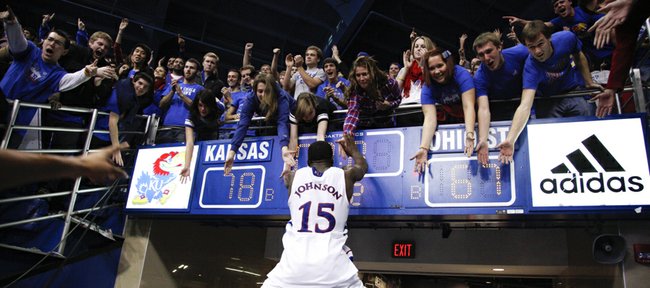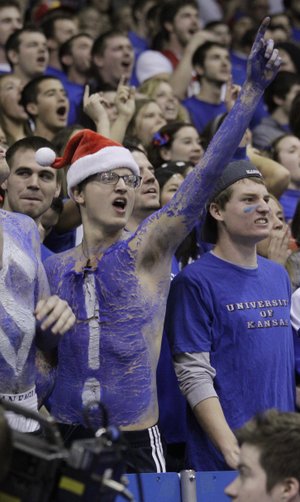 Thousands of fans — including a batch of students who painted their faces and bodies — arrived a couple of hours early for Saturday's Kansas-Ohio State nonconference basketball matinee in Allen Fieldhouse.
A few hundred fans, mostly adults and their children, stayed late, gathering autographs from the Jayhawks outside the northwest tunnel following a pulsating 78-67 victory.
As coach Bill Self said, the atmosphere was "juiced" on a day No. 13-rated KU claimed its seventh victory against two losses and dropped No. 2 Ohio State to 8-1.
"I mean, it's almost indescribable," KU junior center Jeff Withey said of playing before 16,300 fans in the fieldhouse on a day like Saturday.
"It's so loud, you can't think. It's just a great place to play. There's something about this place when a team comes in … they definitely have to 'Beware of the Phog.'"
KU's big man scored two points and grabbed seven rebounds while logging 21 minutes. He was able to take an extra breather or two with junior forward Kevin Young having his breakout game as a Jayhawk (14 points, four boards, 14 minutes).
"Kevin played great," Withey said. "We all know he can play like that from watching him at practice. He came out, and he was ready to play today. He showed everybody he can play."
The former Loyola Marymount forward hit six of eight shots, including two of three from three.
As everybody knows, Ohio State sophomore standout Jared Sullinger was not in the game.
"I was shocked," KU's Withey said of Sullinger missing the contest because of back spasms. "I thought he was definitely going to play this game. I figured he'd play no matter what. It had to be something really bad for him to not come out. I feel bad for him not being able to play. It was definitely a letdown not to go against him. You go through practice planning your game plan around him. It was a letdown, but they had other guys step up. It was a great win."
Withey said the Jayhawks "are not going to apologize for one of their guys not playing. If one of our guys was not playing, it would have been the same thing. We played tough. We beat the No. 2 team in the nation. It was a great thing."
Now the Jayhawks prepare for Davidson (8 p.m., Dec. 19, Sprint Center) ... and final exams.
"It'll be tough. I have a lot of papers to write. It'll be all right, though," Withey said of this week's finals. "I've got to get on that."
KU junior Tyshawn Taylor may miss the Davidson game following Sunday's surgery to repair torn meniscus in his right leg. Self said freshman Naadir Tharpe would take reps with the first team at practice as Tharpe figures to back Elijah Johnson at the point if Taylor can't play.
Taylor's ticketed to miss between one and three weeks.
"This means a lot more to Naadir more so than me," said KU's Johnson, who hit five threes on Saturday versus Ohio State, "because I'm playing 30, 35 minutes regardless. What I give is what I give. I feel like Naadir can help pick up some of the slack and help us bring the ball up and not turn the ball over like we have been."
Asked what Tharpe needs to improve on, Self said: "Everything. He's just a freshman coming in here. He has to work on everything."
Self said Sunday that Taylor's surgery was a success.
"Tyshawn had surgery this morning, and I spoke with the doctors and it went as well as expected," Self said in a release. "Nothing had changed in the time frame for recovery, which is one to three weeks. He will be up and around tomorrow morning and will be back in the shortest time possible. The time for recovery depends on swelling and how he reacts to rehab."
More like this story on KUsports.com