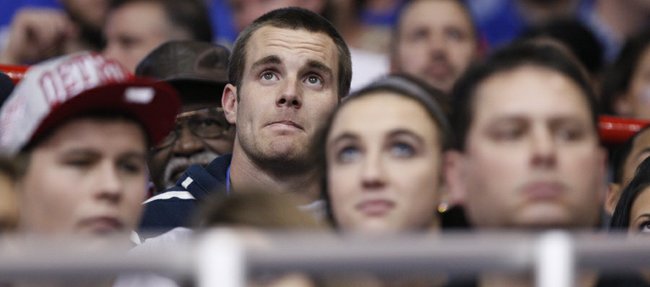 The Charlie Weis Era may be just a couple of days old, but, already, the Kansas University football program has seen a change in how recruiting is handled under its new head coach.
In short, it seems no fish is too big to fry for Weis, who has wasted little time in targeting some big-name talent to join him in Lawrence.
It's a well-known fact that Weis is in the hunt for former five-star quarterback prospect Dayne Crist, a senior at Notre Dame who visited KU over the weekend and reportedly is down to deciding between Kansas and Wisconsin. Crist, who has one year of eligibility remaining, will graduate this month and has said he plans to transfer for his final season. Because of NCAA rules, the 6-foot-4, 235-pound pro-style QB will be eligible immediately.
Weis also has extended scholarship offers in the last couple of days to South Bend, Ind., wide receiver Gehrig Dieter, 6-3, 200; Bishop Miege running back Tre Parmalee, 5-10, 160; Tampa (Fla.) linebacker Schyler Miles, 6-2, 220; and Butler County CC defensive tackle Chaquil Reed, 6-3, 290.
Reed has interest from K-State and Minnesota, and Miles has offers from Cincinnati, Florida and West Virginia. Crist, whom Weis recruited to Notre Dame, chose the Fighting Irish over Florida State, Michigan, Nebraska, Stanford and USC.
While Weis made it clear that he would not shy away from going after the best players he can find, a determining factor in how he shapes his first recruiting class at KU likely will be how many scholarships he has available.
"The big question with me is, there aren't a lot of seniors on the roster," Weis said. "Therefore, there aren't a lot of spots for recruits. What you have to figure out is what that number will be, so you can recruit the appropriate number of people."
Prior to being fired, former KU coach Turner Gill had locked up eight oral commitments from athletes in the Class of 2012. A couple of them have bailed, and a few remain committed to KU. Weis figures at least to visit with each of them, and there already have been rumors circulating about a handful of current Jayhawks ready to transfer. That's no surprise to Weis.
"Anytime a new coach comes in, I would say the natural attrition is 10 to 15 players," he said. "This is everywhere. When people say, 'So-and-so came in, and 12 guys transferred,' every other coach, when they go in, the same thing happens. The same thing happened my first year at Notre Dame. I think 13 guys left in the first year."
The departure of some players often is matched by the arrival of others, and Weis said the important part was figuring out quickly who would stay and who would go so he could hit the recruiting trail with a better idea of what he needed.
"I don't want to undersign," he said. "I don't want to go out there and sign 15 guys if I can sign 25 guys. I also don't want to take people just for numbers. You want to take guys that fit what (we) need."
When Weis arrived at Notre Dame in 2005, he inherited a recruiting class that was ranked 40th in the country by Rivals.com. Notre Dame's next four recruiting classes all ranked in the Top 21, including three straight hauls in the top eight, and the 2008 class ranked second.
While those numbers can be explained partly by Notre Dame's status as a football powerhouse, the head coach's reputation likely had something to do with it.
Similar results may be tough to duplicate at Kansas, but since taking the job, Weis has seemed determined to try.
"I'll hire you a top staff. They've given me the resources to do that," Weis told the Allen Fieldhouse crowd during Saturday's basketball game. "I'll get on the road and pound it on recruiting to supplement our team."
Perhaps his biggest advantage in his quest to repeat history?
"I have knowledge that I didn't have last time," Weis said, "which makes things a lot easier going forward."
More like this story on KUsports.com