Podcast episode
Charlie Weis was introduced as Kansas University's new head football coach Friday, Dec. 9, 2011 at the Anderson Family Football Complex.
Videos
Charlie Weis introduced as Kansas head football coach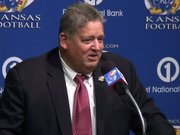 Kansas University chancellor Bernadette Gray-Little and athletic director Sheahon Zenger introduced Charlie Weis as KU's new head football coach Friday, Dec. 9, 2011 at the Anderson Family Football Complex.
There will be puke buckets.
Kansas offensive tackle Tanner Hawkinson didn't remember everything from Friday morning's team meeting with new football coach Charlie Weis, but he did recall that detail, which was promised during winter conditioning.
"He said it as a joke," Hawkinson said with a smile, "but I'm pretty sure it wasn't a joke."
Hawkinson said a few players laughed about it. Others knew not to.
"I'm not surprised that's what's going to be going on," Hawkinson said. "That's how you build your program."
After Weis' introductory news conference Friday, KU football players seemed open to the new coach's ideas and stricter style of coaching.
"He made it pretty clear to us that things were going to be tough," KU outside linebacker Toben Opurum said. "It's not going to be easy, and I fully expected that. You can't go from 2-10 to being champions easily."
In a subtle way, both Hawkinson and Opurum indicated that KU's football program would benefit from Weis' arrival.
Hawkinson was especially happy to hear Weis talk about discipline during his meeting with the team.
"I feel like we needed a little bit of change around here," Hawkinson said. "Kind of like Dr. (Sheahon) Zenger and coach Weis were talking about, there's some little things here and there discipline-wise. There was definitely a need for someone to put the foot down and just kind of say, 'Hey, this is the way we're going to do things.'"
Opurum said Weis' strong record of graduating players at Notre Dame also stood out as a positive.
"It just helps a lot, knowing you have a coach who really cares about your academics," Opurum said. "To have every student-athlete come through your door graduate, I feel like that's really impressive. And a lot of guys here — to be honest — a lot of guys are struggling right now. And I feel like to have your head coach kind of on your back about that, it'll help a lot."
Coincidentally, Opurum was recruited by Notre Dame in high school while Weis was the head coach there.
The Richardson, Texas, native ended up selecting KU, but not before taking a campus visit to South Bend, Ind.
"He's the same guy as I met a couple years ago," Opurum said of Weis. "He's straight-forward. He's completely honest. He'll tell you himself: He'll probably never lie to you."
During Weis' meeting with KU's players Friday, he started to get to know everyone while also setting the bar for his expectations.
"If there's change, it means obviously something isn't going right," Opurum said. "So obviously, winning five games in the last two years is not something that anyone wants to do. It's not something I wanted to do while I've been here."
That lack of success is the reason that he isn't fearing the hard work that's coming.
Or the promise of puke buckets.
"It's funny," Opurum said, "until it actually becomes reality."