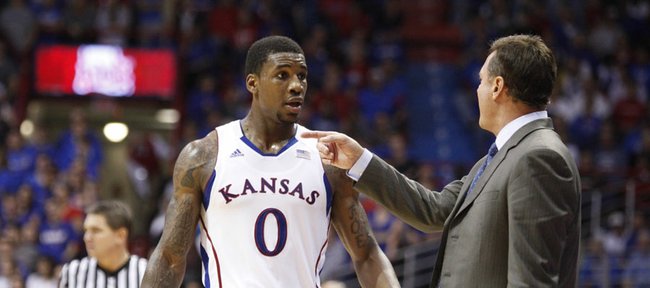 Bill Self, who has had a lot to say to the media about the lackluster play of Kansas University's basketball team after the last two games, discussed some of the same concerns with his players on Sunday.
"He challenged us," KU junior center Jeff Withey said before Monday's practice in Allen Fieldhouse. "(He said) that we're not playing up to the expectations we should be, that we can be a really good team. It's all up to us. We have to play harder and smarter.
"It was a good talk. It was a motivating talk — one that kind of called us out," Withey added of the words of KU's ninth-year coach. "We've got to be ready for the next two games. If we can beat Long Beach State and then Ohio State, that turns around our team. It definitely can help us out a lot."
The No. 13-ranked (5-2) Jayhawks face a pair of home challenges this week in unranked (4-3) Long Beach State and No. 2 (8-0) Ohio State. Tip for today's game against the 49ers, who already have a marquee road win over Pitt, is 8 p.m. Saturday's game against the Buckeyes is set for a 2:15 p.m. start.
"We know what we have to do. We have to prove it on the court," Withey said. "I think it's going to be a different team just because of all the things coach talked about."
KU senior point guard Tyshawn Taylor, who tonight faces a tough match-up in 5-10 senior Casper Ware (needs 44 assists to become the 49ers' all-time assist leader), said of Sunday's message: "Coach was asking questions and wanted to know how we were feeling about some things as a team.
We worked on some defensive stuff. Today we're working on offensive sets and getting prepared for a good team. They can come in and beat us if we're not ready."
Self is wary of a Dan Monson-coached Long Beach State team that starts four seniors and a junior off a squad that won the Big West Conference title a year ago and is picked to win the crown again this year.
"If we look ahead to Saturday, we'll go into Saturday's game with three losses," Self said Monday.
The 49ers have double-digit scorers in Ware (17.1 ppg, 4.6 apg), 6-5 guard Larry Anderson (15.1 ppg) and 6-8 forward T.J. Robinson (13.7 ppg, 11.3 rpg). Guard James Ennis and forward Eugene Phelps chip in 9.4 and 9.1 ppg.
"They will try to score every time in transition. They are really in attack mode," Self said. "The only team that's played like that so far is Kentucky, trying to run off everything. They are definitely an NCAA Tournament team. This team will probably be the second most talented team we play at home in the nonconference without question (next to Ohio State)."
The 49ers may have history on their side. A Seth Greenberg-coached Long Beach State team stunned top-ranked KU, 64-49, on Jan. 25, 1993, in Allen Fieldhouse. That KU team reached the Final Four.
"It was 18 years ago, I guess, they came in here and held Kansas to 49 points — a Kansas team that could really score," Self said. "They'll come in here ready to play."
As far as his own team ... junior guard Elijah Johnson has scored five points in the last two home games off combined 1-for-11 three-point shooting.
"He's been on fire shooting the ball. It's been unbelievable. He's been knocking it down," Self said of Johnson's accuracy at practice. "He's been doing that for a while. It just hasn't translated into the games. He says it feels good. I'm not as much worried about his shot. I'm worried about his shot affecting his play, losing aggressiveness in other areas. He'll make shots."
Taylor has been talking to his backcourt buddy a lot of late. "Probably more than he likes," Taylor said. "I keep telling him, 'We need you to play, man.' We need him to be one of the leading scorers on the team, assist man, steals. We need him to be a threat on the court all the time.
"I don't think he understands how important he is to the team winning yet. I think he's starting to understand it."
The problem? "I think he's not all the way in tune all the time," Taylor said. "When he's in tune, he can be a good defender. He's as quick as anybody. We all know he can fly.
"It's a lot easier said than done not getting down on yourself when you are not playing as well. It's hard," Taylor added of Johnson, who can be hard on himself. "I think he has to go through that stuff and learn how to fight through it. He's never been through this situation before. He's learning. I think it's a proven fact if you go through bumps in the road, there's a stretch coming where you play really well. I think he's about to go through that stretch."
l
Withey talk: Junior center Withey takes a 7.9 points, 5.3 rebounds average into tonight's game. He's blocked 14 shots in seven games.
"I haven't blocked as many shots as I want to," Withey said. "Being more aggressive, going after more loose balls and rebounds would definitely help us out."
Taylor grinned when asked if Withey is a "laid back" person.
"That's exactly who he is, always chillin', never says too much," Taylor said. "He throws little jokes in here and there. It's funny because you are not paying attention to it. You are like, 'That came from Jeff?' I wish he'd talk more. That's his personality, who he is.
"I would love to see him get mad more, honestly. I'd throw a basketball at him or anything. I'd love to see him mad. When he actually snaps and gets mad, it's funny. One time in Maui he dunked it and got 'and one' and started screaming. I think the whole bench, even our coaching staff, cracked a little bit, like, 'Really?' It's good to see he has that personality. I like Jeff. Jeff's cool."
Self conceded: "I think a mean streak would help, no question. He's a nice kid. Thomas (Robinson) is a nice kid, too. Hey, whenever we've needed rebounds in our biggest games, Jeff has been a factor: against Duke, Kentucky, UCLA in the first half. That's a big-time factor. He's been as good a rebounder as we've had in stretches. He just needs to be more consistent."
Illness: Self was asked about the 'crud' that's been going around the team: i.e. headcolds, congestion, fevers.
"I haven't talked to any of the mothers or people in the medical profession today about that," Self said with a smile. "I think we're fine."
Come to cheer: Self believes the fieldhouse will be loud for both games this week.
"It should be the best our building is going to be during nonconference," he said. "I hope everybody understands Long Beach State is good. It's a great opportunity for us this week to play two quality opponents at home and hopefully put them (players) in a situation they actually feel Allen Fieldhouse. We need this building to be great, which it will be I'm sure."