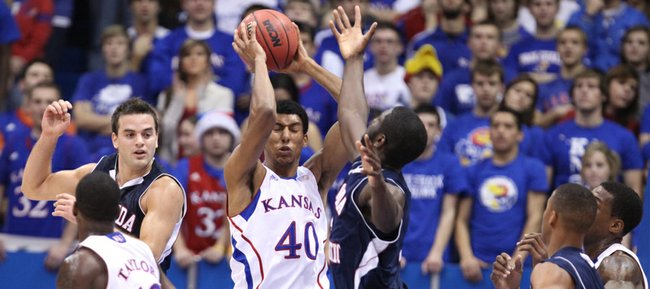 Kansas University junior forward Kevin Young made the most of his five minutes of playing time in Saturday's 70-42 rout of South Florida in Allen Fieldhouse.
The 6-foot-8, 195-pound transfer from Loyola Marymount grabbed six rebounds, while hitting two of four free throws and recording a steal during his short stint to conclude the game.
"It's wanting to be around the ball. I just try to go and get every rebound I can," Young said of his late board work. "I don't really need to put up that many points. My teammates can handle that. I just want to get every opportunity to get the ball back in our hands."
Young, who averaged 10.0 points and 6.2 rebounds a game in two years at Loyola Marymount, set the school's freshman-rebounding record (7.2 per game) back in 2008-09. He followed that with 5.3 boards his sophomore season before sitting out last year while attending class at San Bernardino CC.
It should come as no surprise Young lists his favorite NBA players as current San Antonio Spurs big man Tim Duncan and former rebounding specialist/Hall of Famer Dennis Rodman.
"Before the games, I usually watch a couple of his highlights, to get me pumped up for the game," Young said of Rodman. "My favorite part of the game is rebounding. He obviously mastered rebounding."
Young has grabbed 23 rebounds while playing 43 total minutes heading into Tuesday's 8 p.m. home game against Long Beach State. He has 22 points in six games. He did not play (coach's decision) against Duke in Maui.
On what does he need to improve to land more minutes?
"My defense," Young said. "I need to move my feet a little bit more, stop using my hands. I've got to play a lot harder in practice. I've just got to make everybody around me better every day."
He has no complaints.
"Coach knows what he's doing," Young said of Bill Self. "If he decides it's a game I'm not ready for, then it's a game I'm not ready for. I don't see that as a bad thing. I just go out the next day and try to get better."
Of Young, Self said: "I think Kevin can do some good things. His strength is obviously a factor with him. He's still thinking, not reacting. I think he can be more aggressive. I mean that in a positive way, having more a presence out there and getting his hands on balls, carrying out assignments, doing things we know he can do. When he starts doing those things, he'll start scoring a little better, no question."
Tuesday's foe: Long Beach State (4-3) claimed a huge 86-76 victory at Pitt in the 49ers' second game of the season. Long Beach State has also defeated Idaho (69-61), Boise State (72-62) and BYU Hawaii (79-43) at home and lost at San Diego State (77-73, OT), Montana (73-71) and Louisville (79-66). The 49ers return four starters off a 22-12 team that won the Big West Conference title with a 14-2 mark last season. Seniors Casper Ware (5-10) and Larry Anderson (6-5) were named to the preseason mid-major All-America team. Coach Dan Monson's 49ers have a big week, playing at KU Tuesday and at North Carolina on Saturday.
More like this story on KUsports.com