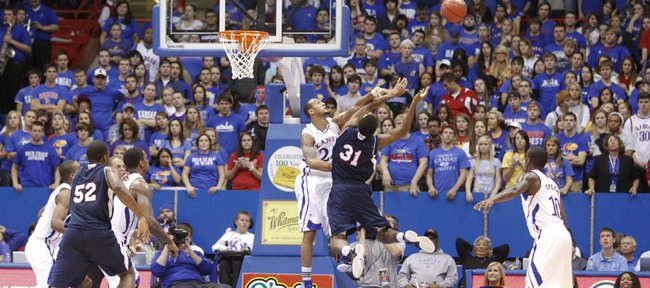 Podcast episode
Kansas coach Bill Self talks to reporters on Nov. 30, 2011 after defeating Florida Atlantic.
Videos
KU vs. Florida Atlantic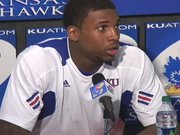 Kansas defeated Florida Atlantic, 77-54 on Wednesday, Nov. 30, 2011 at Allen Fieldhouse.
KU vs. FAU
Florida Atlantic coach Mike Jarvis had one lament in his opening statement following his team's 77-54 loss to Kansas on Wednesday.
"I would have loved to have had a closer game," Jarvis said. "We had a couple of chances to maybe knock it into the single digits, and it would have been fun — a lot more fun. But it's a great experience coming out here and playing in this incredible facility in front of these incredible fans."
After jumping to a 9-3 lead just 3 minutes, 47 seconds in, the Owls couldn't keep up with the Jayhawks because of poor shooting.
Florida Atlantic made just 32.3 percent of its field goals (21 of 65), which was its lowest percentage in more than a calendar year. FAU shot 31.1 percent against American on Nov. 20, 2010.
Jarvis — who previously coached at George Washington and St. John's — said KU's length gave his team problems.
"You think you've got a lane, and all of a sudden, one of those 7-foot reaches comes over," Jarvis said. "All of a sudden, you disappear."
At times, FAU had trouble even getting shot attempts to the rim. KU blocked 13 shots, the most by an FAU opponent since Nov. 29, 2004, when Miami (Fla.) swatted 16.
The 13 blocked shots also tied for the seventh most in a Div. I game this year.
"The difference is in the reach," Jarvis said, "and if you've got athletes with reach, then you've got a very difficult time."
FAU also had few answers for KU's Thomas Robinson, who grabbed 17 rebounds.
"Coach was telling us, 'Just key in on him,' but it's easier said than done, because he's a load," FAU guard Dennis Mavin said. "Everybody knows all his accolades, and he's an All-American guy."
Jarvis was impressed with the KU junior forward as well, calling him one of the top prospects in college basketball.
"Thomas Robinson's a special individual," Jarvis said. "He's got size; he's got length; he's got strength; he's got quickness. He's legit. He's capable of getting 20-20 almost every night."