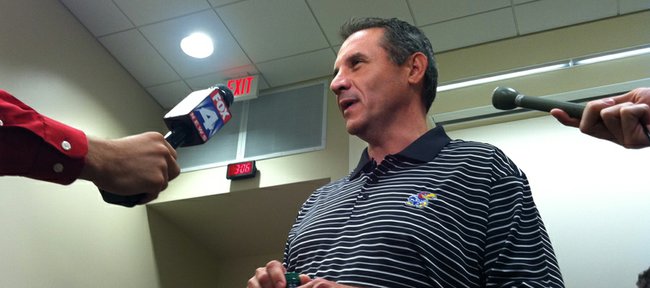 In the past few months, Kansas University's football team — under new defensive coordinator Vic Shealy — has switched its defense from a 4-3 base formation to a 3-4 base formation.
Here's a closer look at the change:
What are the strengths of a 3-4?
The biggest strength of a 3-4 football defense is its flexibility.
This is especially the case when it comes to bringing pressure.
In a 4-3 formation, it's easy for the offensive linemen to single out who's going to be rushing on a play, as most times, the four defensive linemen (who start the play with one hand on the ground) are safe bets to be going after the passer.
It's not that easy to diagnose with a 3-4 formation.
Shealy said KU will have more complexity in its blitzes and pressures with four stand-up, fast-moving linebackers than it potentially could have with four defensive linemen.
Now, pressure can be brought from different players on each play. And many times, the offensive line won't know where that pressure is coming from.
"We don't really run the same defense more than a couple times," KU junior linebacker Toben Opurum said. "As long as you're changing it up and confusing the offense, they won't know where to go or who to block, so you get a lot of free shots on the quarterback and sacks from unblocked players."
Another strength is that the 3-4 allows KU to adapt to offenses without changing its personnel. With the same players on the field, KU can switch to a three- or four-down lineman setup by having one of the linebackers move up to the line of scrimmage.
The Jayhawks also can change to having four or five defensive backs, depending on each player's responsibility on a given play.
Being that flexible is especially important in college football today, as many offenses rush to the line of scrimmage to try to keep the defense from substituting.
What are the weaknesses?
The biggest weakness of a 3-4 defense oftentimes is stopping the running game — especially runs up the middle.
Because there is one fewer defensive lineman on the field, teams that run a 3-4 are reliant on their nose tackle to hold his ground and not allow offensive linemen to overpower him.
Unfortunately for KU, defensive tackle doesn't appear to be a position of strength — at least not at this point.
Senior Pat Dorsey returns with the most experience, but he'll be out about half the season because of a broken foot.
That leaves junior John Williams and senior Richard Johnson as the most likely candidates to play at tackle.
Williams is listed at 6 foot 3, 305 pounds, while Johnson is 6-3, 283.
Both are much lighter than a typical NFL defensive tackle, who often weighs in at around 350 pounds.
Shealy, though, said he isn't concerned with his D-tackles being undersized.
"I think part of the thing you've got to realize is that some of those NFL nose guards, everybody kind of anoints as, 'That's what a 3-4 nose looks like.' Those guys are 26, 28 years of age, and not all of them looked like that when they were in college, either," Shealy said. "However, I would say that size alone doesn't make you a player. You've got to be able to move."
Which player will be most affected most by the switch?
Opurum perhaps has the most potential to thrive under the new scheme.
As a defensive end in the 4-3 last season, Opurum lined up in the same place and often had to beat an interior offensive lineman to get to the quarterback. That didn't always play to his strengths, especially as bit of an undersized defensive end at 240 pounds.
By putting Opurum at outside linebacker this year, Shealy hopes to utilize his athleticism while also taking advantage of his intelligence.
There will be times when Opurum is asked to cover a back out of the backfield or a tight end. Other times, he'll be asked to drop into a zone for coverage.
Most of the time, though, Shealy will be moving Opurum around, putting him in different places to create a mismatch.
If, on film, one opposing offensive lineman appears to be a weak pass protector, Shealy will shift Opurum to that side and have him pass rush from there.
Opurum's role at outside linebacker will be similar to that of the Kansas City Chiefs' Tamba Hali and Texas A&M;'s Von Miller — who won the Butkus Award as the nation's top linebacker last year before getting selected No. 2 overall in the 2011 NFL Draft.
"Von's a 4.5 (40-yard dash) guy. Toben's maybe a 4.6 guy," Shealy said. "But we're hoping in another year, Toben will be a 4.5 guy. He had a great summer. I don't know if you've seen him yet, but he's a good-looking cat."
What other positions are affected most by a switch to the 3-4 defense?
The defensive linemen are often the guys who do the dirty work so the linebackers can get the glory.
In a 4-3 formation, defensive linemen are taught to get into the backfield to make plays. That includes tackles-for-loss and sacks.
That's not always the job of the defensive linemen in a 3-4 scheme. Many times, their job is to occupy blockers and to hold their ground. By doing that, the linebackers are able to move in unblocked to make tackles.
So what will this look like statistically?
Take last year's game against Georgia Tech as an example.
The Jayhawks ran a 3-4 formation most of the game to try to slow down the Yellow Jackets' triple-option offense.
KU's top four tacklers were all linebackers: Justin Springer (15), Steven Johnson (11), Drew Dudley (8) and Olaitan Oguntodu (7), who played linebacker that game. Those four players combined for exactly half of KU's tackles that day.
That could potentially mean bigger tackle numbers this season for linebackers like Steven Johnson and Darius Willis.
What prompted the switch?
For one, the Jayhawks appear to have better depth at the linebacker position than they do on the defensive line.
With the formation, KU will be able to play one more linebacker and one fewer defensive lineman, thus playing to its depth-chart strengths.
Another factor? Shealy, who was promoted to defensive coordinator on May 31, has extensive experience with 3-3 and 3-4 defenses.
Service academies often run a 3-4 defensive scheme because they have to play with undersized defensive linemen, and Shealy was a defensive backs coach for Air Force from 1999-2004. He even was a part of an instructional DVD — "3-3 Stack Defense: Secondary Play" — that was released by the Air Force coaches in 2005.
When he moved on to become defensive coordinator at UNLV from 2005-07, he implemented the 3-4 defense with the Runnin' Rebels as well.
Because not many other teams are running the 3-4 defense in college football — Texas A&M; and Texas Tech are the only other Big 12 schools that publicly list the formation as their base — Shealy also believes KU will be able to carve out a niche recruiting to the scheme.
Some players who might not be the best fits in a 4-3 defense could now have a chance to thrive at KU.
"It's easier, numbers-wise, to recruit to a three-down system," Shealy said. "Now, with that being said, you still have to recruit some big ol' guys. You've got to develop some big guys. And we're doing that. We feel like we've already have some really good recruits identified."
Defensive lineman is one of the most heavily recruited positions in college football, so the switch also allows KU to bring in more guys at linebacker — a position that is much deeper at the high school ranks.
In essence, because the Jayhawks are one of only a few Div. I teams that run the 3-4, they could potentially have less competition for the defensive players that will fit their scheme best.
More like this story on KUsports.com