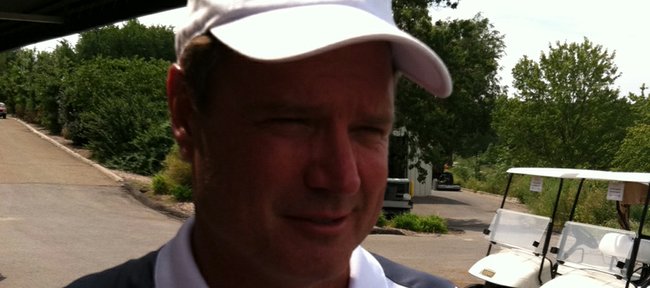 Reader poll
Yes.

48%

832 votes

No.

51%

897 votes
1729 total votes.
Kansas University basketball coach Bill Self is not losing any sleep over Texas A&M;'s apparent departure from the Big 12 Conference.
"No," Self said Monday at his Boy Scouts of America benefit golf tournament at Lawrence Country Club, when asked if he was worried about A&M; possibly bolting the Big 12 for the SEC, just hours before the first reports that the Aggies had, in fact, decided to leave the league.
"I don't mean to sound negative or whatever, but I don't think that's a dealbreaker at all," he added, referring to the future nine-team Big 12 possibly breaking up.
"Last year, Nebraska and Colorado leaving put the whole league in flux because everybody else was looking. From what I gather, other schools are solid.
"Hey, nine is not a bad number," Self added. "Nine is 16 league games in basketball which is better (than 18) and eight in football, which is better. I don't see any negatives with that. We want them to stay obviously, but you know, it's one of those things you want people to want to be there, too."
•
Self on Monday was presented the Boy Scouts' prestigious "Silver Beaver Award." It is a medal that consists of a silver beaver pendant suspended from a blue and white ribbon worn around the neck. It is the highest honor the Boy Scouts present to volunteers who provide "outstanding service to scouting."
"That is a big honor. I didn't expect that. (I'm) certainly not deserving," Self said. "It's pretty cool they would recognize that," he said of his supporting the tourney for seven years.
•
KU last Wednesday to Friday sold between 5,000 and 6,000 tickets for the Sept. 24 Legends of the Phog alumni exhibition basketball game, noted Greg Gurley, director of development of the Williams Fund. Those tickets were purchased by KU students as well as individuals in the top three tiers of the Fund. On Monday, tickets continued to be sold to students and all remaining Williams Fund membership levels. Non-Williams Fund members can buy tickets beginning Sept. 6.
"The phones this morning were packed. You couldn't almost get through," Gurley said before teeing off in Self's tournament. "This is going to be neat. It gives us an opportunity to give money back to someone near and dear to us all in Neil (Dougherty, late former KU assistant coach) and his family and get everyone back in a fun atmosphere."
KU is working with the family of Dougherty to find a cause, that according to Self will "definitely give Neil a lasting legacy in an area of his life that was very dear to him." Additionally, Self said Kansas Athletics will donate a portion of the proceeds to one of Dougherty's favorite local charities – the Boys & Girls Club of Lawrence.
Paul Pierce of the Boston Celtics will be the featured performer in a game to include most of KU's current players in the NBA and other former Jayhawks, too. So far, confirmations have been received from current NBA players Cole Aldrich (Oklahoma City), Mario Chalmers (Miami), Nick Collison (OKC), Xavier Henry (Memphis ), Darnell Jackson (Sacramento), Marcus Morris (Houston), Markieff Morris (Phoenix) and Pierce (Boston). Former NBA players to attend at this time: Greg Ostertag, Scot Pollard, Darnell Valentine.
•
KU freshmen Braeden Anderson, Ben McLemore and Jamari Traylor, as reported in Monday's J-W, have not yet reported to campus for first-semester classes as they await word on their eligibility from the NCAA Clearinghouse.
The three did attend summer school at KU in June and July.
"The way the rule is written ... before they can participate in the fall, they have to be certified as full qualifiers," Self said Monday. "There's a vast majority of kids that go to school in the summer that have not been certified yet. Our kids got their stuff (high school transcripts) in early and on time and those sorts of things, but they went to multiple high schools. Going to more than two high schools triggers more of an in-depth search into their things and they (Clearinghouse officials) have asked for additional information. It's taken us a little bit of time to put some of that stuff together. They have it. Hopefully the kids will be on campus real soon."
The NCAA passed a rule several years ago that allowed all student-athletes, even ones not yet cleared, to attend summer school to get ahead academically while adjusting to college life.
•
KU has offered a scholarship to Andrew White, a 6-6 senior forward from Miller High School in Chester, Va.
White, who is ranked No. 57 in the Class of 2012, has received offers from KU, Texas, Maryland, Memphis, Missouri, Tennessee, West Virginia and many others.
"Receiving a scholarship offer from Kansas is a real honor. We plan to visit the school and see if it's a good fit," White's dad told jayhawkslant.com.
Also, Savon Goodman, a 6-6 senior forward from Academy of the New Church in Philadelphia, has decommitted from Villanova. Rivals.com's No. 53-rated player has a new list of Villanova as well as KU, Seton Hall, USC and UCLA.
More like this story on KUsports.com