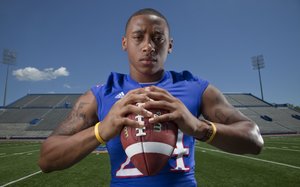 With all the talk about Kansas University's football safeties focused on projected starters Bradley McDougald and Keeston Terry, it can be easy to overlook Lubbock Smith.
Not a good idea.
While McDougald and Terry have a bit more raw talent and the ideal size to play the position, Smith has the edge in experience.
During his three seasons at KU, the junior from Dallas — he red-shirted in 2008 — has made 15 starts and played in 22 games. As a red-shirt freshman, Smith started games 6 through 11 before an injury kept him out of the season finale. Last year, Smith started the first nine games of the season before another injury put him on the shelf for the season's final three games.
With those injuries behind him and a ton of talent in front of him, coaches have said Smith has worked harder than ever this offseason, something that, when you think about it, really gives KU more than just two standouts at safety.
"If we had to play today, (Terry) and McDougald would be the starting guys," KU coach Turner Gill said earlier this month. "But Lubbock Smith has really come on strong."
At 6-foot, 206 pounds, Smith's rock-solid frame seems to the provide the perfect complement to the speed and explosiveness of McDougald and Terry. While those two — 6-2 and 6-1, respectively — bring different strengths to the field, Smith does a little bit of everything.
During his short stint on the filed in 2010, Terry, a sophomore from Blue Springs, Mo., showed he was not afraid to hit people. He's active around the ball and lists tackling as his biggest strength. McDougald, a former wide receiver, fancies himself a playmaker, the kind of guy who likes to hang back and go after the ball when it's in the air.
The bottom line, at least for now, seems to be this: For power and hard hits, Terry's the guy; McDougald is the man for smooth skills and a little flash; Smith is some combination of the two.
That's the way it broke down in the final installment of the Journal-World and KUSports.com's summer position series.
Here's a look:
Matt Tait's list
Keeston Terry: Back from injury and ready to pick up where he was before getting injured early in 2010. Limited action last year showed that Terry can make plays all over the field.
Bradley McDougald: Back to the position that inspired Ohio State to offer him a scholarship. This has to be good news for KU.
Lubbock Smith: Capable starter who becomes one heck of a backup because of the guys ahead of him. With the load lightened a little, he'll be in position to make more plays than ever.
Ray Mitchell: Plays with confidence and seems comfortable on the field.
Victor Simmons: One of a handful of fab freshmen who have impressed this summer. Makes up for lack of experience with great instincts and world-class speed.
Tom Keegan's list
Keeston Terry: Moves like a pro and one day will be after packing on pounds.
Bradley McDougald: Has whole package to develop into all-conference player by senior year.
Lubbock Smith: Great at lending run support.
Ray Mitchell: Earned scout team player-of-the-year honors.
Victor Simmons: Freshman from Olathe North could red-shirt.
Jesse Newell's list
Bradley McDougald: Tough call on No. 1 spot, but McDougald looked awfully good at safety in final two games of 2010 without much practice there.
Keeston Terry: Only played three games before season-ending injury, but showed he could be a great run-stopper in second game against Georgia Tech.
Lubbock Smith: Had 48 tackles in nine games, but moves to backup spot with Terry returning.
Ray Mitchell: Red-shirted in 2010, but was second on team with five tackles in spring game.
Victor Simmons: Three-star Olathe North prospect could play as a true freshman if secondary has injuries.
Journal-World consensus top 5 safeties
Five points awarded for first, four points for second, three points for third, two points for fourth and one point for fifth.
Keeston Terry (14)
Bradley McDougald (13)
Lubbock Smith (9)
Ray Mitchell (6)
Victor Simmons (3)
More like this story on KUsports.com