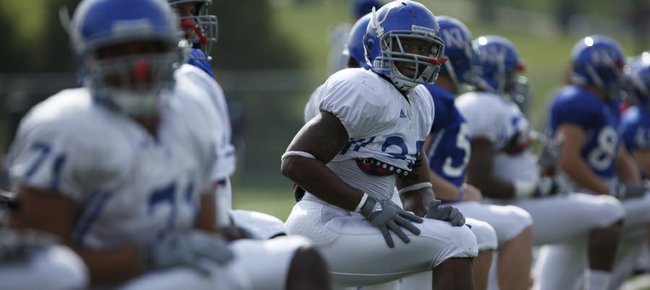 For the first time since Todd Reesing in 2008, Kansas University's football team lists a junior among its team captains.
According to the weekly game notes released by the football program Monday, defensive end/linebacker Toben Opurum, a junior from Plano, Texas, will join seniors Tim Biere, Jeremiah Hatch and Steven Johnson as the team's permanent captains for the 2011 season.
KU coach Turner Gill said last week the team would vote for its captains over the weekend. Opurum's inclusion on the list shows just how far the 6-foot-2, 249-pound athlete who occupies the top spot at KU's "Buck" linebacker position has come since moving to defense from running back at the beginning of 2010.
Unaware of his upcoming captain status and, for the most part, unconcerned about it, Opurum said earlier this summer that leadership always had been one of his strengths.
"It's what I'm used to," he said. "I've always been a leader no matter if I was a freshman or if I was a senior."
Although KU's captains during the past five years typically have been seniors — 18 of 21, to be exact — Opurum's extensive playing time and lead-by-example mentality clearly have earned him respect from his teammates. Although the former running back who led the Jayhawks in rushing as a true freshman in 2009 admits to feeling a little on the old side, he said his first two seasons at Kansas had flown by.
"It's weird," he said. "I feel like I got here yesterday. I really do remember my freshman year just like it was yesterday. But I definitely feel like I'm one of the older guys now, and I feel like I gotta step up and be a leader and help the young guys out and even help the older guys out who don't have as much game experience."
Including this season, KU has fielded four team captains five times since 2000. That includes a stretch of four straight seasons from 2006-09. Last year, Gill's first at KU, the Jayhawks went with five captains — all seniors — for the first time since 2005. Interestingly enough, during that same 12-year time span (2000-2011), KU has gone with five team captains five times, as well. The only seasons in which KU had a number other than four or five came in back-to-back years when Terry Allen's last team (2001) rolled with seven captains and Mark Mangino's first team (2002) went with three.
Depth chart update
Also in Monday's game notes was an updated version of KU's depth chart. Although many of the positions were nailed down and known prior to last weekend, a handful remained up for grabs, and those appear to be settled heading into Saturday's season opener against McNeese State, which is slated for a 6 p.m. kickoff at Memorial Stadium.
Among the highlights of the new depth chart were:
• KU's base offense lists just two spots for wide receivers. Senior Daymond Patterson (5-9, 173) and junior D.J. Beshears (5-8, 174) are listed as first stringers with junior Kale Pick (6-1, 208) and sophomore Christian Matthews (6-1, 186) listed behind them.
• Sophomore James Sims (6-0, 206) is the team's starting tailback. He's backed up by red-shirt freshman Brandon Bourbon (6-1, 208) and true freshman Darrian Miller (5-10, 181), who both were listed as second team.
• Two true freshmen will be vital to KU's kicking game this fall, as place kicker Alex Mueller (5-10, 160) and long snapper Tanner Gibas (6-2, 200) both are slated to start during their first season on campus. In other kicking news, sophomore Ron Doherty (5-11, 206) is listed as KU's top punter, while Beshears and Patterson are listed as the team's kickoff and punt returners, respectively.
Gill ready to roll
Gill said Monday he was excited the season was near.
"It's here now," he said. "We're excited about this season and we're ready to go. I don't worry about (all that other stuff). They hired me to coach this football team here at the University of Kansas, and no matter what conference you're in or what opponent you're playing, you gotta bring your best to beat that team and that's always going to stay my focus."
More like this story on KUsports.com