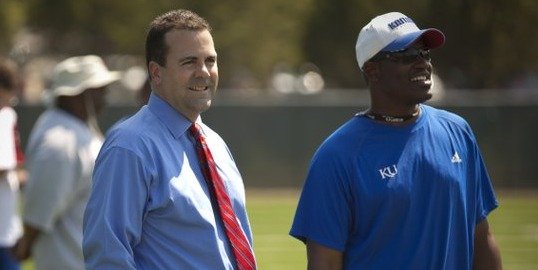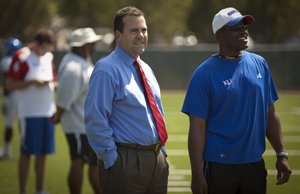 On Monday, when he stands in front of the entire Kansas University student-athlete population, Athletic Director Sheahon Zenger will deliver a message he hopes will reshape Kansas athletics.
Many have heard it — most more than once — and it cuts to Zenger's very core. It won't be driven solely by his Kansas values, kind smile or honest approach.
The message will be about competing — something Zenger said will be the basis for helping the university's athletic programs heal and move into a new era. It's about substance over image and accountability over all.
"I want people to know we're doing it differently here," Zenger said. "I've said that over and over and over again. But what is differently? It's a little bit throwback. It's a little bit visionary. And it's a lot Kansan."
In the wake of the ticket scandal that led to the removal — and in many cases prosecution — of seven athletics department employees as well as the unceremonious departure of former Athletic Director Lew Perkins, many have questioned what comes next for KU. Zenger has the answer and it's about much more than hiring a new A.D.
Zenger, 45, started at Kansas six months earlier than athletic directors typically do and worked his first month — last January — without pay. While some KU faithful will not believe things are changing if Zenger doesn't initiate widespread firings and loudly condemn the previous regime, Zenger said his first six months on the job set the foundation for what's still to come.
"I felt that was an advantage with respect to watching how people worked, how the staff and coaches interacted and how the student-athletes competed," Zenger said about starting a semester early. "The misperception would be that in that four-month window you're gonna make career decisions about coaches and staff members, but February through May is a very different snapshot of a department as opposed to August through May. You have to be careful. That snapshot may not represent what you think it does."
Eye-opening introduction
Initially, Zenger watched from a distance, shook tons of hands, made lots of lists — his lists fill notebooks, big and small — and remained mindful of how much he mingled with KU's student-athletes. He was formulating a plan and wanted it to make an impact when delivered.
"The real work started June 1," Zenger said. "That's when we started restructuring the department and infiltrating the philosophy."
About a week later, at a mandatory all-staff meeting June 9, the kind-faced Zenger delivered his first stern message. His words were driven by passion, anger, determination and pride. Losing, he said, was unacceptable. Laziness, he said, would not be tolerated. Complacency, he said, was for the weak.
"I feel that, internally and externally, there's been a culture that has evolved that as long as we're winning in men's basketball and as long as football's there every once in a while, things are good," Zenger said. "That's not good enough."
Just like that, the sunny tone of a meeting that many said they believed would be like the first day of class was fraught with hard swallows and open eyes and ears.
Since that day, there have been several changes, not the least of which was the resurfacing of concerns about the future of the Big 12 Conference. Zenger has worked day and night to stay on top of conference realignment and will do so for as long as it takes. Quietly, Zenger has cut in half the number of staff members who report directly to him — a move, he says, that leads to greater accountability. He also brought in a handful of hires paid for with readily available money, not, he noted, by growing the department's debt.
Three of the new hires came from Illinois State, his previous employer. And they came, as Zenger put it, "because they were part of the guts and heart and soul of what we did there. They're also here to hold me accountable to what our philosophies have been in the past so that I don't change."
One of them, Jane Fulton, spent the last six years marveling at the way Zenger works.

"For us, the most crucial thing during that first year was that everyone within the athletic department and every student-athlete got on the same page," said Fulton, one of the ISU trio, which targets Zenger's top priorities of student-athlete and donor development as its mission.
Different atmosphere
Jim Marchiony, a member of the KU athletics department since 2003, said Zenger's approach on Mount Oread has been well-received. Marchiony noted that the passage of time since the ticket scandal had lightened the mood in the department. But other factors are at work.
"The atmosphere is different with Sheahon," Marchiony said. "I think there was a certain segment of the population that didn't like the fact that Lew was not from Kansas and, when you couple that with the changes he implemented, I don't think people liked that those changes were made by someone many viewed as an outsider. So Sheahon comes in and he is a Kansan. But he's not just a Kansan. He's a Kansan with a degree from KU, who grew up in the state and went to school at multiple institutions within the state, who worked in Strong Hall, and he's somebody who knows a lot of people in the state. Immediately, the tenor changes in many people's minds because he is a respected administrator who is one of them."
Added Zenger, when asked if he noticed people warming to his way of doing things: "Yes. And I am being told that there are people here that now seem to be able to be more themselves."
There's a reason Zenger has focused so much attention internally since arriving.
"We all know what a structure looks like with a principal, vice principal and teachers," Zenger said. "When you look back at your experience in those venues, how did you interact with the principal? Did that principal interact with all 500 or 1,000 students every day? No.
"He or she could not possibly do that. But he or she could impact the teachers every day."
As time goes by, Zenger's expectations for KU will come into full view. Coaches who succeed will be better compensated, their programs given more support. Zenger already has started reassigning some administrators and trimming salaries to make things less top-heavy.
"He has studied this department," Fulton said. "He has studied the conference. And there is no doubt: When he talks about it, he knows what's going on. If change is needed, he's not afraid to make the change. If it's not needed, he is not afraid to mentor."
By mentor, Fulton's talking about students, colleagues, coaches, secretaries, whomever.
"I believe this with all my heart, you've gotta build it from the inside out," Zenger said. "If you build something just to please people on the outside, you haven't built something of substance and, before long, people can see through that."
Substance. It's a word that comes up a lot with Zenger. It means a lot to him, too. While transparency is the word that's in vogue for college athletics departments to use to say they're acting properly, Zenger is one of the few in his profession who doesn't use it.
"You do the right thing for the right reason at the right time," he said. "You get those out of order, you've got a problem."
Lasting decisions
During his six years at ISU, Zenger had plenty of opportunities to leave, but always decided to stay. That is, until Kansas called.
"I learned that it was important to learn what it felt like to make decisions in year one, two, three and then live with those decisions in year four, five and six," he said. "In today's world, that's something people often miss. I now know and have the benefit of seeing how early decisions in your tenure affect what you're trying to do in year five, year six and so on. What I learned was don't make knee-jerk decisions about personnel. Observations you make early on in some cases are dead-on. In other cases, if you'd have had more time you'd have found out things were different."
He continued: "I know from the outside it can look so obvious, people say, 'We need to just trim, trim, trim and cut, cut, cut.' But if you cut the wrong person or dismantle the structure in the wrong order, then the whole thing falls down. We have to remember that three short years ago we won the national championship in basketball, we won the Orange Bowl. We were considered one of the elite programs in the country. And, actually, we're still considered that.
"There will be change in this department over time, but you have to be consistent with your message, and you have to treat people the right way, inside and outside."
That's where Monday's 1-on-550 "We are Jayhawks" address comes into play. Zenger expects the speech will last about an hour and will sound a lot like the message he used to get from his parents when he was younger.
"Whenever I was on the verge of getting in trouble," he recalled, "my parents would say, 'Straighten up and act right.' What I'm really asking is for the department, the coaches, the student-athletes, the donors, the campus to look in the mirror and really examine our Kansas values and then live those Kansas values."
More like this story on KUsports.com