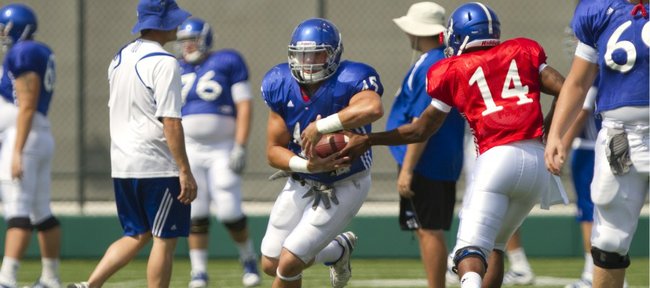 Feature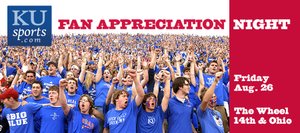 You are invited to our KUSports.com fan appreciation BBQ!
With the season opener against McNeese State just eight days away, Kansas University's football team is beginning its preparations for game day.
"You start (looking ahead) as soon as that last ballgame's over," wide receivers coach David Beaty said after Thursday's practice. "As far as preparing them for that game, we're starting that period now. We had a little on McNeese today, which was good, and we've had some film study all throughout camp on 'em so our kids are familiar with them."
With the focus shifting from competing for jobs and eyeballing individual improvement to studying the first opponent's strengths and weaknesses, the flow of practice has changed as well.
"When you get into game prep, you're not going against your defense all the time," Beaty said. "Now we're starting to move into the physical part of it, and today was one of the first major steps toward getting ready for (McNeese State)."
That included taking a detailed look at what the Cowboys do on offense and defense and then setting up practice to plan for every possibility.
"At this point, you've already evaluated your players, you know what they can do and who are gonna be your first- and second-line guys for the most part," Beaty said. "Now you're really just trying to piece together the game plan and focus in on making sure they're seeing the right looks."
Beaty conceded that preparing for the first game is a bit of a luxury across the country since coaching staffs everywhere have had months to scout their Week One opponents. However, while that usually gives the coaching staff a leg up, getting the message through to the players isn't always as easy.
"You really only get a few days to prepare," Beaty said. "And right now we're really trying to narrow in on what we want to do offensively against those guys and make sure we're giving (our guys) the right looks that we think we're gonna see so they can make good decisions."
The Jayhawks and Cowboys kick off the 2011 season at 6 p.m., Sept. 3 at Memorial Stadium.
Wide receiver roll call
Asked Thursday which receivers had stepped to the front of the pack during the past week or so, Beaty referenced a few familiar names.
"It's kind of the same type of song, really," Beaty said. "Kale Pick has really done a nice job for us in all phases. Daymond Patterson has had a fine camp, and then D.J. Beshears is another guy who just continues to stick out to me. You just feel him on the field when he's out there."
While those were the top three wideouts Beaty mentioned, they weren't the only receivers he spoke of highly. Beaty also talked up freshman Jacorey Shepherd's speed and said sophomores Chris Omigie and Christian Matthews had looked solid at times and were in position to contribute this season.
As for the guy who had been the most steady this spring, that was easy.
"There's a lot of youth at the position, and there's been a lot of emphasis put on the battles that are going on there, and I think that's why Daymond might have been lost in the trenches a little," said Beaty of KU's top returning receiver.
Last year, Patterson led KU's wide receivers in receptions (60), yards (487) and touchdowns (2), and this fall his name is the one that appears at the top of KU's catch chart.

Beshears a brick
Since returning to Kansas after a one-year stint as the offensive coordinator at Rice, Beaty has emphasized physical play from the Jayhawks' wide receivers.
One guy he hasn't had to sell too hard on the notion is Beshears.
"He's probably the strongest receiver I've ever coached. I mean extremely strong," Beaty said. "It's like hitting a brick wall when you touch that kid. I don't even like slapping hands with him because it hurts."
Used all over the field during 2010, Beshears has focused most of his attention this fall on playing the X receiver spot, which lines up on the outside and makes plays down the field. Although players his size — 5-foot-9, 185 pounds — are more often seen in the slot, Beaty said Beshears' mind-set makes him capable of playing outside.
"He's a very strong, explosive kid who practices as hard as anybody I've ever had before," Beaty said.