Feature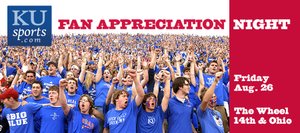 You are invited to our KUSports.com fan appreciation BBQ!
First, Brock Berglund, the dual-threat quarterback out of Colorado who graduated early with the intention of competing for the starting quarterback job during spring football, returned home before a practice, thereby killing any chances of winning the job. Then he got in the middle of a legal problem that seemingly hasn't allowed him to spend more than three days in a row outside of Colorado.
Next, the defensive line, already the least-talented unit on the team, was weakened by injuries to Patrick Dorsey and Pat Lewandowski. It's enough to ask when the Kansas University football program will catch a break. Ask no more. Sports Illustrated took care of that by picking the Jayhawks to finish last in the Big 12 without a single conference victory and a 1-11 overall record.
Thank you, SI, for doing Turner Gill's work for him.
It doesn't take much for college coaches to convince athletes the world is out to get them, nobody respects them, blah, blah, blah, blah.
Football is best played with swollen knuckles, a bloody nose and a massive chip on the shoulder. SI took care of the chip by choosing a record that is the reverse of the one KU took out of the regular season just four long years ago.
Just what does SI have against KU, anyway? Well, nothing. Going over the Kansas schedule and picking the better team to win each game, it's difficult to argue with a 1-11 prediction, but here's the problem with formulating a guess that way: Since when does the better team win every game in a sport so influenced by emotion?
Study nothing more than Gill's first two games as coach at Kansas, where he arrived vowing to build a football dynasty. The better team lost both.
The Bison of North Dakota State, which later in the season lost to Terry Allen's Missouri State squad, were slower runners than the dimmer of the characters from Joel and Ethan Cohen's masterpiece film "Fargo" were thinkers. Somehow, NDSU still managed to ruin the former Buffalo coach's debut. Slowly the Bison turned, step by step, making Gill look as if he wished he were back near Niagara Falls.
That certainly didn't bode well for KU's chances of pulling off two upsets, but Georgia Tech and Colorado left Memorial Stadium in a miserable mood.
No reason to believe two upsets can't happen again this season, which would make KU 3-9. Motivated by last year's embarrassing loss to North Dakota State, the Jayhawks won't look beyond McNeese State, a stronger team than the Bison. That's one. Texas Tech isn't as young as KU, but isn't experienced, either. Upset City, baby! (Sorry, wrong sport.) Kansas couldn't hold onto the lead in Ames a year ago, but should be in better condition with a better running game now. Another upset makes three victories.