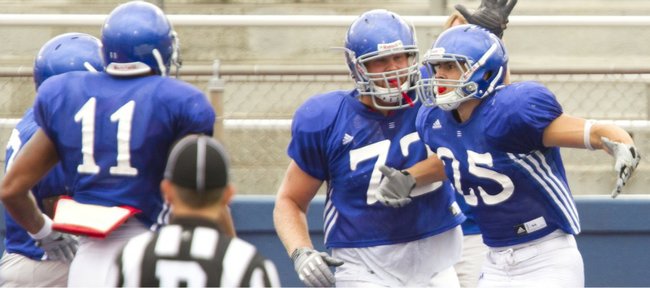 Just a few minutes after Brandon Bourbon entered the meeting room on his first day of camp last season, he already was getting grilled by Kansas University running backs coach Reggie Mitchell.
"What's your assignment on this play? What's your technique? What's your footwork? What's your aim point?"
The KU freshman running back hadn't even been given his team's plays yet.
"My head was spinning," Bourbon said. "I didn't know what was going on."
Bourbon had come from a small high school in Potosi, Mo., where he'd averaged 12.9 yards per carry his senior year.
His high school had only three running plays: a toss, a lead and a counter.
"He's a big, fast guy," Mitchell said, "so in high school, they could hand him the ball and he could take off and just out-run everybody."
Mitchell knew Bourbon wouldn't be able to rely solely on his physical talents at KU.
At first, the coach's rapid-fire questions to Bourbon were mostly met with silence. Other times, the young back would throw out an answer, though he didn't really understand what he was saying.
"It was worse than math (class)," Bourbon said.
For Mitchell, the goal was to make his young running back think more quickly. During a game, backs only have a few seconds to be able to decipher what's going on in front of them.
The coach's hope was that putting pressure on Bourbon in the film room would slow the game down for him on the field.
"To his credit, he is 100 percent better this fall than he was last fall, because he's worked at it," Mitchell said. "He's a guy I have confidence in now."
Mitchell said the toughest transition for backs is actually the passing game, during which they need to be able to read defensive fronts and also learn coverages.
In the running game, RBs need to learn about aiming points and also how to read blocks.
Bourbon could sense a difference about halfway through last season. It was then that his new reads started to become second-nature.
Now, he's trying to prove that physically he's ready to compete for carries.
The 6-foot-1, 208-pound Bourbon broke his leg on April 18 and that kept him out of football activities until mid-July.
The red-shirt freshman also has been held out of a few practices and a recent scrimmage because of nagging injuries, though he stood out in Saturday's open scrimmage with two short TD runs.
"I could see him being a guy — because he can stand up on third down in pass protection and he can catch the ball — that would have the ability to play on all three downs," Mitchell said. "It's just a matter of getting him out there and just seeing him play."
So far, Mitchell said he has seen flashes of potential, but also a player who is "rusty" and getting used to football contact once again.
"He has a role here," Mitchell said. "We're still trying to define his role. But he's a Big 12 running back."
That includes the mental aspect of the game, where Bourbon has come a long way from his first day in 2010.
"He doesn't get those (quizzes) any more," Mitchell said with a smile. "He's passed the test."