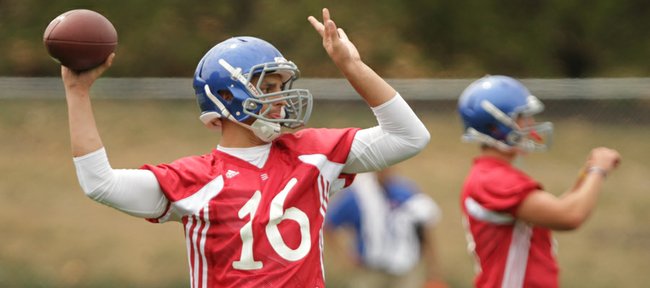 Reader poll
Yes

31%

333 votes

No

68%

721 votes
1054 total votes.
Kansas University football coach Turner Gill announced two personnel changes regarding the roster Tuesday afternoon.
First, freshman quarterback Brock Berglund will no longer be taking part in practice during the fall semester, but will remain a member of the Kansas football team.
"Due to legal issues, Brock will no longer be attending practices with the team this fall," Gill said. "He will remain enrolled as a KU student, and plans to resume all team activities in the spring semester."
Additionally, Gill announced that due to a violation of team policies, sophomore running back Deshaun Sands has been removed from the team effective immediately.
Sands played in 10 games as a redshirt freshman in 2010, gaining 211 yards on 55 carries, with one touchdown. He picked up Offensive Scout Team Player of the Year honors in 2009, while sitting out the season as a red-shirt.
Sands was arrested Saturday night on an outstanding warrant for missing a June court date related to an April misdemeanor disturbing the peace citation.
He posted $203 cash bond shortly after his arrest and was given notice to appear in Lawrence Municipal Court Aug. 30.
More like this story on KUsports.com