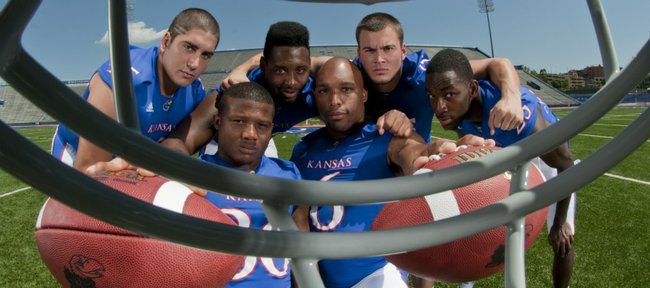 Reader poll
Brandon Bourbon

14%

54 votes

Darrian Miller

22%

82 votes

James Sims

59%

219 votes

Anthony Pierson

2%

9 votes

Other

1%

7 votes
371 total votes.
Feature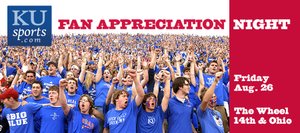 You are invited to our KUSports.com fan appreciation BBQ!
Until recently, Kansas University football coach Turner Gill had spent dozens of days recruiting running backs but very little time explaining why.
As it turns out, Gill, a former quarterback, had a good reason for stockpiling arguably the best collection of young backs the program has seen. Sure, the position needed to be upgraded, but there's more to it than that.
"(There's a reason) you've heard me talk so much about running backs," Gill said. "Yeah, we gotta have a quarterback, and he's gotta do his thing, but I think a running back, whenever he makes big plays, he actually raises the level of a football team even more than a quarterback."
Don't buy it? Here's the expanded version.
"When a running back makes a great run, you see the whole bench get excited," Gill said. "The offense. The defense. Special teams. Everybody gets excited. If a quarterback makes a good throw or a good run, he'll get excited, but it's a little bit different level than when a running back makes a big play. (When he does) he usually shows some toughness, he makes somebody miss, and he shows a great burst. The fans, your whole team, your coaching staff, everybody gets up with him. That's why I think a running back is such an important thing for a football team."
Gill has four with top-tier ability, and he plans to use them all. From sophomore James Sims, who led the team in rushing yards and TDs as a true freshman, to red-shirt freshman Brandon Bourbon, a former Stanford commitment, and true freshmen Darrian Miller and Tony Pierson — both four-star talents brought to town by super-recruiter Reggie Mitchell — there is no shortage of backs to hand the ball to this season. The tricky part could be finding enough carries for all of them. Then again, each is slightly different from the others, which gives Gill and offensive coordinator Chuck Long a back for all occasions. Gill has made no secret he prefers to run the football, but while many believe that's to keep the game close, wind the clock or take the burden off of the quarterback, Gill explained otherwise.
"If you think about all the teams that have been successful or won championships, they've had a running back," Gill said. "He may not have been a great one, but he was someone that raised the level of play of that football team to help them be champions."
After watching former KU coach Mark Mangino team with Todd Reesing to make passing the vogue thing in Lawrence during recent seasons, Gill's return to the run represents new territory for Jayhawk fans who may not have been around to watch Gale Sayers, John Riggins or even June Henley make the ground game golden in Lawrence.
There's another layer involved here that goes beyond just finding a featured back — or four — who can light up a stadium and scoreboard. Fielding a running back who can gain more yards than the line has blocked for can provide a team with a boost even when that back is not ripping off long runs or scoring touchdowns.
"The other thing about it is, your offensive line may go that extra second or that extra two seconds for a good running back," Gill said. "They know that if they just stay on their guy for a little longer, so and so's gonna make that run. Coaches always tell them that, but you don't have to say that anymore because of the running back. They know it. They watch the tape. They may not have even blocked the guy, and the running back made him miss and made the offensive lineman look good. So, psychologically, it helps your football team."
Although his plan all along was to bring big-time backs to KU, Gill admitted recently he didn't expect it to happen so quickly. With that in mind, the challenge this season will be finding a way to use each back effectively. Sims sits at the top of the depth chart for now, but is being pushed hard by Miller and Bourbon. Miller, the Missouri high school record holder for career rushing yards, had a fantastic spring and consistently has shown the ability to make something out of nothing. Bourbon, also from Missouri, was charging hard this spring before a broken leg cost him most of spring drills. He has made up ground this summer and, according to Long, had his best practices last week leading up to a two-touchdown performance in last Saturday's scrimmage. Both backs appear capable of carrying the load should they be asked.
Pierson's another story. The fastest of the bunch, the East St. Louis, Ill., prospect is significantly smaller than the other three, but he's also more of a true home-run threat because of his blazing speed and ability to turn the corner.
Although Gill almost assuredly has stayed awake at night trying to figure out the best way to use each of his dynamic backs without calling a running play on every down, those thoughts have, no doubt, morphed seamlessly into bedtime lullabies.
"It's just great to have athletes like that on the field," Gill said. "They have good vision, they're tough, they're fast, they have quickness, they can make plays. Ultimately, that's what it comes down to. How that all works out, I'm smiling because that's a win-win. Whatever the name of that person is, I'm fine."
After all, as Long says, the surplus is a luxury.
"I just believe that, at that position, you need as many as you can get," Long said. "And, right now, we're working with all of them."
More like this story on KUsports.com