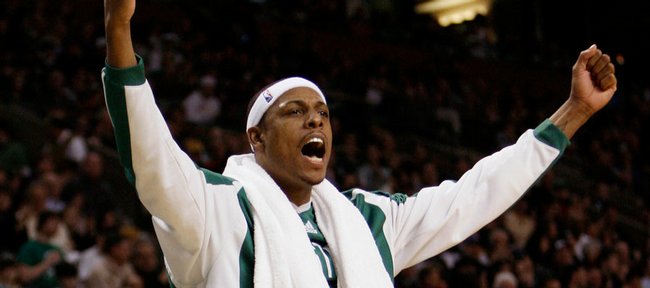 Past Event
Saturday, September 24, 2011, 4 p.m.
Allen Fieldhouse, 1651 Naismith Drive, Lawrence
Not available / $10 - $20
Feature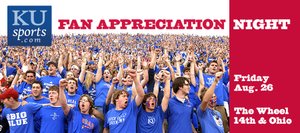 You are invited to our KUSports.com fan appreciation BBQ!
Boston Celtics phenom Paul Pierce, who last visited Kansas University's Allen Fieldhouse for his jersey-retirement ceremony in January of 2003, will be back again Sept. 24.
This time, he won't be wearing a suit and tie, but his old KU No. 34 when he competes in an exhibition game in the Jayhawks' tradition-rich building.
"It will be great coming back to Lawrence and catching up with some old friends and meeting the current players," Pierce said Monday in response to KU announcing plans for a 4 p.m. all-star game involving former KU players, most currently in the NBA.
"No place compares to Allen Fieldhouse and the rich tradition that is Kansas basketball. When you are a Jayhawk, you're a Jayhawk for life," added Pierce, who will be playing for a team led by one of two former KU coaches — Larry Brown or Ted Owens.
"The University of Kansas has meant so much to me," Hall of Famer Brown said. "I have a lot of fond memories of my time in Lawrence, and coming back for this event will be great. I look forward to visiting with current staff, the old coaches and players and friends."
Most of KU's current NBA players are expected to attend — and compete. KU's current pros are: Pierce, Cole Aldrich (Oklahoma City), Darrell Arthur (Memphis), Mario Chalmers (Miami), Nick Collison (OKC), Drew Gooden (Milwaukee), Xavier Henry (Memphis), Kirk Hinrich (Atlanta), Darnell Jackson (Sacramento), Marcus Morris (Houston), Markieff Morris (Phoenix), Brandon Rush (Indiana), Josh Selby (Memphis) and Julian Wright (Toronto).
Other KU greats such as Danny Manning, Wayne Simien and Darnell Valentine will be on hand, possibly even playing for a minute or two.
"It's going to be a spectacular event," KU coach Bill Self said. "Not very often can you spin a negative into a positive, but we get an opportunity to do so with the NBA lockout. There have been numerous times we'd like to get all these guys back at the same time, but it's always been hard for the current NBA players to come back because their schedules run similar to ours.
"On September 24th we are going to have a KU alumni game, which is basically a legends game, in which many of our most recent KU greats are going to come back, allowing them a chance to run out of the tunnel one more time and play a game, hopefully in front of a packed house.
"We have many committed," Self added, "the majority being recent guys who have played (under Self), and several of Roy's (Williams) players will be here as well, including NBA all-star Paul Pierce, who is coming back for the first time in a long time. We've asked coach Brown and coach Owens to be the honorary coaches. Much of the proceeds will go to the memory of (former KU assistant coach) Neil Dougherty, who lost his life tragically this summer due to a heart attack. We're working with Neil's family to find a cause that will definitely give Neil a lasting legacy in an area of his life that was very dear to him."
Tickets for Legends of the Phog will be $20 for adults and $10 for students and youth. KU students and Williams Fund members in the Hall of Fame, Champion and All-American membership level may order tickets starting Wednesday. All remaining Williams Fund membership levels may order tickets starting Aug. 29. The public may purchase tickets starting Sept. 6. Tickets may be ordered via the KU Tickets Office online or by calling 800-34-HAWKS. Parking is free.
"This is big," said Self, who likely will have several top recruits in town for the event. "We'll put 16,000 in the fieldhouse for sure. Ticket prices are unbelievable. How many people can come back and see Paul Pierce play for $20 or students can come to a game for $10? Think of all the videos that'll be going on and the introductions and how cool this could possibly be."
As far as donating to a cause for former KU assistant Dougherty, Self noted: "That's something we really wanted to do. He's a guy that loved KU and spent a lot of time here. We want to do something to allow him to have a legacy to benefit youth in our area."
In addition, KU will donate some of the proceeds to one of Dougherty's favorite local charities — the Boys & Girls Club of Lawrence.
Self indicated several KU players who are playing overseas, such as Sherron Collins, Sasha Kaun and Keith Langford, want to attend if possible. Their commitments to their teams may prevent that from happening, however. He noted players such as Jeff Boschee, Billy Thomas, Greg Ostertag, Ryan Robertson and Jacque Vaughn hopefully will be in the fieldhouse, maybe even playing a few minutes if the NBA teams need players.
"We'll try to get as many players as we can who are currently professionals," Self said.
Recruiting
Isaiah Lewis, a 6-foot-3, 160-pound junior point guard from Christ the King High in Brooklyn, N.Y., has narrowed his list of schools to six: KU, Florida, North Carolina, Memphis, Georgia Tech and Miami. The No. 43-ranked player in the Class of 2013 will attend the Oct. 14 Late Night in the Phog. He tells Rivals.com that KU is his leader.
More like this story on KUsports.com