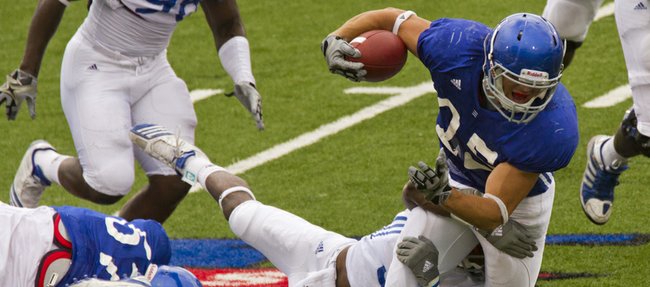 Photo Gallery
KU Football Scrimmage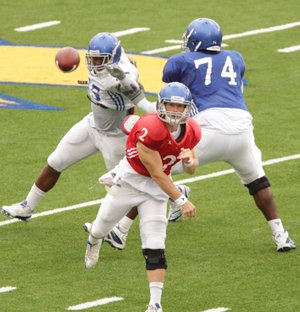 Images from the Jayhawks' scrimmage and autograph signing on Saturday, Aug. 20, 2011 at Memorial Stadium.
All offseason, Kansas University football coaches raved about their talented stable of running backs and how much the group would help improve KU's offense this season.
Saturday, at the open-scrimmage portion of the annual Family Fun Fest, the Jayhawks received serious contributions from a couple of those backs.
Red-shirt freshman Brandon Bourbon scored two touchdowns from inside five yards, and true freshman Tony Pierson added another TD from just outside the red zone. Both were on the short list of players who stood out Saturday, and KU coach Turner Gill afterward talked about what he saw from his two explosive tailbacks.
"Brandon did some good things today," Gill said. "He shows some flashes in practice, and then there's always something that will come up with a little nick or an injury. It was good to get him some reps. We saw some impressive runs. He ran hard. He ran through some tackles. That was good to see."
As for Pierson, who ripped off two of the day's longest runs — both in the 20- to 25-yard range — Gill said his ability to contribute immediately centered on one thing.
"Obviously with him, it comes down to speed," Gill said. "He can turn the corner, outrun some people out there and make some things happen. He brings that speed and explosiveness to our football team and to the offensive side of the ball. He did some good things there (today) too. He's not a guy that is going to be an every-down back, just because of his size, but whenever he touches the football, he has the chance to go the distance."
James Sims, Deshaun Sands, Ryan Burton and Josh Smith also received carries. Sims took limited snaps, and Blue Springs, Mo., freshman Darrian Miller was held out entirely as a precaution. Gill said Miller was fine and lauded that his offense was able to move the ball without big contributions from the top two players on the depth chart doing much.
"I think it just solidifies what we're talking about," Gill said. "We have a good, solid core of running backs that are going to help our football team this year. You need quite a few of those guys because they're going to get banged up during the course of the season. But I feel like we have quite a few guys that, if they're called on, they can produce."
Although the scrimmage was more like a practice and less like a game, it did feature full contact, except for quarterbacks; first-teamers against first-teamers, for the most part; and a full crew of referees. The KU pep band, spirit squad and a few hundred fans in the stands also made it seem as close to gameday as possible in mid-August.
One day after being named the team's starting quarterback, sophomore Jordan Webb showed why. During his first two drives, he led the first-team offense to two touchdowns.
Webb looked decisive and comfortable in the pocket, more in control on the move and in complete command of the offense.
"(He had) good execution," Gill said. "But he has room to get better. He did some good things, and that's why he's our guy. He's definitely been ahead of everybody from start to finish. I wanted to see him come back this fall and be more consistent, and he did that."
In addition to Miller's absence, five or six other regulars sat out Saturday's scrimmage. Asked if there was a reason for holding out Tunde Bakare, Tim Biere, Christian Matthews and Chris Omigie, among others, Gill calmed all fears.
"Just precautionary," he said. "If we were playing a game, they would've played. They'll be ready to play. Just some bumps and bruises, nothing really major. Again, we're getting ready for Sept. 3."
That's the day the Jayhawks open the season against McNeese State at 6 p.m. at Memorial Stadium.
Competitiveness shows
Late in the scrimmage, freshman defensive back Adonis Saunders intercepted a pass from freshman QB Michael Cummings. The pass was intended for transfer wideout Neal Barlow but was underthrown, which allowed Saunders to make a play on it.
The two Jayhawks wrestled for possession as they fell to the ground, but the fight for the ball didn't stop there. Long after the whistle had blown, Saunders and Barlow battled for the ball.
Gill and his coaches have talked a lot about their team's competitiveness during the preseason. And while there were a few other plays and players who showed it Saturday, few demonstrated as well as the two in the late scrum.
Pick a prized possession
Throughout August, KU offensive coordinator Chuck Long has said that the Jayhawks would use junior wide receiver Kale Pick all over the field. Saturday, fans got a lot at what he meant. Pick lined up inside and out and caught balls near the sideline, over the middle and in traffic. He and Webb appear to have good chemistry. Look for Pick to be a big part of KU's offense this fall.
What about the other QBs?
Senior Quinn Mecham looked about like you'd expect a back-up to look during his drives. He was efficient and effective but showed nothing spectacular. Mecham led KU to back-to-back field goals on his first two drives. The rest of the snaps went to reserves Cummings and Blake Jablonski. Both had good and bad moments throughout the scrimmage and showed that the gap Gill had talked about between his top two QBs and the rest is very real. Colorado freshman Brock Berglund was not in uniform.
Kickers on display
True freshman Alex Mueller handled most of the kicking duties. Mueller connected on field goals of 35 and 24 yards before missing from 42. Later in the day, Ron Doherty, whom Mueller is battling for the starting job, hit from 45 yards on his only attempt. Seconds later, from the other hash, Mueller made one from 47. It was as if the kicking battle were playing out in front of fans' eyes.