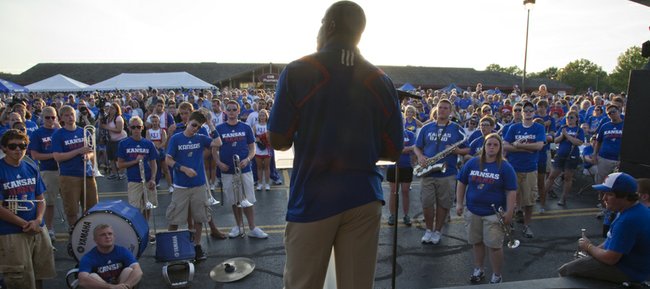 Videos
KU football pep rally at Corinth Square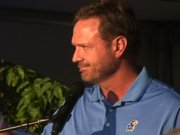 Kansas athletic director Sheahon Zenger, head basketball coach Bill Self and head football coach Turner Gill addressed a crowd of approximately 2000 KU fans at Corinth Square in Prairie Village, Kan. on Friday, August 19, 2011.
Prairie Village — Bill Self, who for the third straight summer is sporting a beard for the start of the school year, was asked Friday night when he's next going to shave.
"When my wife tells me I have to," Self, Kansas University's ninth-year basketball coach, said with a laugh at KU KickOff At Corinth Square — a football pep rally attended by approximately 2,000 KU fans.
Self spoke to Jayhawk Nation from a huge stage, as did football coach Turner Gill, athletic director Sheahon Zenger and Chancellor Bernadette Gray-Little.
"I've had a chance to watch the team work out a little bit, and they're faster, they're bigger, and they're stronger," Self said of Gill's Jayhawks. "The thing I'm so impressed with Turner and his staff ... they are not taking shortcuts. They are doing it the right way. The right way takes time. I'm really excited for football season."
Self was asked about last week's big story — that Texas A&M; likely would be leaving the Big 12 Conference for the SEC.
"I don't have a feel for A&M.; You know, last year I was worried. This year I think our league is fine," he said.
"Hey as long as we know the other nine teams are solid, I'm OK with that. We may add (teams to league if A&M; leaves). We may not add. To be honest, nine is a perfect number for football and basketball for scheduling purposes because it reduces your league games to 16 in basketball and allows you to schedule four nonconference football games as opposed to three."
Full-speed ahead: KU continues to plan an "NBA alumni weekend," which would bring the Jayhawks' NBA players back to Allen Fieldhouse for an exhibition game, possibly on the football bye weekend (Sept. 24-25).
"I hope that we have an announcement real soon concerning bringing some guys back for a Legends basketball game," Self said. "It's in its final stages of being confirmed. It's not done yet, but we certainly believe we can have some positive news on it hopefully real soon."
KU's players in the NBA are: Cole Aldrich (Oklahoma City), Darrell Arthur (Memphis), Mario Chalmers (Miami), Nick Collison (OKC), Drew Gooden (Milwaukee), Xavier Henry (Memphis), Kirk Hinrich (Atlanta), Darnell Jackson (Sacramento), Marcus Morris (Houston), Markieff Morris (Phoenix), Paul Pierce (Boston), Brandon Rush (Indiana), Josh Selby (Memphis) and Julian Wright (Toronto).
Motivational speaker: Gill took two questions from the audience.
One fan asked, "Are we going to beat Missouri?"
"Absolutely," Gill bellowed to thunderous cheers. "We're setting 'em up. We kind of let them have that first one (last year). We're setting 'em up from here on out."
The next question was the equally obvious: "Are we gonna beat K-State?"
"What a question ... we set them up too," Gill cracked. "This year we're gonna get the last laugh. All right? That's hearing it from me and my football players."
Waves of fans: Self was impressed with the huge crowd at the pep rally.
"Unbelievable," he said. "If this group would show up for football games, we'd fill a couple of sections. School starting, in all honesty, on every campus, means it's football season."
He expressed an optimistic tone for the future.
"I feel as good about where our athletic department is going right now as I ever have," he said.
Gill was equally upbeat: "We have more talent. They (players) also understand our schemes (better than first year). This team knows how to compete. They have shown they have mental toughness. They have shown they have a great work ethic. We're faster and more explosive. We have playmakers. As I said the first day I got the job I'm here to build a winning program. I feel more confident today than I ever have before."
More like this story on KUsports.com