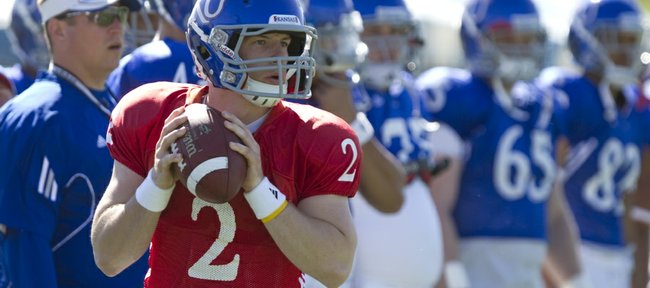 Prairie Village — Last year, when Kansas University quarterback Jordan Webb walked into head coach Turner Gill's office in late August, he left as the second-string QB.
Friday, Webb found himself in Gill's office once again, and this time the news went his way, as Gill named the third-year sophomore from Union, Mo., his starting quarterback for 2011.
"Jordan has increased his talent as an overall quarterback," Gill said Friday night at the Corinth Square pep rally in Prairie Village. "I've seen our players respond to him as a leader, and he's earned it."
After evaluating the position with offensive coordinator Chuck Long and wide receivers coach David Beaty, Gill called Webb and Quinn Mecham into his office Friday.
"I told 'em both at that point," Gill said. "And I told 'em the reason why. Then I talked to each one of them individually after that."
Asked how Webb received the news, Gill painted a picture of a player who reacted with maturity, something that proved to be huge in helping him win the job.
"He had a small smile on his face," Gill said. "But he's been on the other side of a decision like that, so there wasn't gonna be any hootin' and hollerin' or anything like that. But I know he was definitely excited about it, and Quinn definitely congratulated him."
Starting is nothing new for Webb. After opening last season behind Kale Pick — now one of Webb's top receivers — Webb made seven starts and finished the year 121-of-214 passing for 1,195 yards and seven touchdowns. He also threw eight interceptions and appeared in nine games. Webb's 1,195 passing yards were the second-most by a freshman in KU history, 20 yards fewer than former KU QB Mario Kinsey, who threw for 1,215 yards as a freshman in 2001.
During his first career start, a Week Two victory over 15th-ranked Georgia Tech, Webb was 18-of-29 for 179 yards and three TDs. He went on to start the next five games before being injured in a loss to Texas A&M. He then missed three games, appeared in relief in the fourth and started again in the season finale against Missouri.
Three quarterbacks played off-and-on for the Jayhawks last year, including Mecham, who started four games in Webb's absence. Although that made it difficult for the KU offense to develop any rhythm, Gill said it could wind up helping the Jayhawks this year.
"Quinn's our No. 2 quarterback," Gill said. "And we feel very good about our two (quarterbacks) going into the first ballgame. They're more experienced, they understand our offense, they understand our scheme a lot better, and they're gonna be able to be more productive."
Asked during the offseason where he had improved the most, Webb pointed to his maturity.
"My grading in the scrimmages and throughout practice has really shown that," he said. "It has a lot to do with (being comfortable) in the offense and just knowing what the coaches want and just trying to execute that."
The Jayhawks have two weeks of camp remaining before opening the season on Sept. 3 against McNeese State at Memorial Stadium.
Family Fun Fest today
After a spirited rally that drew hundreds of KU fans to Corinth Square in Prairie Village on Friday night, the Jayhawks will keep the fan-friendly weekend going today when they host the annual Family Fun Fest at Memorial Stadium. The action kicks off at 9:30 a.m., with the Fun Zone opening on the practice fields next to Memorial Stadium. That will be followed by an 11:30 a.m. scrimmage open to the public. Gates will open at 11, and all fans in attendance will receive a free Jayhawk license plate. The first 500 fans to show up will receive a free hot dog and popcorn. The scrimmage will be followed by an autograph session with KU players and coaches.
Jayhawks add tight end
Gill announced Friday afternoon that Longview, Texas, native Brandon Olson had joined the program. Olson, 6-foot-4, 230 pounds, was rated the 16th-best tight-end prospect in Texas last season and joins the Jayhawks after helping lead Longview High to an appearance in the 2010 Texas Class 5A state semifinals as well as trips to the state finals in 2008 and 2009. Olson joins the team as a member of the 2011 recruiting class.