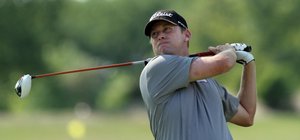 Ryan Vermeer, on his way to the first tee box Monday on the private side of Alvamar, explained his decision to play that course instead of the public one in the qualifier for this week's Midwest Classic, a Nationwide tournament at LionsGate in Overland Park.
And then there was Chris Thompson, Vermeer's close friend since their days as teammates at Kansas University, playing on the public side.
"The way he's going right now, Chris could play well on the moon," Vermeer said.
Thompson, a stone-faced assassin on a golf course, has such quiet body and facial language that it's difficult to determine how he's faring. To learn that requires seeing the buzz around him, generated by former teammates, his former coach, family members and local golf enthusiasts marveling at the way a 35-year-old professional just keeps getting better.
The list of seven qualifiers from each course won't be determined officially until today, thanks to a five-hour rain delay that prevented much of the field from finishing, but Thompson left nothing to chance. He fired a 30-35 65, which will be more than good enough to earn a spot in the Midwest Classic field. Thompson was a remarkable 8-under through 11 holes, putting Matt Gogel's course record of 64 in serious jeopardy. Thompson carded a three-putt bogey on No. 13 after a wild-right drive and made par on the rest of the holes.
"The course was great," Thompson said. "I was really impressed with (superintendent) Kent Morgison and his staff. It looked great and the greens were as good as I've seen them in a decade. As a hometown boy, I was really proud of how it was playing."
With Morgan Minnis of Lawrence on his bag, Thompson started a five-hole birdie string on No. 7, continuing a phenomenal hot streak that started in the third and final round Saturday of the Northwest Arkansas Open, a mini-tour event he won. Thompson shot 29 on the back side Saturday and 30 on the front. Crunch 18 numbers in a row a different way and it gets even crazier. Add the final seven holes of Lost Springs Golf and Athletic Club he played Saturday to the first 11 of Monday's round at Alvamar and the par is 74 on those holes and he shot 59 on them. That's 15-under par for an 18-hole stretch.
"I didn't drive it well today," Thompson said afterward. "That's as poor as my driver's been in quite a while, but that's the thing about playing it so much, you know what side you can miss it on."
Playing what was his home course in college came in handy, but it can be a double-edged sword.
"Qualifying at home is tough," said Ross Randall, Thompson's college coach. "It's a lot of pressure. Everybody expects you to qualify and if you don't, they're asking you why you didn't."
He won't have to answer that question. Vermeer, for one, is not surprised.
"He cannot stand to lose at anything he does," said Vermeer, who had an otherwise strong round foiled by carding double-bogey 6 on No. 3 and No. 9. "He cannot stand to lose at anything he does. He has that super-competitive, inner-drive that when he gets confident, he'll just put his head down and bury people. Just like last week (when Thompson was tied going into the final round). He wins by seven and says, 'See you later guys.' He cannot stand to get beat by anybody."
Vermeer remembers Thompson nearly surrendering his dream of making a living as a touring professional just 10 months ago. Thompson had failed in the first stage at Q school, his putter letting him down at the Auburn University Golf Club. Vermeer did so a year ago and is working as a teaching pro in Omaha.
"He's got two kids and he was in the same place I was," Vermeer said. "I think he was really considering quitting golf and trying to do something else. We left the course and for 20 minutes he didn't want to talk to anybody. Chris gets mad. He doesn't throw a temper tantrum or anything but you can tell. We ate at a Subway. He doesn't say a word. We're driving out of there and finally I said, 'I don't know what your situation is but you're crazy if you quit playing golf. You're too good. You're crazy if you quit.' I'm glad to see he didn't do it. He's too good."
Thompson has earned about $70,000 in purses in this his most profitable summer of golf. He'll try to pad that total at LionsGate starting Thursday.
More like this story on KUsports.com