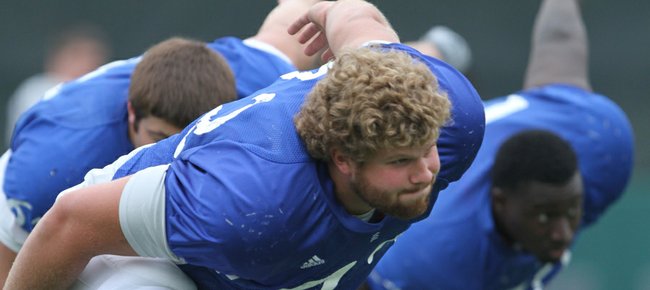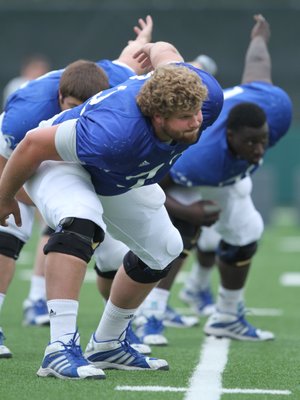 Kansas University junior offensive lineman Tanner Hawkinson resembles somebody who appears regularly on the big screen.
That person is ...
"Ricky Bobby," said KU junior safety Lubbock Smith, referring to actor Will Ferrell, who played race car driver Ricky Bobby in the 2006 comedy, "Talladega Nights."
"Hawkinson came in the '08 (recruiting) class with me. Since I've known him, I've called him Ricky Bobby. Every time somebody sees him they say, 'What's up Ricky Bobby?'
"I tell him all the time: 'You've got to be No. 1,''' Smith added, referring to Ricky Bobby's line: "If you ain't first, you're last."
McPherson native Hawkinson, who at 6-foot-6, 293 pounds is a bit larger than the 6-foot-3 Ferrell, takes the ribbing in stride.
"I'm used to it by now. I've been hearing that since my freshman year," Hawkinson said. "It's kind of a second-nature thing."
Good thing Hawkinson is a Ferrell fan.
"I love Will Ferrell. He's a pretty funny guy," said Hawkinson, who would love to meet Ferrell.
It wouldn't be a huge stretch, since Ferrell figures to visit Allen Fieldhouse for a basketball game, considering he's a buddy of KU fan/fellow comedic actor/former Shawnee Mission West hoopster Jason Sudeikis.
"I'd maybe pull out some of his lines to see if he could see a resemblance or something," the bearded Hawkinson added.
The easy-going Hawkinson happens to be one of KU's fiercest competitors on the field. He's a three-year starter who this year has moved from left to right tackle.
"It was a little awkward the first couple of practices just because of footwork," he said of the switch. "It's gone really well. It's not that big a transition. Same terminology, same technique, just opposite sides."
Hawkinson's consistency pleases the sports-management major's coaches and teammates.
"He moved over to right tackle and has done a really good job of being stabilized there and doing a good job of run-blocking and pass-protecting," coach Turner Gill said. "He's definitely a leader as far as the offensive line."
Noted wide receiver Daymond Patterson: "Tanner is really good. He started here as a tight end, moved to defensive tackle then offensive tackle. No matter where he's been, he's worked his tail off.
"He had a great summer. He is in really good shape right now. He is a guy a lot of people are going to have to look out for. He's relatively new to the position, but each and every game he's gotten better."
Hawkinson sees great improvement in the offense entering Year Two of the Gill regime.
"Everyone is so much more comfortable with everybody," Hawkinson said. "We have a great feel for the coaches, and they have a great feel for us. It's been over a year now. We're so much more far ahead than we were last year. We are more comfortable with everything. We're kind of used to the change."
More than anything, Hawkinson wants to earn victories his final two years here.
The native Kansan's mother, grandfather, two brothers and a sister attended KU.
"My dad went to K-State, but I don't think he has too much a problem with me being here," Hawkinson said, laughing. "I grew up a KU Jayhawk fan. My grandpa has had season tickets as long as I can remember. I've been coming up to games forever. Having my older siblings go to school here ... it's great to be part of the Jayhawk family.
"I'm definitely proud of the team and university. I want to represent the state of Kansas and University of Kansas well. The only way to do that is win some games. We have some goals. The first is McNeese State," he added of the Sept. 3 opener in Memorial Stadium.
More like this story on KUsports.com