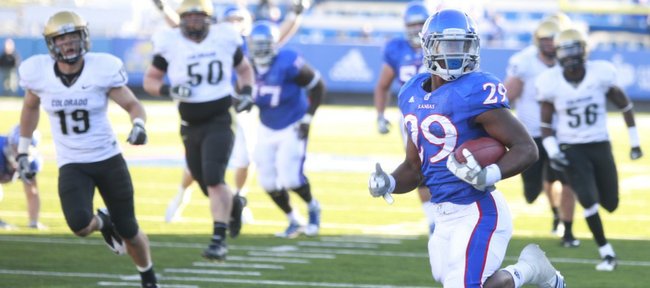 This story is part of the KU Edition, a special section that runs in the Lawrence Journal-World.
For most of last season, Kansas University football coach Turner Gill and his coaching staff struggled to figure out the best way to use the limited weapons the Jayhawks had on offense.
During KU's 3-9 season, three quarterbacks started, no wide receiver hauled in more than 487 yards or two touchdowns and, perhaps most telling, the Jayhawks averaged just 17 points per game and scored fewer than 17 points nine times.
Numbers like those not only made it difficult to win, they made it tough even to compete.
While most of the season was spent searching for a way to generate more offense, one aspect of the Jayhawks' attack emerged as a pleasant surprise. His name was James Sims, and his game was moving the chains.
A true freshman running back from Irving, Texas, Sims exploded onto the scene during the Jayhawks' surprising Week-Two victory over Georgia Tech. By season's end, Sims had racked up 742 yards and nine touchdowns. Perhaps most importantly, he gave the Jayhawks something to look forward to heading into 2011.
As Gill prepares to kick off his second season in Lawrence, questions still remain at some of the most important positions.
Running back is not one of them.
Not only do the Jayhawks have experience and a proven player in Sims, they add to the fold a pair of four-star freshmen — Darrian Miller and Anthony Pierson — and trasnfer Nick Sizemore, a legit fullback.
"I'm very excited," Gill said. "It's exactly the way I wanted it to turn out. I told the staff, I said, 'We will have some big-time running backs at the University of Kansas. That will happen.' I didn't know we were gonna get that many (so soon), but I'm glad for that."
The question now shifts from which players will run the ball to how Gill will keep them all happy. In addition to Sims, Miller and Pierson, the Jayhawks are anticipating a strong showing from red-shirt freshman Brandon Bourbon, a former Stanford commitment who missed the second half of spring ball due to a leg injury but looked as good as anyone until he went down.
While Sims is more of a between-the-tackles runner, Miller, Pierson and Bourbon each possess the one thing Gill's running backs lacked in 2010.
"I want to use two running backs who, whenever they touch the football, we feel like they have a chance to take it the distance," Gill said. "I want our fans to know that, I want our players to know that and feel that, too. We have that in our repertoire now."
As with any season and most teams, the success of the ground game only goes as far as the offensive line takes it. If Gill's right about his offensive line this season, the KU offense could be poised to double its output from a season ago.
Although KU's O-Line lost a couple of guys to graduation, this year's group should be improved because of two things — health and experience.
Jeff Spikes returns from an Achilles' tendon injury that kept him on the sideline all season in 2010, and Gill immediately slotted him into the left tackle position, a spot most often reserved for a team's top offensive lineman.
In addition to the return of Spikes, senior Jeremiah Hatch anchors the line at center and is surrounded by the experience of juniors Tanner Hawkinson, Trevor Marrongelli and Duane Zlatnik.
Together, KU's top five offensive lineman have combined to start 96 games.
"I feel great about our offensive line," Gill said. "That's going to the be strength of our team, there's no question about it."
After that is where the major question marks are, with Kansas trotting a deep but inexperience group of wide receivers onto the field and still searching for a quarterback.
This spring, third-year sophomore Jordan Webb did that and, heading into the summer, Gill said Webb was leading the race to become KU's starting QB. In 2010, Webb started seven games — while appearing in nine — and threw for 1,195 yards and seven TDs. He also tossed eight interceptions.
This offseason, Webb improved greatly. In addition to adding strength, improving his footwork and sharpening his mental approach to the game, Webb started to show the maturity the coaching staff was waiting to see.
"He's still young in some areas," offensive coordinator Chuck Long said of Webb. "But I thought he really improved in the mental elements of the game. Physically, he's got a strong arm, he can run. Those weren't the issue. The whole thing about quarterback that I teach is the mental part, and I thought he really improved from the fall to the spring."
Behind Webb, senior Quinn Mecham returns to add insurance, and true freshmen Brock Berglund and Michael Cummings also are expected to suit up. Gill said in July that he hoped to nail down the starter much earlier than he did a season ago — when the Jayhawks named Kale Pick the starter heading into the final week of preseason camp — and the coaching staff has said all offseason that the goal this year is to only have to play one quarterback.
Speaking of Pick, the junior from Dodge City is back in 2011, but not at the position he came to Kansas to play. Instead of throwing passes this season, Pick will be catching them at his new position of wide receiver. Pick's position switch took place near the end of 2010.
Since then, he has improved and turned himself into the kind of guy who will be hard to keep off the field. Many compare Pick to former KU QB-turned-receiver Kerry Meier, but it remains to be seen if Pick can have that kind of an impact on the KU offense.
Joining Pick at receiver is last year's top target, senior Daymond Patterson, who led the Jayhawks in yards (487), receptions (60) and TDs (2). Patterson, one of the top slot receivers in the Big 12, is the only sure thing on the KU receiving corps. With Pick and Patterson being talked about plenty, it remains to be seen which receivers will step forward to join them as top targets.
The list of candidates includes: D.J. Beshears, Chris Omigie, Christian Matthews, Erick McGriff, Ricki Herod, Brian Maura, Connor Embree, Andrew Turzilli, and freshmen Jacorey Shepherd and Marquis Jackson, among others.
Wide receiver is the one position that best exemplifies the one thing Gill loves above all else — competition.
"We're excited about it," Gill said. "At every single position we have competition, and I know we'll be a better football team because of that competition."
More like this story on KUsports.com