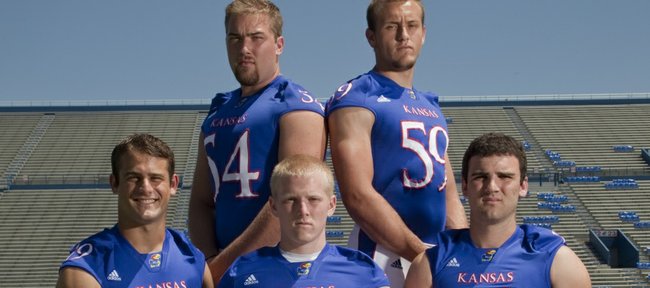 So far, Aaron Stamn isn't playing favorites.
The Kansas University special teams coach has yet to publicly declare a starter for kicker, punter, punt returner or long snapper.
He's hoping to have those positions decided in the next two weeks.
"It is nice for me as a special teams coordinator to see all these new young guys out there," Stamn said. "We red-shirted a lot of them too, and they are coming out right away and want to get onto the field."
The only position with a clear No. 1 is kick returner, as junior D.J. Beshears is back after posting 25.6 yards per return last season. That average ranked second in the Big 12 behind Oklahoma State's Justin Gilbert.
"I plan on returning kicks as well as punts. I'm looking to improve on that," Beshears said. "I know for a couple weeks, I was up there at the top of the conference in returns. I hope to get back up there."
The 5-foot-9 Beshears showed big-play ability in 2010, returning a kickoff 96 yards for a touchdown against New Mexico State.
His 922 kickoff return yards were the most ever by a Jayhawk in a single season.
"He just runs with passion, and D.J. does not like getting tackled," Stamn said. "Sometimes he dishes it out more than the other guy tries to hand it to him. As a returner, that's great."
Beshears should be joined in the two-returner set by junior Bradley McDougald, who averaged 19.1 yards on his 14 kickoff returns last season.
Freshman running back Brandon Bourbon will get a look at kickoff returner as well.
The other positions are a little more complicated.
At punter, sophomore Ron Doherty was the leader at the end of the spring drills, but Stamn indicated that the position was still open with red-shirt freshman Victor McBride competing.
Also, don't be surprised if the Jayhawks change their punt setup after having three punts blocked out of a spread punt formation last year.
"We're still messing around with it. We'll see what we end up doing," Stamn said. "We're going to do what's best for our football team, so we could end up doing that (spread formation). We could end up doing something else."
At kicker, Doherty is competing with Alex Mueller — a true freshman that was ranked the fifth-best kicker in his class by Rivals.com.
"Ronnie has a very strong leg and a great, hard work ethic, and he's very consistent," Stamn said. "Alex gets the ball up really fast, really high. So what that prevents is, that prevents people from getting through the middle on a field goal rush from being able to block the ball easily. And he's also very consistent with what he does."
Both players also are competing for kickoff duties. Doherty had three touchbacks in 21 kickoffs last season.
The long-snapper job is open as well, with incumbent sophomore Justin Carnes battling against freshman Tanner Gibas.
The 6-foot-2, 200-pound Gibas was ranked the third-best long snapper in the nation by long-snapping instructor Chris Rubio.
"He can zing it, which is why he came here," Stamn said of Gibas. "He has a good attitude. He goes out there and runs well, has a good work ethic and pays attention. So he has fit right in."
Stamn also said he's seen improvement in Carnes, who played in all 12 of KU's games last year.
At punt returner, Stamn said the Jayhawks will experiment with a few young guys, including freshmen Tony Pierson, JaCorey Shepherd and Marquis Jackson.
More like this story on KUsports.com