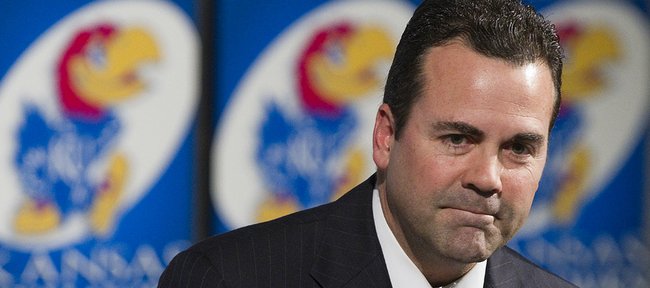 Kansas University's future in the Big 12 Conference — or any other conference, for that matter — may be a little more in doubt today than it was a few weeks ago, but it's not because of a lack of focus from the school's athletic director.
Sheahon Zenger, still in his first year on the job, told the Journal-World Friday afternoon that he had been charging his phone every couple of hours during the past few days to make sure that it was able to handle the volume of calls he has made and received regarding Texas A&M;'s desire to leave the Big 12 and how that might impact KU.

"The Kansas faithful can rest assured that we have been in constant contact and remain in constant contact with the conference office and the other athletic directors within this league," Zenger said. "We have been given assurances by the other schools and the conference office that the other nine of us remain steadfastly committed to this league."
The same obviously cannot be said for A&M.; Last summer, the Aggies were involved in serious and public flirtations with the SEC. But a proposal put together by Big 12 commissioner Dan Beebe and the rest of the Big 12's institutions enticed A&M; to stay put. For a while, anyway.
Now, after a couple of weeks of grumbling, similar reports regarding the Aggies to the SEC have surfaced, and a move to the SEC seems to be more likely than ever.
Thursday night, the Rivals.com site AggieYell.com reported that the Aggies had agreed and accepted an invitation to join the SEC. A couple of hours after that report surfaced, The Sporting News released a story that quoted a high-ranking SEC official as saying that simply was not true.
Regardless of what's true and what's not, Zenger said the Big 12 remains committed to keeping A&M; in the fold, if possible, and, above all, remains committed to preserving the conference. Whether that means the Big 12 would move forward with nine teams, add a team to stay at 10 or add three teams to jump back to 12 remains to be seen and won't be worked out until A&M;'s move becomes official.

"I have great respect for Texas A&M; and what they bring to the table," Zenger said. "They're welcome to be a member of our league, I just hope, should they stay, that they find a way to be happy."
Texas athletic director DeLoss Dodds told Kirk Bohls of the Austin American-Statesman, "it looks to me like they're leaving." Bohls also reported that Dodds said the Big 12 could survive with nine teams, but that the UT staff was working on a list of names for possible replacements should the league elect to go that direction.
In addition to Texas, Oklahoma's happiness represents a huge piece of the puzzle for the Big 12's survival.
While the latest rumors of A&M;'s departure have made the biggest splash in the athletic world, the move, should it happen, appears to be driven by Texas A&M;'s board of regents and president.
Sources said that a final decision likely won't be made until the issue makes its way through the Texas legislature, which has strong desire to keep Texas, Texas A&M; and Texas Tech tied together. However, that was before A&M;'s regents moved their previously scheduled Aug. 22 meeting up to Monday, one day before the legislature is scheduled to meet on the issue of "matters pertaining to higher education, including collegiate athletics."
One report Thursday said the SEC had offered A&M; a spot and that the regents could vote to accept the invitation at their upcoming meeting.